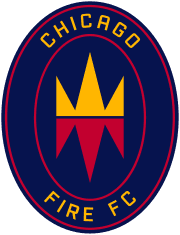 CHICAGO (June 14, 2021) – Chicago Fire FC today announced that midfielder Luka Stojanović has received his U.S. Green Card, granting him permanent resident status in the United States. With permanent resident status, Stojanović will no longer occupy an international slot on the Fire's roster.

Stojanović, 27, has made eight appearances (six starts) since joining the Fire. The midfielder originally joined Chicago on Feb. 20, 2020, and made two appearances (one start) before suffering a season-ending injury on July 19, 2020. His three goals in 2021 ranks as the most on the team this season.
With Stojanović's U.S. Green Card approval, the Fire now has seven of its eight international roster slots currently occupied. The seven international players under contract for the 2021 season are: Ignacio Aliseda, Jhon Espinoza, Gastón Giménez, Stanislav Ivanov, Chinonso Offor, Boris Sekulić, and Carlos Terán.
COURTESY CHICAGO FIRE FC COMMUNICATIONS