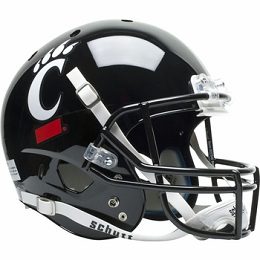 June 17, 2021
WEB LINK: https://bit.ly/3iNMM9z
CINCINNATI – University of Cincinnati cornerback Ahmad Gardner and defensive end Myjai Sanders were tabbed for preseason All-America honors by the Walter Camp Football Foundation.
Gardner earned first-team accolades while Sanders grabbed second-team awards.
Cincinnati finished 9-1 in 2020, winning the American Athletic Conference Championship and playing in its first New Year's Six Bowl game in over a decade. Both players were standout members of an elite defense which ranked in the NCAA's Top-15 in five categories, including tied for No. 3 in both interceptions (16) and No. 3 in team passing efficiency defense (101.26). The Bearcats have forced a turnover in 20-straight games, the longest active streak in the NCAA FBS, totaling AAC highs with 55 passes defended and 16 interceptions.
Gardner earned recognition on five All-America teams following the 2020 campaign, including first-team honors from the Football Writers Association of America and USA Today along with second-team accolades from the American Football Coaches Association, Associated Press and the Athletic. The First-Team All-AAC selection tied for second in the AAC's with nine passes defended and tied for fourth with three interceptions in the regular season. In nine starts, he added 28 tackles and shared a sack. According to ProFootballFocus.com, Gardner allowed the third-lowest passer rating in the FBS in coverage in 2020, making more plays on the ball than first downs allowed.
Sanders was one of the anchors for a front seven which led the American in rushing, scoring, pass efficiency and total defense. A semifinalist for the 2020 Bednarik Award, he was rated by Pro Football Focus College as one of the top edge defenders in the NCAA FBS. Sanders had a team-best 10.5 tackles for a loss and 7.0 sacks in 2020 where he earned First-Team All-AAC honors. Both his marks ranked him among the Top-10 defenders in the AAC.
FILL-IT-UP FRIDAYS
New season ticket holders who make their purchases on a Friday between 9 a.m. and noon ET will be entered in a drawing to win various Bearcats prizes. Fans should follow @GoBEARCATS on social media and tune in each Thursday this summer, starting on June 17, for weekly prize announcements.

ABOUT THE BEARCATS
Cincinnati finished 9-1 in 2020, winning the American Athletic Conference Championship and playing in its first New Year's Six Bowl game in over a decade.

The Bearcats return 16 starters from last season's squad, including Ridder and seven-time All-America selection Ahmad Gardner along with All-AAC selections Darrian Beavers, Marcus Brown, Coby Bryant, Myjai Sanders, Tre Tucker, Josh Whyle and Michael Young Jr.

The 2021 roster projects to have nearly 40 local players who grew up and played high-school football in the tri-state area.

FOLLOW THE BEARCATS
For all the latest information on Cincinnati football, please visit GoBEARCATS.com. For up-to-the-minute updates, follow Cincinnati football (@GoBearcatsFB) and Coach Fickell (@CoachFick) on Twitter. You can also find the Bearcats on Instagram and Facebook.

ABOUT WALTER CAMP
Walter Camp, considered the "Father of American Football," first named an All-American team in 1889. The 2021 season will be the 132nd edition of the team.
In late November, the 2021 All-America teams will be selected by the head coaches and sports information directors of the 130 Football Bowl Subdivision schools and will be certified by Marcum's New Haven-based accounting firm.
Walter Camp, "The Father of American football," first selected an All-America team in 1889. Camp – a former Yale University athlete and football coach – is also credited with developing play from scrimmage, set plays, the numerical assessment of goals and tries and the restriction of play to eleven men per side. The Walter Camp Football Foundation – a New Haven-based all-volunteer group – was founded in 1967 to perpetuate the ideals of Camp and to continue the tradition of selecting annually an All-America team. The Foundation is a member of the National College Football Awards Association (NCFAA). The NCFAA was founded in 1997 as a coalition of the major collegiate football awards to protect, preserve and enhance the integrity, influence and prestige of the game's predominant awards. The NCFAA encourages professionalism and the highest standards for the administration of its member awards and the selection of their candidates and recipients.
COURTESY UC ATHLETIC COMMUNICATIONS