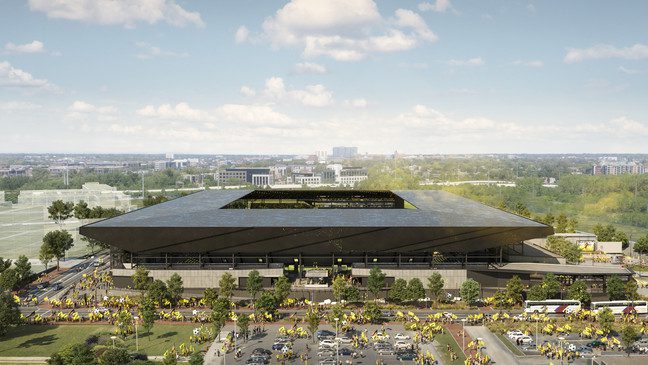 The partnership will see the new home of the reigning MLS Cup champions, Columbus Crew, be named Lower.com Field;
Columbus-based Lower is a top lender and innovative fintech that was voted the best place to work in 2021 by Columbus CEO Magazine
HIGHLIGHTS FROM THE PRESS CONFERENCE
June 15, 2021
COLUMBUS – Columbus Crew and Lower today announced a long-term partnership that includes naming rights to the Crew's new downtown home, which will be named Lower.com Field, effective immediately. The partnership sees two Columbus-based organizations who are invested in the local community come together in a landmark agreement, terms of which were not disclosed.

"We are proud to partner with Lower in naming our new Stadium," said Dee Haslam, Columbus Crew Investor-Operator. "Dan Snyder's leadership and vision align so strongly with the goals of the Crew. Lower is a world class company, rooted in Columbus, renowned for their culture and fully invested in giving back to our community. Lower.com Field will provide our players a home-field advantage and our supporters a best-in-class experience. In addition to match days, we are immensely excited that Lower.com Field will be the cornerstone of a new live, work, and play neighborhood in Astor Park. On behalf of the Haslam and Edwards Families, we look forward to working together to make a sustainable and positive difference in Columbus and for our supporters."

Lower is a fintech company whose mission is make the traditionally daunting task of buying or refinancing a home simple. The millennial and Gen-z home finance platform is differentiated from other digital lenders by taking a holistic approach to the homeownership journey. Consumers can go online or download the app and find a one-stop shop experience where they can save for a home, get a great mortgage, and protect their home through its insurance marketplace. With more than 10,000 five-star reviews in less than two years, Lower is becoming the go-to destination for those looking to save for, insure, buy, or refinance a home across the country.

"We have nearly 1,000 local team members, have funded billions in loans, and have been named the top workplace in Columbus, and yet, we're still relatively unknown as a company. So, this partnership, to some extent, is the coming out party for our brand. Very few companies ever get to name a stadium, let alone a brand new one, in their hometown. It is a once in a lifetime opportunity," said Lower CEO Dan Snyder. "On behalf of my partners and the entire team, we couldn't be more excited to open up Lower.com Field to the city of Columbus on July 3."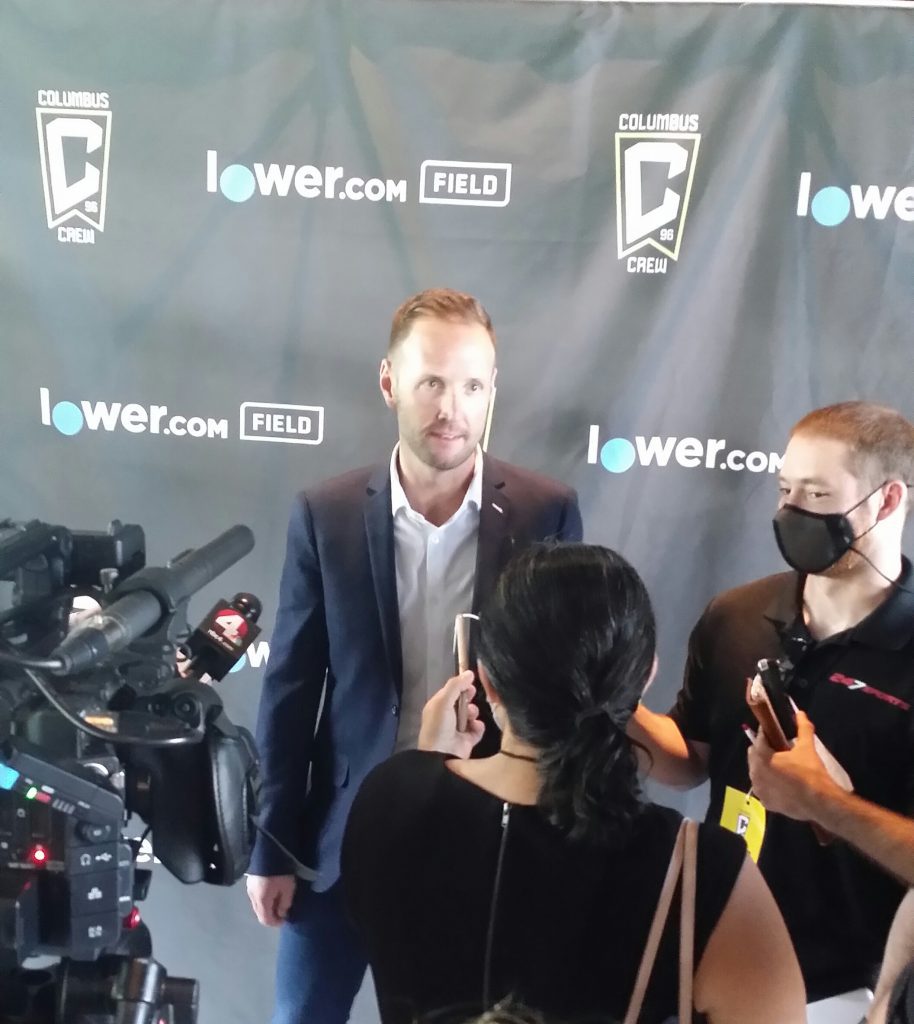 Lower is heavily invested in the Columbus community and will collaborate with the Crew on several community-based initiatives as a focal point throughout the partnership. Lower becomes the Presenting Partner to the Crew's Mini-Pitch Project. The Mini-Pitch Project is a field development project that aims to provide local youth in underserved communities with the opportunity to get outside and play soccer in safe and fun environments. As previously announced, the Club's 11th field development project – a mini pitch at Northgate Intermediate School in Columbus – is set to open later month. On matchdays, for each goal scored by the Crew, Lower will donate $1,000 to Healthy Homes. Healthy Homes is a non-profit housing organization and collaboration between Community Development for All People and Nationwide Children's Hospital that works to preserve and create high-quality affordable housing. On top of the charitable donation, there will be a second goal-based opportunity, which benefits Crew fans. For each goal scored in the regular season, team supporters will unlock $500 toward their home financing, up to $1,500.

Lower also becomes an Associate Partner to Give Forward becoming an integral part of the Club's community efforts. Give Forward is a platform of the Columbus Crew Foundation that serves challenged youth, encouraging healthy and positive lifestyles, honoring the military, and keeping Columbus beautiful.

"We couldn't have found a more perfect fit with Lower as our naming rights partner," said Columbus Crew Executive Vice President and Chief Business Officer Steve Lyons. "It was critical for us to find a like-minded company, Columbus-based, and committed to our community. At the same time, Lower's bold, upward trajectory reflects the direction of the Crew and the personality of Lower Field. As a leading innovative technological company, they focus on creating world-class customer experiences and their core mission of making home ownership more accessible is impactful for our fans. We are thrilled to welcome Lower and their associates to the Crew family."

Continued Lyons: "As we prepare to open Lower.com Field, we are excited that this stadium will represent our players, club and city on a national and international stage through events such as Campeones Cup later this summer and potential U.S. Soccer matches in the future. The ability to host high-profile events of this magnitude provides incredible exposure to the club, the city and our partners through the global game of soccer."

The Crew also announced today that the second largest supporters section in Major League Soccer, the Nordecke (3,364) has now officially sold out. While the Nordecke, and as previously announced, all premium club, suites and loge boxes at Lower.com Field sold out for the current season, limited general seating 2021 Season Tickets are still available at a pro-rated price. Similarly, Limited Partial Plans for four to 10 matches are currently available. Supporters can ensure priority access to single match tickets and purchase full or partial Season Ticket Memberships by visiting the following link: https://bit.ly/2SuhKsD.
As part of the partnership, Lower is also the Entitlement Partner to the East Field Club, which is set to be named the "Lower.com Lounge." The lounge is the most premier space within Lower.com Field and is inclusive of 10 private field-level suites and 120 field seats.

Lower.com Field is set to open its gates at full capacity on Saturday, July 3, when the Crew hosts the New England Revolution for the venue's Inaugural Match [5:00 p.m. ET / ESPN, ESPN App (Stream) / 97.1 The Fan & 971thefan.com (English); ColumbusCrew.com (Spanish)]. The new world-class stadium has a capacity for 20,011 supporters and includes seats that are as much as 28 feet closer to the pitch than any of the seats at Historic Crew Stadium. Additionally, the incline is steeper, providing improved sightlines for supporters in every part of the venue. A defining feature of the stadium is a 220,000 square-foot canopy that will cover all supporters during the match, providing shelter from weather conditions throughout the season.

The premium spaces at the new home of the Crew are among the highest-end premium experiences in MLS and include Ledge Seats which hang over the lower bowl, offering one of the best views of the pitch. The New Nordecke at Lower.com Field is located on the north end of the stadium and is set to be the second-largest supporters section in MLS, with standing-only capacity for 3,364 supporters. Notably, it features a state-of-the-art tifo-rigging system designed for the Black & Gold supporters. Upon arrival to the southeast entrance of Lower.com Field, supporters will be able to walk up to and congregate in a 62,000 square-foot public plaza featuring a large, outdoor 14-feet by 24-feet video screen. Supporters can then walk across the plaza to the Pub Restaurant and Crew Shop, which will be open on non-matchdays. The concession stands at the venue are also set to feature several local food and beverage options.

At 225 feet wide by 360 feet long, the surface of the pitch at Lower.com Field – which sits 22 feet below the concourse level – will be surrounded by thirteen feet of synthetic turf on the sidelines and eleven feet of synthetic turf on the end lines. The SubAir system used in the pitch will allow it to recover faster from adverse weather conditions, as it can increase the temperature of the pitch root zone by up to 28 degrees, allowing for events played in cold conditions to occur with less buildup that normally might affect the flow of the game. Additionally, the SubAir system can drain water from the pitch in three minutes, while gravity systems usually used in stadiums can take up to 60 minutes.

Before Lower.com Field opens, the Club is set to hold multiple activations as part of its matchday programming for the Club's Farewell to Historic Crew Stadium this weekend. The Crew's final match at the historic venue is set to take place on Saturday, June 19 with the Club hosting Chicago Fire FC [7:30 p.m. ET / Bally Sports Ohio, Bally Sports App (Stream) / 97.1 The Fan & 971thefan.com (English); ColumbusCrew.com (Spanish)]. Ahead of the match, Bally Sports Ohio is scheduled to host a one-hour pre-match special commemorating the day, beginning at 6:30 p.m. ET.

Columbus Crew was represented by Legends Global Partnerships in this wide-ranging partnership with Lower.com.
ABOUT COLUMBUS CREW
Columbus Crew is the first club in Major League Soccer. The Crew is operated by The Edwards Family and Haslam Sports Group. The Black & Gold are the 2020 MLS Cup Champions. The Club won its first MLS Cup championship in 2008 and also won the 2002 Lamar Hunt U.S. Open Cup as well as MLS Supporters' Shield titles in 2004, 2008 and 2009. The 2021 campaign is the Columbus Crew's 26th season in MLS as well as the Club's final season at Historic Crew Stadium — the first soccer-specific stadium in the United States – and the Crew's inaugural season at Lower.com Field.

Website: ColumbusCrew.com | Twitter: @ColumbusCrew | Instagram: @ColumbusCrew | Hashtag: #Crew96 | Facebook.com/columbuscrew | App: ColumbusCrew.com/app | Stadium: Historic Crew Stadium | Training Facility: OhioHealth Performance Center | Stadium: Lower.com Field opening July 3, 2021

ABOUT LOWER
Lower is on a mission to help people build wealth through homeownership. The fintech company, based in Columbus, Ohio, offers a home finance platform that allows customers to deposit money and save for a home, get a mortgage to buy a home, refinance an existing mortgage, and obtain insurance to protect their home. This digital one-stop shop lowers the barriers to homeownership by helping customers across the country, no matter where they are in their homeownership journey. Lower is a FNMA/FHLMC/GNMA seller-servicer that has funded billions in loans and has more than 10,000 five-star reviews in less than two years. Lower works with more than 35 major insurance carriers nationally including Nationwide, Liberty Mutual and Allstate. They have more than 800 local employees and 1,000 team members overall. Lower has been named the best place to work by Columbus CEO and a top workplace nationwide by Glassdoor and Fortune. To learn more, visit www.lower.com.
COURTESY COLUMBUS CREW COMMUNICATIONS