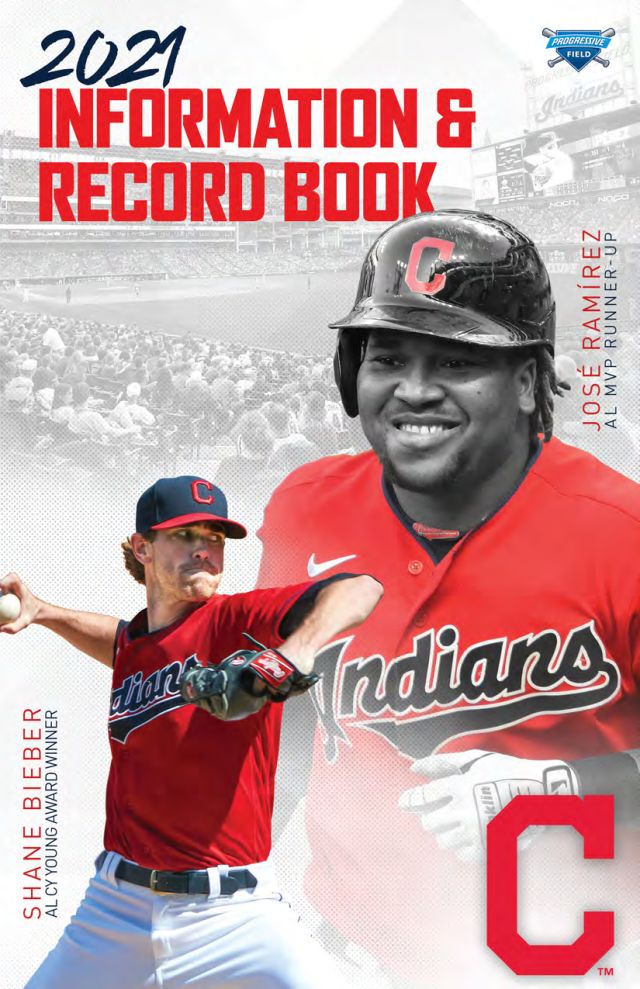 CLEVELAND INDIANS (34-27) vs. SEATTLE MARINERS (31-34)
RHP Shane Bieber (7-3, 2.96) vs. RHP Logan Gilbert (1-2, 4.98)
Game #62/Home #29 » Sunday, June 13, 2021 » Progressive Field » 1:10 p.m. (ET) » Bally Sports Great Lakes, WTAM/WMMS/IRN
WILD, WACKY, WALKOFF
» The Clevelanders (34-27, 2nd, -4.5G) posted their fifth walk-off
win of 2021, besting Seattle by a score of 5-4 in 10 innings on
Saturday afternoon at Progressive Field…Cleveland has won 22
of 36 & 26 of last 42 since April 25, including 4 straight at home.
» The victory marked Cleveland's first of the season when
trailing after 8 innings, as the club was down 4-0 until CESAR
HERNANDEZ broke the drought with a solo HR in the bottom of
the 8th…Cleveland staged a pivotal 3-run rally in the 9th that began
with a pair of two-out walks by pinch-hitter BRADLEY ZIMMER
& JOSH NAYLOR; pinch-hitter BOBBY BRADLEY then laced
an RBI-single to beat the right-side shift and put runners on the
corners, setting the scene for RENE RIVERA's game-tying 2-run
double off the LF wall after falling into an 0-2 count…Cleveland
loaded the bases in the 10th with AMED ROSARIO's single that
moved [Designated Runner] Hernandez to third, followed by an
intentional walk issued to JOSÉ RAMÍREZ; Hernandez scored the
winning run on a tapper back to the mound by HAROLD RAMIREZ,
as Paul Sewald's errant force attempt throw pulled Tom Murphy
far enough away from home plate to allow for the sliding Cesar.
» Starter TRISTON McKENZIE walked 4 of the 6 batters he
faced before a quick 1st-inning hook (0.2IP, 0H, 1R-ER, 4BB, 32
pitches), but Cleveland managed to escape with just the single run
allowed on the bases-loaded walk…Jake Fraley hit a two-run HR
off PHIL MATON in the 3rd, while Dylan Moore added a solo shot
off BLAKE PARKER in the 7th…JAMES KARINCHAK earned his
third relief win with a pair of K's in a scoreless 10th.
LATE GAME HEROICS | WALK-OFF WARRIORS
» Cleveland stormed back from a 4-run deficit in Saturday's contest
with 4 runs in the 9th-inning and later, walking it off in the 10th for
their 5th walk-off win of the season…In late & close game situations
(7th-inning-or-later with the batting team tied, ahead by one run, or
the tying run is at least on deck), Cleveland is tied with Los AngelesNL and San Francisco for the MLB-lead in home runs (10), while ranking 3rd in OPS (.752), 4th in SLG% (.409) and T4th in OBP
(.342)…JOSH NAYLOR is hitting .375/.423/.708 in late game scenarios and is T2nd in the Majors with 7 late game runs scored…
JOSÉ RAMÍREZ ranks 2nd in MLB in late game SLG% (.889) and
is T2nd in home runs (4).
» The Tribe's 5 walk-off wins this season are tied with New YorkAL, Philadelphia and Colorado for 2nd-most in the Majors behind
Oakland (6)…Cleveland has the 2nd-most walk-off wins in MLB
since 2016 with 40, trailing Oakland (49)…Tribe led the Major
circuit in 2016 with 11 walk-off victories.
BIEBS, CIV & THE REST OF THE CREW
» BIEBER & CIVALE have held down the starting rotation in 2021,
combining to go 16-5 in 173IP…the duo has a combined 3.07 ERA
(59ER) and the club has gone 20-6 in their starts.
» The rest of the rotation has been pieced together due to injuries
and inconsistency accross the first part of the season, as the Tribe
has used 8 other starters in the rotation who have combined to go
6-14 with a 6.59 ERA (102ER/139.1IP) in 35 games started (14-21
club record over those starts).
COMING IN HOT | JUNE NUMBERS
» The Cleveland offense has heated up with the increase in June
temperatures, slashing .280/.332/.440 with a .772 OPS…had
combined to hit .217/.291/.381 with a .672 OPS in the months of
April & May…CLE is currently averaging 5.75 runs/game in June…
recorded 3.96 runs/game in April and 3.93 runs per game in May.
» For the month of June, Cleveland's offense ranks 3rd among
MLB clubs in batting average behind Baltimore (.296) and Houston
(.289), 5th in runs per game and 11th in OBP.
» In the Terry Francona era, (2013-present) the offense has seen
improvement in the warmer months:
CLE OFFENSIVE NUMBERS BY MONTH (2013-2021)
Month AVG OBP SLG OPS
April .237 .310 .394 .704
May .256 .331 .425 .756
June .259 .324 .425 .749
July .267 .336 .434 .770
Aug. .252 .323 .410 .733
Sept. .255 .329 .418 .747
CAN I GET AN AMED! | 2-HOLE
» AMED ROSARIO has settled in comfortably hitting second in the
batting order for Cleveland…since first hitting in the 2-spot on May
3, Tribe is 14-8 when Rosario hits second in the order, slashing
.352/.400/.489 with 2 2B, 2 3B, 2 HR and 11 RBI.
» Has recorded a hit in 6 straight (.464 in last 6G) and 11 of his last
12 games (.396 in last 12G)…since the beginning of May, Rosario
has slashed .333/.379/.472 after turning in a .179/.257/.299 clip in
the month of April.
MARINERS SAIL EAST
» The Tribe and Mariners wrap up a three-game set with a Sunday
matinee at Progressive Field…marks the second time the clubs
have squared off in 2021 after Cleveland dropped 3 of 4 contests in
Seattle May 13-16…Cleveland took the first two games of this series
and looks to complete its first sweep over Seattle at home since May
17-20, 2013…Cleveland took 5 of 6 games against Seattle in 2019,
including a 3-game sweep April 15-17 at T-Mobile Park and later 2
of 3 matchups May 3-5 at Progressive Field…clubs have alternated
winning the overall season series each year since 2013 with the Tribe
winning the odd yeccrs and Mariners taking the even years.
» The Tribe is 233-186 (.556) all-time vs. SEA, the 4th-best winning %
against the Mariners among current A.L. teams…CLE is 119-89 (.572)
all-time at home against SEA.
MOVE INCOMING
» Prior to today's contest, Cleveland recalled INF ERNIE
CLEMENT (#29) from AAA Columbus and optioned RHP TRISTON
MCKENZIE to AAA.
UPCOMING PROBABLES & BROADCAST INFORMATION
Date Opponent Probable Pitchers – Cleveland vs. Opponent First Pitch TV/RADIO
Mon. June 14 vs. Baltimore RHP J.C. Mejia (1-1, 4.15) vs. TBA 7:10PM ET BGSL/WTAM/WMMS/IRN
Tues. June 15 vs. Baltimore RHP Cal Quantrill (0-2, 3.21) vs. RHP Matt Harvey (3-7, 7.41) 7:10PM ET BGSL/MLBN/WTAM/WMMS/IRN
Weds. June 16 vs. Baltimore RHP Aaron Civale (9-2, 3.17) vs. LHP Keegan Akin (0-1, 4.13) 7:10PM ET BGSL/WTAM/WMMS/IRN
Thurs. June 17 vs. Baltimore TBD vs. Jorge López (2-7, 5.64) 1:10PM ET BGSL/WTAM/IRN
57
BIEBER
SHANE rhp
TODAY'S STARTER
W L ERA G/S IP ER
HOME 2 1 3.06 5/5 32.1 11
ROAD 5 2 2.91 8/8 52.2 17
DAY 2 2 3.62 6/6 37.1 15
NIGHT 5 1 2.45 7/7 47.2 13
GRASS 7 3 2.96 13/13 85.0 28
TURF 0 0 – 0/0 0.0 0
AVG H AB HR BB SO
vs. LEFT .225 34 151 4 19 66
vs. RIGHT .214 36 168 5 12 56
TOTALS .219 70 319 9 31 122
2021 mlb splits
W L ERA G/S IP ER
HOME 15 9 3.82 36/35 214.2 91
ROAD 26 8 2.83 43/42 276.2 87
DAY 11 6 3.42 25/24 152.2 58
NIGHT 30 11 3.19 54/53 338.2 120
GRASS 38 16 3.34 75/73 463.0 172
TURF 3 1 1.91 4/4 28.1 6
AVG H AB HR BB SO
vs. LEFT .239 215 898 31 67 313
vs. RIGHT .226 217 962 29 48 308
TOTALS .232 432 1860 60 115 621
CAREER Mlb splits
IP: 9.0, April 13 at CWS IP: 9.0, 4x, last 4/13/21 at CWS
Hits: 9, 2x, last May 11 vs. CHC Hits: 11, Sept. 15, 2019 vs. MIN
Runs: 4, May 5 at KC Runs: 7, 2x, last 4/21/19 vs. ATL
ER: 3, 6x, last May 22 vs. MIN ER: 7, July 24, 2018 vs. PIT
SO's: 13, April 18 at CIN SO's: 15, May 19, 2019 vs. BAL
Walks: 4, 3x, last May 27 at DET Walks: 4, 7x, last 5/27/21 at DET
HR: 2, April 24 vs NYY HR: 4, May 13, 2019 at CWS
Pitches: 121, May 11 vs. CHC Pitches: 121, May 11, 2021 vs. CHC
CG's: N/A CG's: 3, last 8/4/19 vs. LAA
Low-Hit CG: N/A Low-Hit CG: 1, 7/24/19 at TOR
CG SHO's: N/A CG SHO's: 2, last 7/2419 at TOR
Win Streak: 3, 1x, last 5/27-6/8 Win Streak: 7, 7/24-9/6/20
2021 HIGHS – MLB CAREER HIGHS – MLB
W-L ERA G GS IP H R ER BB SO
2021 7-3 2.96 13 13 85.0 70 30 28 31 122
Career 41-17 3.26 79 77 491.1 432 191 178 115 621
BIEBER at HOME
W-L ERA G GS IP H R ER BB SO
2021 2-1 3.06 5 5 32.1 29 12 11 13 42
Career 15-9 3.82 36 35 214.2 221 98 91 55 267
TODAY'S OUTING
» On the heels of becoming the club's fifth different A.L. Cy Young
Award winner in 2020, the 26-year-old (May 31, 2021) is scheduled
to make his 14th start/appearance of 2021 against Seattle on regular
4 days' rest.
» Currently leads MLB with 122 strikeouts and boasts the most wins
since the start of 2020 with 15.
LAST OUTING AT ST. LOUIS
» SHANE BIEBER reeled off his third consecutive victory to earn
his seventh overall in 2021, holding the Cardinals to a single tally
over 6.0 frames (6.0IP, 5H, 1R-ER, 2BB, 5SO, HBP, 98 pitches)
in the Tribe's 10-1 victory…retired 9 of 11 over his first 3.0IP,
allowing a pair of singles in the 2nd…lone St. Louis tally came in
the 4th when the Cards staged a two-out rally, as Edmundo Sosa
capitalized on a Bieber walk and hit-by-pitch with an RBI-single.
VS. SEATTLE
» Will be making his fourth career start/appearance against Seattle…
is 1-1 with a 2.45 ERA (5ER/18.1IP) over his first three starts.
» Suffered his first career loss against Seattle earlier this season,
allowing 3R/ER in 4.2 innings of work in a 3-2 Tribe defeat on May
16 at T-Mobile Park (5H, 4BB, 7SO)…Tribe won both of his first two
career starts against the Mariners, winning 2-1 at Progressive Field
on May 3, 2019 (ND, 7.2IP, 6H, 1R/ER, 1HR, 1BB, 8SO) and 4-2 on
April 16, 2019 (W, 6.0IP, 4H, 1R/ER, 3BB, 5SO) as the visiting team.
GIVE 'EM 4
» Bieber has won 23 consecutive games when receiving 4+ runs
of support, dating back to Sept. 26, 2018…Bieber is 31-1 overall
when getting 4+ runs from the offense.
600 K'S MARK
» In just his 77th career game/75th start, SHANE BIEBER
eclipsed the 600 career strikeout mark in his last start, becoming
the 3rd-quickest pitcher to hit that mark in MLB history since 1901
and the quickest in franchise history:
FASTEST MLB PITCHER TO 600 STRIKEOUTS
Player Games
Yu Darvish 74G
Dwight Gooden 76G
Shane Bieber 77G
Kerry Wood 79G
Hideo Nomo 79G
» His 609 career strikeouts thru 77 career games is 3rd-most in a
pitcher's first 77 career games in MLB history (since 1901), behind
Darvish (632 SO) and Gooden (610 SO).
ATOP THE RECORD BOOKS
» BIEBER owns the longest streak in MLB history of games with
8+SO…streak was snapped on May 16 at SEA (7SO):
8+ SO/GAME STREAK
Pitcher Games Dates
Shane Bieber 20G 7/24/20-5/11/21
Randy Johnson 17G 9/24/99-6/19/00
Pedro Martinez 16G 7/29/97-4/17/98
Pedro Martinez 15G 8/19/99-5/12/00
Randy Johnson 15G 6/25/99-9/5/99
HITTERS
NOTES:
vs.LHP:.216(167-773) 27HR,86RBI vs.RHP:.232(281-1210) 44HR,156RBI Home:.225(197-877) 29HR,111RBI Road:.227(251-1106) 42HR,131RBI
SEA series/H-Stand: 22-70,2 2B,11BB,11RBI,12R,2HR RISP:.242(109-450) 16HR,160RBI
MLB EXTRA-BASE HITS, 2017-21
Nick Castellanos 297
José Ramίrez 294
Nolan Arenado 289
MLB HOME RUNS, 2020-21
Fernando Tatis, Jr. 35
Ronald Acuña, Jr. 32
José Ramίrez 31
Abreu/M. Olson 30
BULLPEN INFORMATION
W L ERA G SV/OPP IR/S 1st Bat/Retired IP H R ER BB SO HR
12 8 3.31 61 18/21 73/22 194/126 220.1 180 89 81 103 266 26
PITCHING
NOTES:
vs.ALL:.229(455-1991)75HR vs.LH:.226(202-892)29HR vs.RH:.230(253-1099)46HR
Home:16-12-7, 4.03ERA (248.0IP,111ER) Road:18-15-11, 4.14ERA (284.2IP,131ER)
COURTESY CLEVELAND INDIANS & MLBpressbox.com