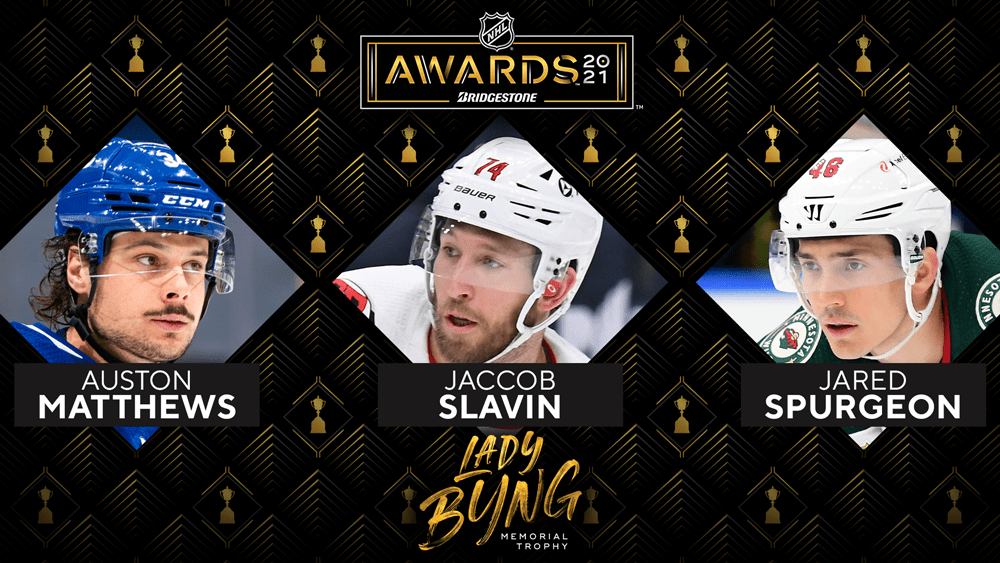 NEW YORK (June 5, 2021) – Toronto Maple Leafs center Auston Matthews, Carolina Hurricanes defenseman Jaccob Slavin and Minnesota Wild defenseman Jared Spurgeon are the three finalists for the 2020-21 Lady Byng Memorial Trophy, awarded "to the player adjudged to have exhibited the best type of sportsmanship and gentlemanly conduct combined with a high standard of playing ability," the National Hockey League announced today.
Members of the Professional Hockey Writers Association submitted ballots for the Lady Byng Trophy at the conclusion of the regular season, with the top three vote-getters designated as finalists. The winners of the 2021 NHL Awards presented by Bridgestone will be revealed during the Stanley Cup Semifinals and Stanley Cup Final, with exact dates, format and times to be announced.
Following are the finalists for the Lady Byng Trophy, in alphabetical order:
Auston Matthews, C, Toronto Maple Leafs
Matthews posted a League-leading 41 goals, 12 game-winning goals and 222 shots on goal (41-25—66) to earn his first career Maurice "Rocket" Richard Trophy and help the Maple Leafs claim their first division title since 1999-00. Matthews, who ranked fifth among NHL forwards with 21:33 of time on ice per game and ninth among all skaters with 47 takeaways, received 10 penalty minutes during his 52 appearances – the second-fewest among the League's top 25 scorers behind only Artemi Panarin (6 PIM in 42 GP w/ NYR). The 23-year-old Scottsdale, Ariz., native – a finalist for the second straight season after placing second in voting in 2019-20 – is vying to become the eighth different player to win the Lady Byng Trophy with Toronto and just the second to do so in the expansion era (since 1967-68), following Alexander Mogilny in 2002-03.
Jaccob Slavin, D, Carolina Hurricanes
Slavin (3-12—15) averaged the most time on ice (22:59) for a Hurricanes team that yielded 2.39 goals per game, tied for the fourth-fewest in the NHL, en route to capturing its first division crown since 2005-06. Slavin, who recorded 1,195:05 of total playing time in 52 outings, took only one minor penalty – for delay of game (puck over glass) – the fewest among all skaters who averaged at least 20 minutes in 2020-21 (minimum: 10 GP). The 27-year-old Denver native and first-time finalist is seeking to become the second player in franchise history to capture the Lady Byng Trophy, after Ron Francis in 2001-02. He and Spurgeon each are looking to become the fourth defenseman in NHL history to win the award, following Brian Campbell (2011-12 w/ FLA), Red Kelly (3x, most recently 1953-54 w/ DET) and Bill Quackenbush (1948-49 w/ DET). (Kelly also won the award as a forward in 1960-61 w/ TOR.)
Jared Spurgeon, D, Minnesota Wild
Named captain prior to the start of 2020-21, Spurgeon paced Wild defensemen with 7‑18—25 in 54 games to lead Minnesota to its eighth playoff berth in the past nine campaigns – a feat accomplished by just three other teams (PIT, STL and WSH). Spurgeon, who also topped all Wild players with 102 blocked shots while ranking second in total time on ice (1,192:46) and fourth in average time on ice (22:05), was assessed three minor penalties during the season; only Slavin logged more minutes per game in 2020-21 while taking fewer penalties. The 31-year-old Edmonton native – who has played his entire NHL career in Minnesota – is the second player in franchise history who has been named a Lady Byng Trophy finalist, after Mikael Granlund finished third in voting in 2016-17, and is vying to become the first member of the Wild to win the award.
History
Lady Byng, wife of Canada's Governor General at the time, presented the Lady Byng Trophy during the 1924-25 season. After Frank Boucher of the New York Rangers won the award seven times in eight seasons, he was given the trophy to keep and Lady Byng donated another trophy in 1936. After Lady Byng's death in 1949, the NHL presented a new trophy, changing the name to the Lady Byng Memorial Trophy.
COURTESY NHLmedia.com