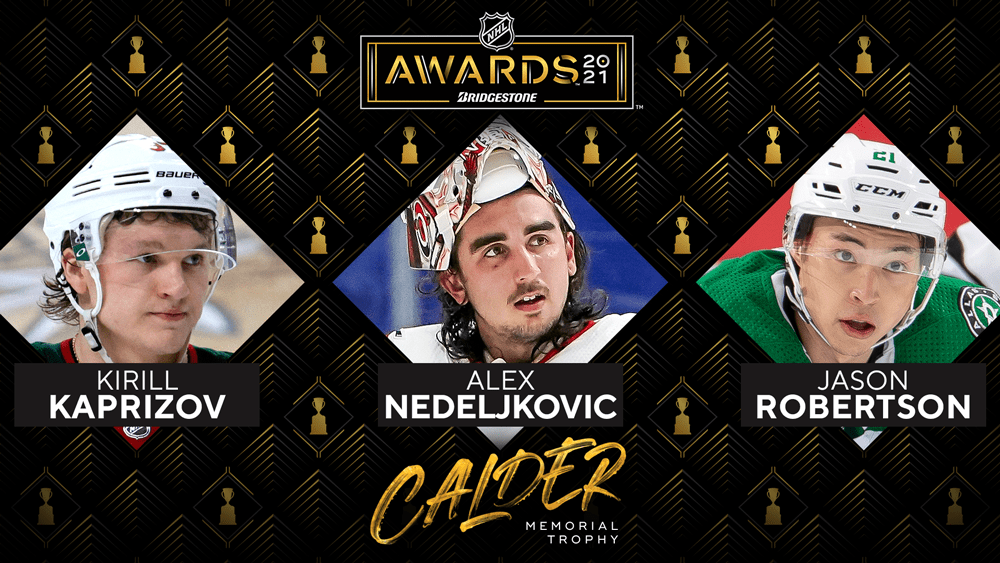 NEW YORK (June 3, 2021) – Minnesota Wild left wing Kirill Kaprizov, Carolina Hurricanes goaltender Alex Nedeljkovic and Dallas Stars left wing Jason Robertson are the three finalists for the 2020‑21 Calder Memorial Trophy, awarded "to the player selected as the most proficient in his first year of competition," the National Hockey League announced today.
Members of the Professional Hockey Writers Association submitted ballots for the Calder Trophy after the conclusion of the regular season, with the top three vote-getters designated as finalists. The winners of the 2021 NHL Awards presented by Bridgestone will be revealed during the Stanley Cup Semifinals and Stanley Cup Final, with exact dates, format and times to be announced.
Following are the finalists for the Calder Trophy, in alphabetical order:
Kirill Kaprizov, LW, Minnesota Wild
Kaprizov topped all NHL rookies and Wild skaters in goals (27) and points (51), helping Minnesota reach the Stanley Cup Playoffs for the eighth time in nine seasons. Only three other rookies since 1993-94 have led a team in points during the regular season, while also helping them qualify for the postseason: Auston Matthews (2016-17 with Toronto), Filip Forsberg (2014-15 with Nashville) and Trent Hunter (2003-04 with NY Islanders). Kaprizov also led all rookies in shots on goal (157), topped rookie forwards in average ice time (18:18) and ranked second in assists (24). Despite the shortened season he set several rookie franchise records, including goals, assists, points and power-play goals (8). The 24-year-old Novokuznetsk, Russia, native is looking to become the first Calder Trophy winner in franchise history and already is assured of being the highest-finishing Calder candidate for the Wild, ahead of teammate Jonas Brodin's fourth-place ranking in 2013.
Alex Nedeljkovic, G, Carolina Hurricanes
Nedeljkovic, who began the season on Carolina's taxi squad, made his season debut in the Hurricanes' 10th game of the season and went on to backstop the club to the Discover NHL Central Division title, posting a 15-5-3 record, 1.90 goals-against average, .932 save percentage and three shutouts in 23 appearances. The 25-year-old Parma, Ohio, native led all NHL goaltenders in goals-against average and save percentage (MIN: 15 GP), also the best single-season marks by a rookie in franchise history. The .932 save percentage marked the best by an NHL rookie with at least 20 appearances since the statistic was introduced in 1955-56. He posted a seven-game streak without a regulation loss from March 1-25 (6-0-1) and a season-best eight-game stretch from April 8 – May 3 (7-0-1). Nedeljkovic is vying to become the second Calder Trophy winner from the Hurricanes since the franchise moved to Carolina in 1997-98, joining Jeff Skinner (2011).
Jason Robertson, LW, Dallas Stars
Robertson was a major contributor to a Stars offense that was missing high-scoring forwards Tyler Seguin and Alexander Radulov for most of the season due to injury. The Stars' 2nd-round pick in the 2017 NHL Draft ranked second on Dallas and among all NHL rookies in scoring with 17-28—45 in 51 games. He led all NHL rookies in assists (28), plus-minus (tie, +13) and even-strength points (16-23—39) and ranked second in goals (tie, 17) and shots on goal (127). His season was highlighted by a nine-game point streak from April 13-27 (4-9—13), the longest by any NHL rookie since a 10-game streak by Arizona's Clayton Keller in 2017-18. The 21-year-old Arcadia, Calif., native is seeking to become the first Stars player to capture the Calder Trophy since the franchise moved to Dallas in 1993-94 and will be the highest-finishing Calder candidate for Dallas, ahead of teammate Miro Heiskanen's fourth-place ranking in 2019.
History
From 1936-37 until his death in 1943, NHL President Frank Calder purchased a trophy each year to be given permanently to the League's outstanding rookie. After Calder's death, the NHL presented the Calder Memorial Trophy in his memory.
Announcement Schedule
The three finalists for the 2021 NHL Awards presented by Bridgestone are being announced through Friday, June 11. The series of announcements continues Friday, June 4, when the three finalists for the King Clancy Memorial Trophy will be unveiled.
COURTESY NHLmedia.com