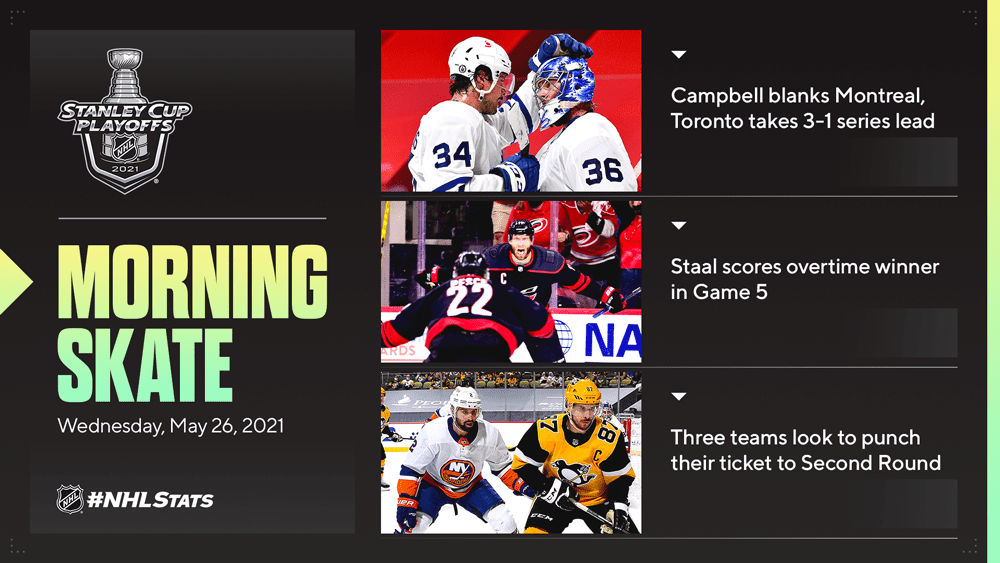 THREE HARD LAPS

* The Maple Leafs earned their third straight win to move within one of reaching the Second Round, while the Hurricanes snapped a two-game slide to take a 3-2 series lead.

* Joe Thornton scored and became the oldest Toronto player to record a point in a playoff game, while William Nylander also found the back of the net (again) to move closer to matching a franchise record.
* The Islanders, Lightning and Golden Knights will look to advance past the First Round, while the Penguins, Panthers and Wild aim to force the first Game 7s of the 2021 Stanley Cup Playoffs.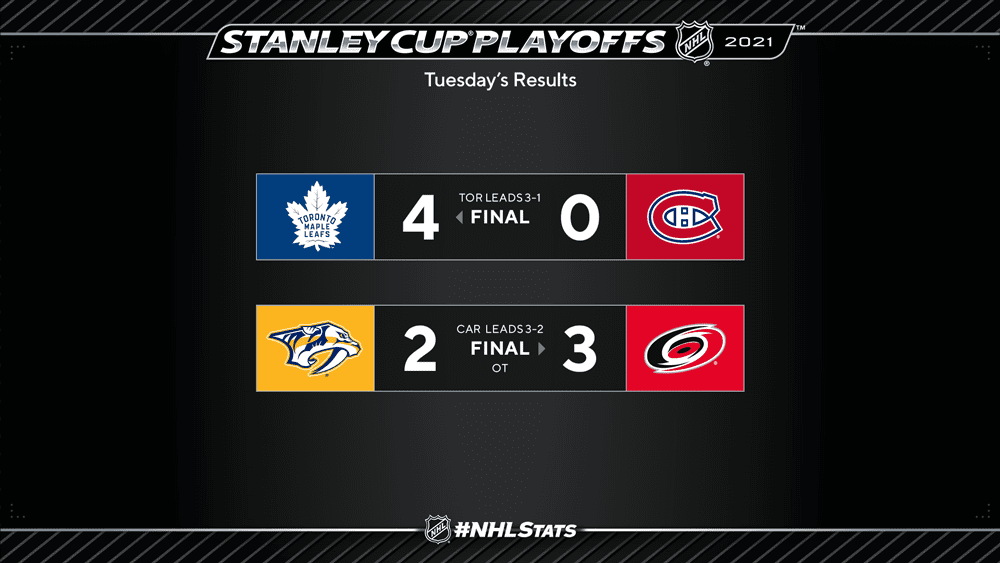 MAPLE LEAFS GO 2-0 AT BELL CENTRE, LEAVE MONTREAL WITH 3-1 SERIES LEAD
Alex Galchenyuk (1-2—3) and Alexander Kerfoot (0-3—3) had three points apiece and Jack Campbell turned aside all 32 shots he faced as Toronto took a 3-1 lead in its First Round series against Montreal.
* The Maple Leafs, who are headed home after earning road wins on consecutive days, sit one victory away from winning a Stanley Cup Playoffs series for the first time in over 17 years (2004 CQF vs. OTT).
* Campbell recorded the first playoff shutout of his NHL career and became the fourth different Maple Leafs goaltender to blank the Canadiens in the postseason. Campbell is the first to do so since Johnny Bower in Game 2 of the 1967 Stanley Cup Final at Montreal Forum.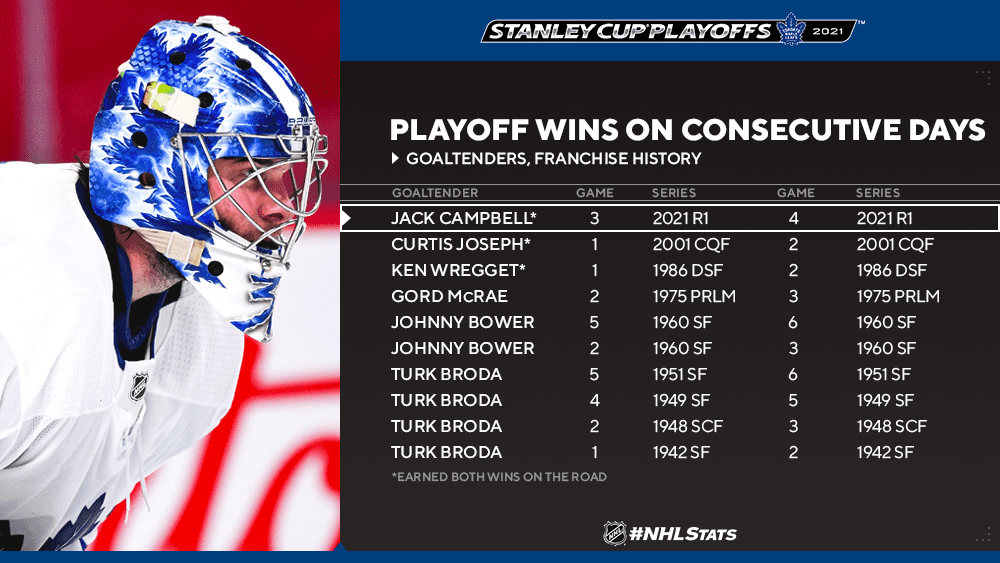 THORNTON, NYLANDER ADD THEIR NAMES TO FRANCHISE RECORD BOOKS
Joe Thornton scored his first goal of the 2021 Stanley Cup Playoffs to establish a new franchise record, while William Nylander also tallied to climb an all-time Maple Leafs list:
* Thornton (41 years, 327 days) became the oldest player in franchise history to record a playoff point, eclipsing Allan Stanley and Ron Francis who both had postseason assists at exactly 41 years and 62 days old. The oldest Toronto player with a playoff goal prior to Thornton was his longtime Sharks teammate Patrick Marleau (38 years, 222 days) in Game 7 of the 2018 First Round.
* Nylander (4-1—5) extended his postseason-opening goal streak to four games, matching the longest by a Maple Leafs player in the NHL's modern era (since 1943-44).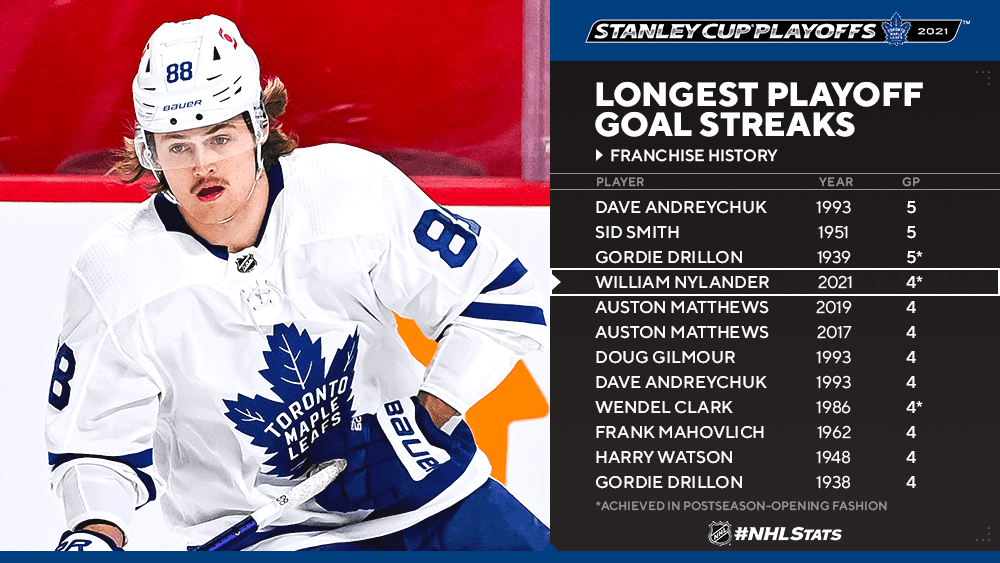 STAAL SCORES OVERTIME WINNER AS HURRICANES TAKE 3-2 SERIES LEAD
After Martin Necas and Yakov Trenin had dueling multi-goal performances in regulation, Jordan Staalscored the winner just 2:03 into overtime as the Hurricanes snapped a two-game slide to take a 3-2 lead in their First Round series. Carolina is one victory away from winning at least one postseason series for a third consecutive year.
* Staal scored the second playoff overtime goal of his NHL career (also Game 1 of 2019 R2). He became the fourth player to score two or more with the Hurricanes/Whalers franchise, joining Niclas Wallin (3), Cory Stillman (2) and Kevin Dineen (2).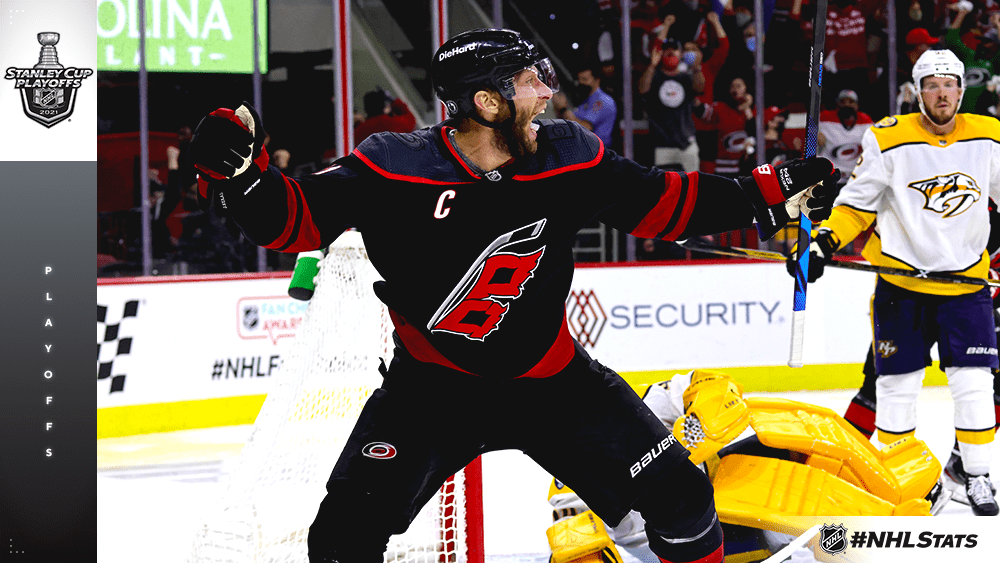 DID YOU KNOW?
Three series in the 2021 Stanley Cup Playoffs have featured three straight overtime games (BOS vs. WSH, WPG vs. EDM & CAR vs. NSH). That's tied for the highest such total in a single postseason – three series also featured three straight overtime games in both 1993 (DSF: NYI vs. WSH; DF: MTL vs. BUF; SCF: MTL vs. LAK) and 2001 (CQF: DAL vs. EDM; CSF: PIT vs. BUF; CF: COL vs. STL).
THREE GAME 6s FEATURED ON WEDNESDAY'S SLATE
Tonight's schedule features three Game 6s, with the Islanders, Lightning and Golden Knights each looking to punch their ticket to the Second Round of the 2021 Stanley Cup Playoffs.
FLORIDA, MINNESOTA LOOK TO FORCE GAME 7 AFTER FACING 3-1 SERIES DEFICIT
The Panthers and Wild will look to stave off elimination again and force Game 7 in their First Round series against the Lightning and Golden Knights, respectively.
* There have been five instances in NHL history in which a team forced a Game 7 after rallying from a 3-1 series deficit against the defending Stanley Cup champions (1975 SF: NYI vs. PHI; 1989 DSF: LAK vs. EDM; 1991 DSF: CGY vs. EDM; 2002 CQF: LAK vs. COL; 2017 R1: WSH vs. PIT). Los Angeles is the only club among that group to also claim the winner-take-all showdown, doing so in the 1989 Division Semifinals.
* Spencer Knight, who backstopped Florida to victory in Game 5, can become the fourth goaltender in League history to earn multiple wins in potential elimination games before age 21.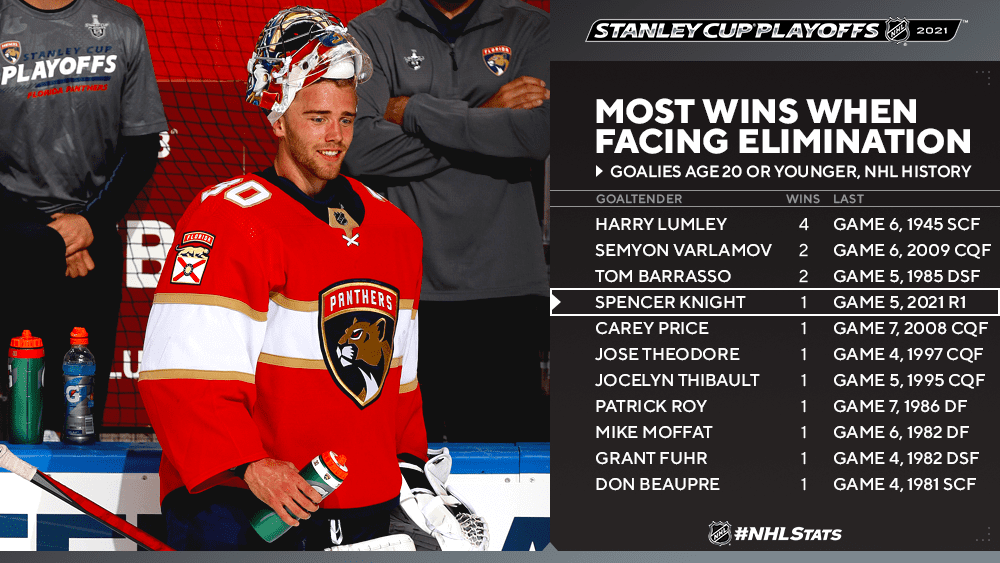 * Minnesota has rallied from a 3-1 series deficit to force Game 7 two times in franchise history (2003 CQF & 2003 CSF). The Wild went on to win the decisive showdown in each instance.
 
* Kirill Kaprizov and Nico Sturm accounted for two of Minnesota's four goals in Game 5. The most rookie goals in potential elimination games by one NHL team within a single playoff series is six, a mark set by the Flyers during the 1968 Quarterfinals (Rosaire Paiement: 3 G; Don Blackburn; 1 G; Andre Lacroix: 1 G; Bill Sutherland: 1 G).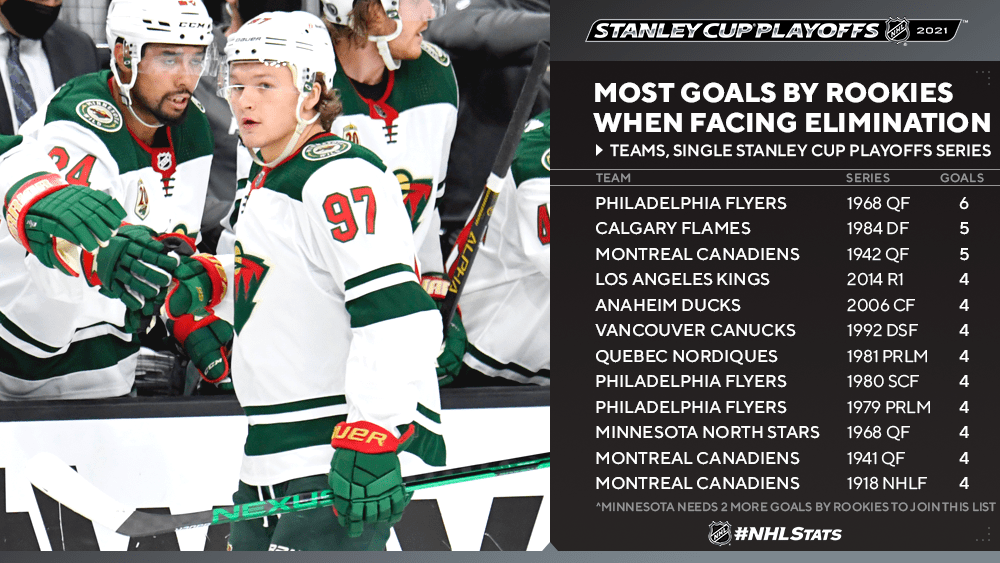 COURTESY NHLmedia.com