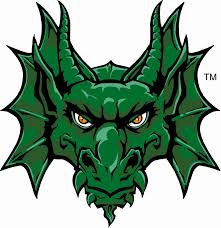 Dayton, Ohio—The Dayton Dragons recognized Blue Star Mothers as a "Hometown Heroes" recipient during a special inning break of the Dragons game on Wednesday night against the Quad Cities River Bandits at Day Air Ballpark. 
The Dayton Dragons shine the spotlight on the military, past and present, through the Hometown Heroes program. This program hosts military families at every Dragons game, recognizes outstanding military organizations and individuals and welcomes the newest members of the armed forces during special ceremonies.
Blue Star Mothers is a volunteer organization that began in WWII, works in hospitals, train stations, and sends care packages to their "kids" fighting the war. Blue Star Mothers of America is now a nationwide volunteer organization with chapters in states from coast to coast. The largest chapter, however, is in Dayton. The Dayton chapter is made up of mothers of honorably and medically discharged veterans serving in the Military, Guard, or Reserve. Some of their children returned home with disabilities, while others made the ultimate sacrifice.
The Dayton chapter sends about 80-100 care packages to deployed military every month. Over their 10 years of service, Dayton Blue Star Mothers have mailed more than 12,000 care packages to deployed troops.
In addition to care packages, they also host events throughout the year to support those who are currently serving and veterans. From bingo luncheons at the Dayton VA, to a coat drive to provide winter outerwear to veterans via Parka's for Patriots, to filling "Baskets of Hope" for veterans at the Dayton VA, this group is incredibly active in the community.
Like most non-profits, Dayton Blue Star Mothers depends heavily on their great volunteers and community support and donations, and they are always looking for more women (and men) to join the team. Those interested in donating time, money or supplies for this amazing group, can click here to connect with them.
This event is the first of five special Hometown Heroes spotlights at Dragons games this season. At each Hometown Heroes event, the Dragons pay tribute to all service men and women past and present. Presenting sponsors are the Dayton Development Coalition, Reynolds & Reynolds, and the Dayton Dragons. Additional tributes are scheduled for June 17, July 6, August 1, and August 21 each focused on a different aspect or organization involved in the military.
For more information on the Hometown Heroes program, please visit https://www.milb.com/dayton/community/hometownheroes
Single-game tickets for all Dragons 2021 home games are available at www.daytondragons.com or by phone at (937) 228-2287.
COURTESY DAYTON DRAGONS MEDIA RELATIONS