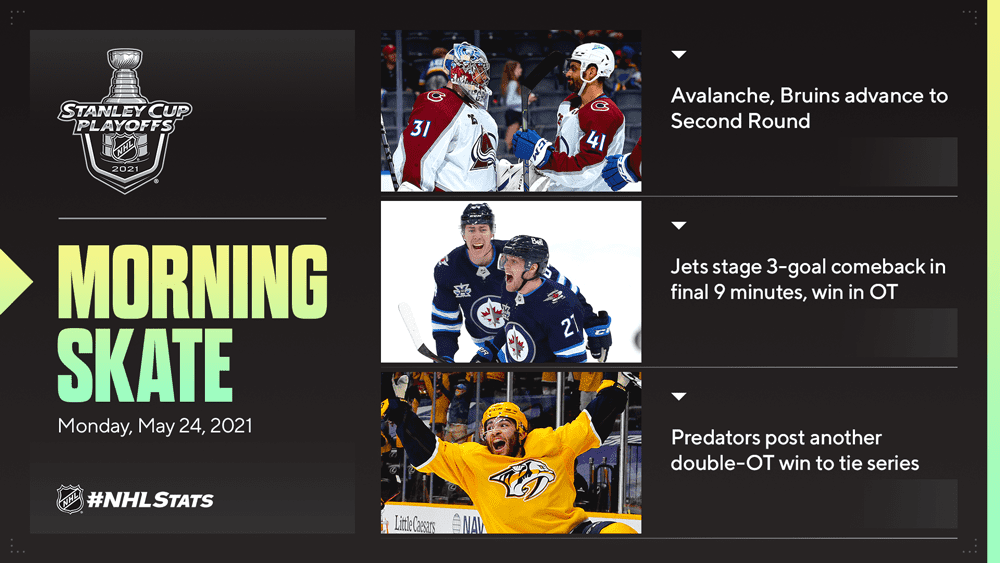 THREE HARD LAPS
* The Avalanche completed a sweep of the Blues and the Bruins won a fourth consecutive game to eliminate the Capitals as Colorado and Boston advanced to the Second Round.
* The Predators and Jets each claimed their second straight overtime win, with polarizing effects on their respective series – Nashville pulled even at 2-2 with Carolina, while Winnipeg took a 3-0 lead on Edmonton heading into Game 4 tonight.
* One in every three games this postseason has required overtime (10 of 30) after two contests went past regulation Sunday. The last playoff round to feature more than 10 overtime games was the 2017 First Round when an NHL-record 18 contests required extra time.
AVALANCHE COMPLETE FIRST SWEEP SINCE 2001
Nathan MacKinnon, Gabriel Landeskog and Mikko Rantanen each had 1-1—2 to guide the Avalanche to the third best-of-seven sweep in franchise history – and first in 20 years – and into the Second Round of the 2021 Stanley Cup Playoffs. Colorado will next face either Vegas or Minnesota, with the Golden Knights taking a 3-1 series lead into Game 5 tonight (10:30 p.m. ET).
* MacKinnon (6-3—9 in 4 GP) became the first player in Avalanche/Nordiques history to collect nine points in a series while playing four or fewer games. Only five other players in the last 25 years recorded as many points while helping his club complete a sweep in a best-of-seven.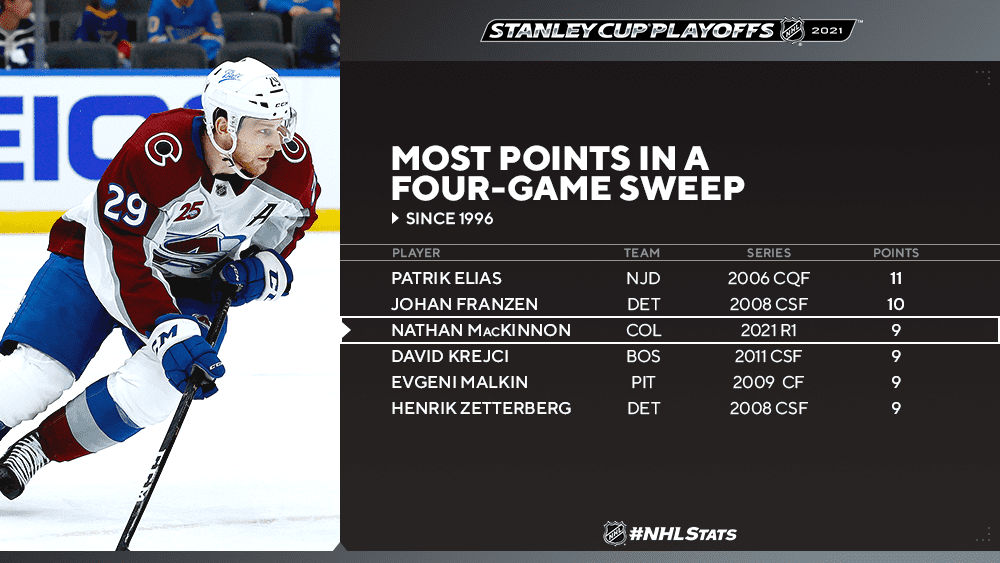 * Colorado became the fifth Presidents' Trophy winner to sweep its opening-round series, and the first to do so multiple times – they also achieved the feat in 2000-01. That year also marked Colorado's last sweep as they won four straight against Vancouver to begin their journey to their second and most recent Stanley Cup. Two of the other three instances of the Presidents' Trophy winner sweeping its first-round series saw the club win the Cup – the Stars did so in 1998-99 as did the Rangers in 1993-94 (the 1985-86 Oilers lost in the second round).

BERGERON, RASK HELP BRUINS PUNCH TICKET TO THE SECOND ROUND
Patrice Bergeron scored twice and Tuukka Rask made 40 saves as Boston won its fourth straight game against former captain Zdeno Chara and the Capitals to advance to the Second Round. The Bruins, who have won a playoff series in four straight years, will next face either the Islanders or Penguins.

* Bergeron scored his 10th and 11th goals in potential series-clinching games to surpass Cam Neely (9) and tie Milan Lucic (11) for the most in franchise history. His first tally stood as the fourth series-clinching goal of his career (also Game 7 of 2011 SCF, Game 7 of 2013 CQF & Game 5 of 2020 R1), two shy of the most by any player in Stanley Cup Playoffs history.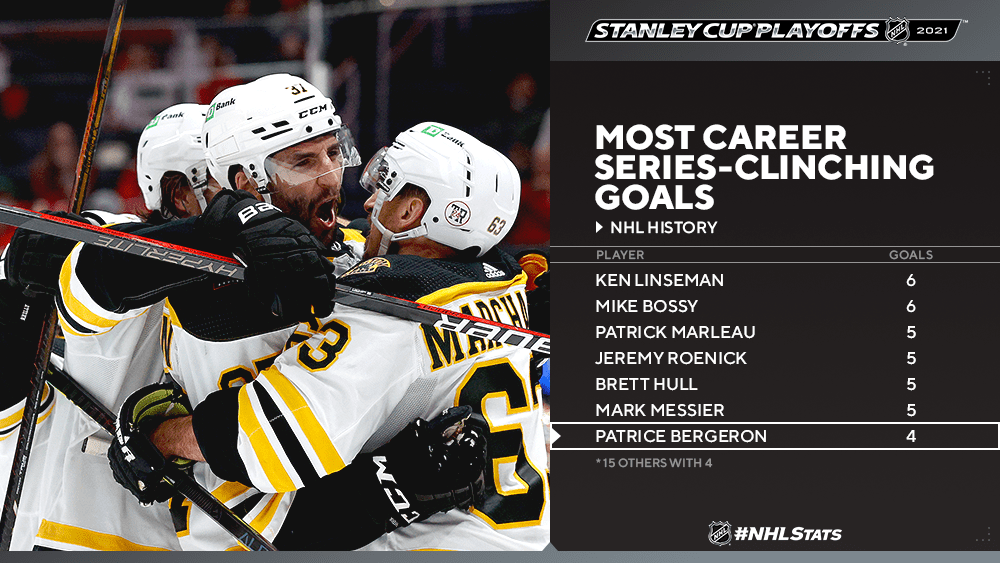 JETS STUN OILERS WITH 3-GOAL COMEBACK WIN, TAKE 3-0 SERIES LEAD
Trailing 4-1 with 8:19 to play in regulation, the Jets scored three goals in a span of 3:03 – including a pair 16 seconds apart by Blake Wheeler and Josh Morrissey – to even the score and force overtime for a second straight game. In the extra frame, Nikolaj Ehlers scored his second goal of the contest to complete the franchise's first three-goal comeback victory in playoff history and give the club its first-ever 3-0 series lead.
* The Jets, who can advance tonight when they host Game 4 (9:45 p.m. ET), became the 10th team in Stanley Cup Playoffs history to win a game in which it trailed by three or more goals in the final 10 minutes of regulation. The Oilers have been on the losing end in two of the last three instances.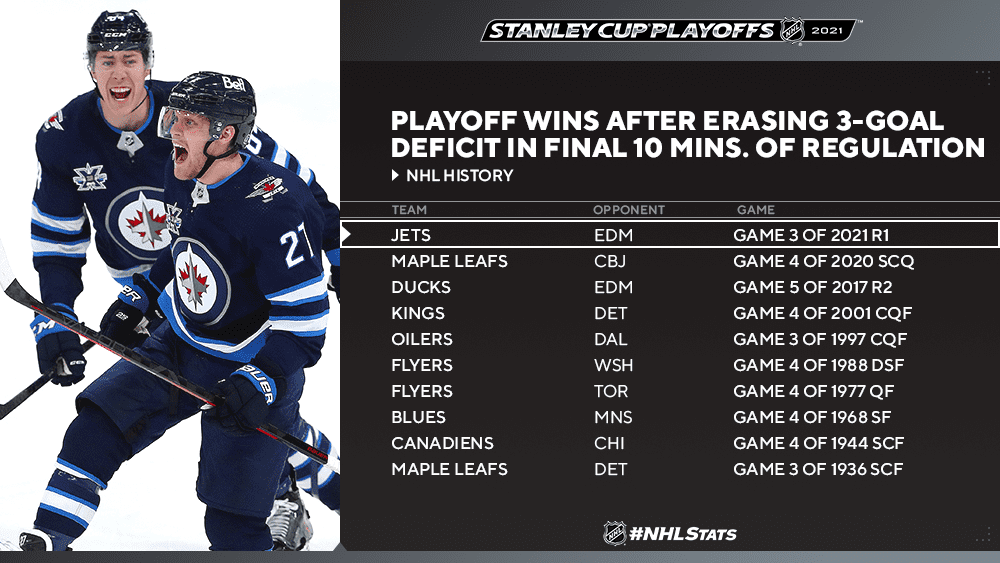 * Ehlers, who played his first game since April 24, had his first career multi-goal playoff game to equal his goal output from his prior 25 career postseason contests entering Sunday (2-7—9).
PREDATORS EDGE HURRICANES IN DOUBLE OT – AGAIN
Juuse Saros made a franchise-record 58 saves and Luke Kunin (2-0—2) bookended the contest with a goal in the opening 57 seconds of play and the game winner at 16:10 of double overtime to help the Predators even their First Round series with the Hurricanes at 2-2.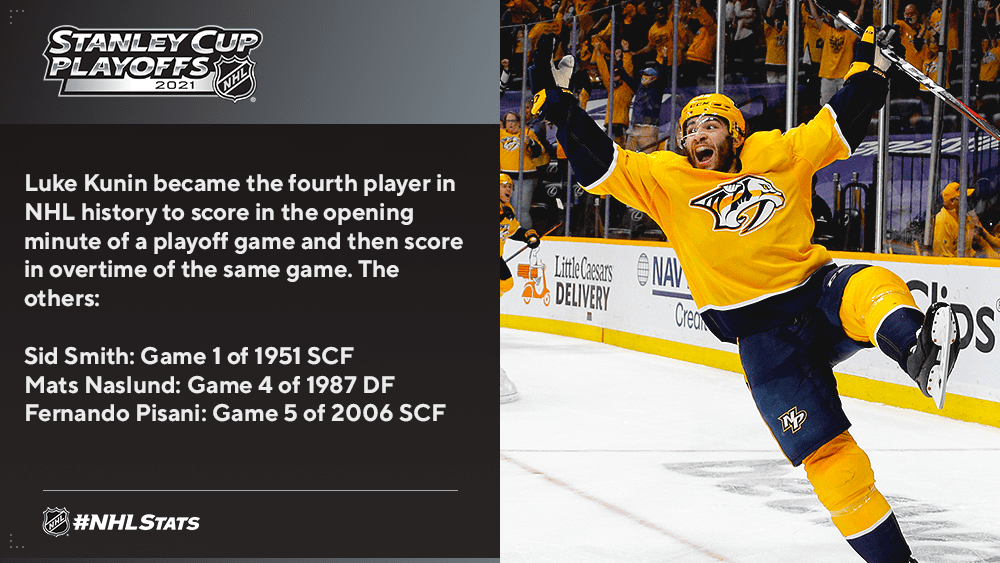 * Saros, the ninth goaltender on record to register at least 58 saves in a playoff game in which he played less than 100 minutes, became just the second goaltender since 1955-56 to record 50-plus saves in consecutive playoff games (also 52 in Game 3). The other: Curtis Joseph (Game 1 & Game 2 of 1993 DF at TOR).
* Kunin's second goal came after 96:10 of playing time to cap the third-longest game in Predators history – just ahead of Game 3 on Friday (94:54) and behind Game 4 of the 2016 Second Round (111:12 vs. SJS) and Game 4 of the 2015 First Round (101:00 vs. CHI)
TEN TEAMS IN ACTION ON BUSIEST DAY OF 2021 STANLEY CUP PLAYOFFS
The defending Stanley Cup champion Lightning will look to reach the Second Round tonight, as will the Golden Knights and Jets. Vegas can become the third franchise in NHL history to win a playoff series in at least three of its first four seasons – the Rangers and Blues are the only clubs to have done so. Winnipeg can complete a four-game sweep for the first time. 
SERIES LEADS ON THE LINE IN MONTREAL AND PITTSBURGH
The Maple Leafs and Canadiens head to Montreal each looking for a series advantage in the first of back-to-back games at Bell Centre, while the Islanders and Penguins jump back to Pittsburgh tied at 2-2 heading into Game 5.
* This is the sixth time that Toronto and Montreal have been tied 1-1 after two games in a best-of-seven series – the winner of Game 3 went on to win the series in four of the previous five instances. The clubs have gone head-to-head on consecutive days in the playoffs one other time (Games 3 and 4 in 1979 QF).
* When tied 2-2 in a best-of-seven series, the Penguins are 14-10 in Game 5 – including a 10-3 record when that contest is played at home. The Islanders, meanwhile, are 5-6 in Game 5 after splitting the first four contests in a best-of-seven, including a 3-4 mark when that tiebreaker comes on the road.
COURTESY NHLmedia.com