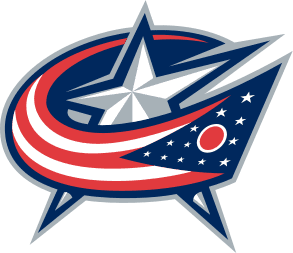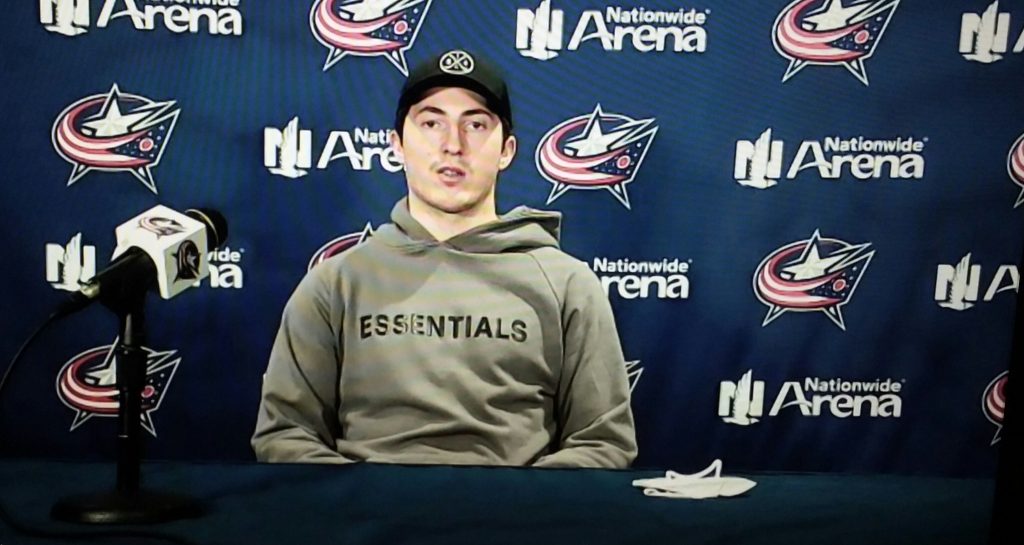 2020-21 STATISTICS & INFORMATION (From game notes of last game vs. Detroit)
8: Zach Werenski (D) (*Injured) 6′ 2″, 218 lbs. / Jul 19, 1997 (23 years and 9 months)
ZAK wuh-REHN-skee
Drafted: Columbus' first round pick, eighth overall, in the 2015 NHL Draft
5th NHL / 5th CBJ Season
Last Goal: APR 8, 2021 vs TAMPA BAY
Last Assist: APR 6, 2021 vs TAMPA BAY (1)
Career Shootouts: 0/2 (0%), 0 GDG
GP G-A-P +/- PIM
Season 35 7-13-20 -9 13
Career 335 65-124-189 13 71
Career vs. Opp 17 1-6-7 0 9
Season Highs: G A P PIM TOI Shots Hits +/-
1
7 times
2
3/2 vs DET
2
3 times
5
1/18 vs DET
27:52
1/26 vs FLA
5
3 times
3
4/4 vs FLA
+2
3/2 vs DET
Last Game: Did not dress for 13th-straight game (sports hernia) on 5/7 vs. DET.

2020-21: Had a 3-game point streak from 3/30-4/3 (2-2-4)… Notched 1-1-2, incl. OT winner on 3/13 vs. DAL… Collected 0-2-2 on 3/2 vs. DET…

Missed 3 games from 2/7-2/11 and 4 games from 2/15-23 with lower body injury… Tallied 1st goal of season on 1/23 vs. TBL and had 1-2-3 in 4 GP from 1/23-29.

Career: Has recorded double digit goals in each of his 1st 4 NHL campaigns… Has 40+ points in 3 of his seasons… Led NHL blueliners while setting single-season CBJ records for goals by a defensemen with 20 in 2019-20… Became CBJ's leader in career goals by blueliner with 42nd tally on 11/9/19 at COL… Finished 3rd in Calder Trophy voting in 2016-17 and was named to the NHL All-Rookie Team (1st).

Single-Game Highs: G – 3 (1x)… A – 3 (2x)… Pts – 4 (1x)
Stat or Streak: Made his NHL All-Star Game debut on Jan. 28, 2018 at Amalie Arena in Tampa.
THIS REPORTER'S TAKE ON THE JACKETS OFF-SEASON:
This will be an interesting offseason for the Blue Jackets.
Unlike what the national perspective is, those of us who cover the Jackets on a regular basis, it is a reload, not a rebuild.
However, there are several questions that have to be answered between now and training camp next season.
Who will be the new head coach and assistants?
Signing defenseman Zach Werenski.
Signing defensman Seth Jones.
Who will be the number 1 center?
Which goalie to keep, Joonas Korpisalo or Elvis Merzlikins? The team is top-heavy in goalies in the minors and more coming from overseas.
How to use the 3 first round picks in this year's draft?
What free agents to go after and who to trade for?
General manager Jarmo Kekalainen was being faced with making those decisions alone, but now, with Thursday's announcement of John Davidson being re-hired as head of Hockey Operations, he will get trememdous help with all of these decisions and more.
Everything is important, but at the top of the list is the two cornerstones of this franchise and that is to sign the top two defenseman in Jones and Werenski long-term.