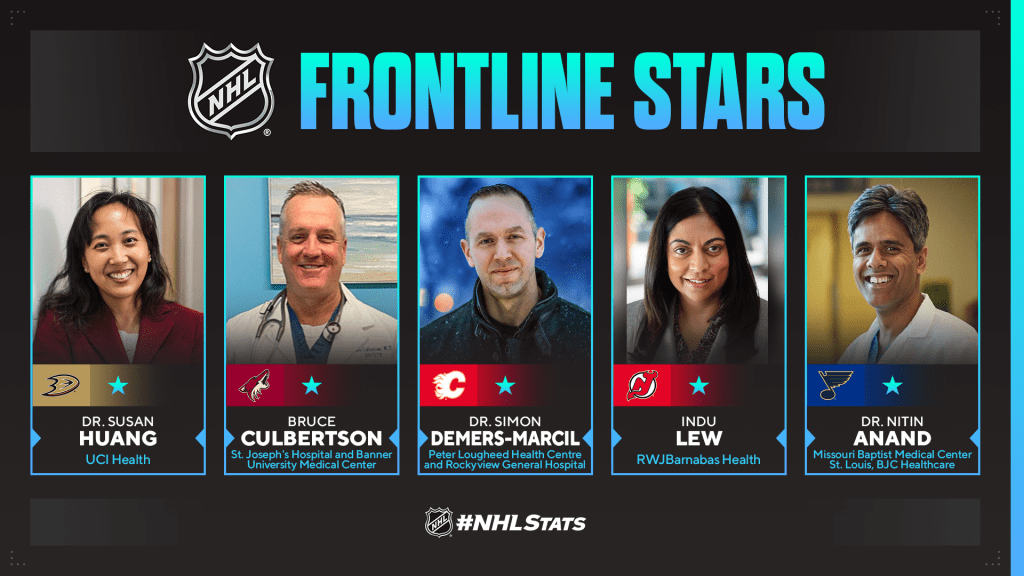 NEW YORK (May 19, 2021) – Throughout the 2020-21 regular season the NHL has been celebrating the remarkable efforts of the off-ice stars who have made it possible for us to play our games amid a pandemic by honoring frontline healthcare heroes from the regions represented by the League's weekly and monthly "Stars." Players winning the NHL's First Star of the Week, First Star of the Month and Rookie of the Month awards have shared those honors with frontline healthcare heroes from their teams' communities.
This esteemed group has included doctors, nurses, respiratory therapists, food service technicians, and emergency medical technicians, among others. They have helped to safely deliver babies, mobilize vaccination efforts, and thoroughly clean rooms and common areas. They also have picked up extra shifts and have provided comfort and support to patients as well as mentorship and support for their colleagues. They have brought critical aid and assistance to remote and at-risk communities and have worked in busy hospitals with some of the hardest hit intensive care units (ICUs).
"The ICU is like bamboo in a typhoon. We may bend, but we have not and will not break," said Missouri Baptist Medical Center St. Louis Dr. Nitin Anand.
Throughout the COVID-19 pandemic, these individuals have made many personal sacrifices to serve others. Dr. Simon Demers-Marcil, a respirologist working as a critical care fellow in the Calgary area, said, "I always wanted to help people going through hard times, this gave meaning to my own life."
In advance of the conclusion of the regular season, the NHL again recognizes and thanks:
Anaheim: Dr. Susan Huang
Arizona: Bruce Culbertson
Boston: Meaghan Quinn, Cathy Draine, Amy Ginter
Buffalo: Michaela Pastorius
Calgary: Dr. Simon Demers-Marcil
Carolina: Johnna Sharpe, Deepika Malhotra
Chicago: Qudus Rabiu
Colorado: Alyssa Laabs, Gina Minert, Maria Saavedra
Columbus: Dr. Laurie Hommema
Dallas: Heather Newby
Detroit: Joanne MacDonald
Edmonton: Aleem Rajani, Fathima Aranha, Renee Herman
Florida: Crystal Wimmer
Los Angeles: Dr. Maurice O'Gorman
Minnesota: Brittany Hutchinson
Montreal: Virginie Hébert
Nashville: Dr. Alex Jahangir
New Jersey: Indu Lew
NY Islanders: Kelly McLaughlin
NY Rangers: Deena Trupkin
Ottawa: Michèle Taché
Philadelphia: The Hatheway family
Pittsburgh: Darby Scarantine
San Jose: Jane Vergara, Martha Godinez
St. Louis: Dr. Nitin Anand
Tampa Bay: Glenda M. Wright
Toronto: Sarah Rumbolt, Natasha Salt, Elisa Simpson
Vancouver: Alim Somani
Vegas: Dr. Claudia Mejia
Washington: Mary 'Dani' Dell'Isola
Winnipeg: Melanie MacKinnon and members of Manitoba's First Nations Pandemic Rapid Response Teams
Teams with multiple honorees are those whose players won weekly and monthly awards on multiple occasions. For more on these dedicated professionals, click here.
COURTESY NHLmedia.com