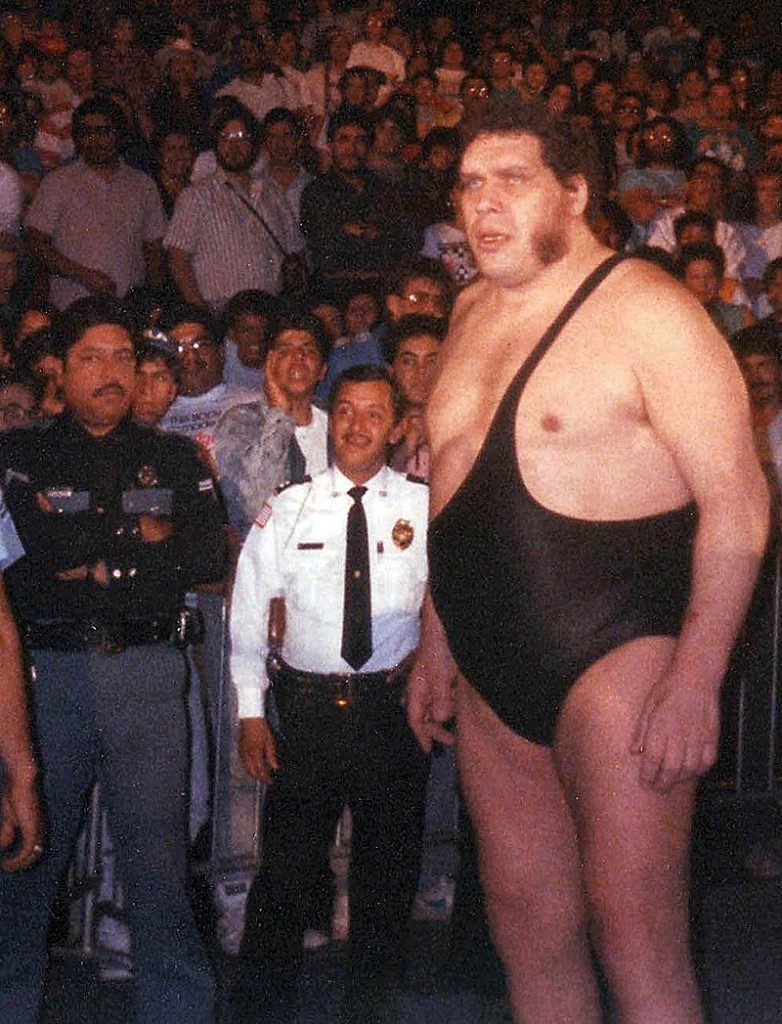 FROM WIKIPEDIA COMMONS
André René Roussimoff (French: [ɑ̃dʁe ʁəne ʁusimɔf]; 19 May 1946 – 27 January 1993) was a French professional wrestler and actor. He was better known by his ring name André the Giant, and was best known for his time in the World Wide Wrestling Federation/World Wrestling Federation (WWWF/WWF, now WWE) promotion from 1973 to 1991.
Roussimoff stood over seven feet tall, which was a result of gigantism caused by excess growth hormone, and later resulted in acromegaly. It also led to him being called "The Eighth Wonder of the World". In wrestling, he found success as a fan favorite throughout the 1970s and early 1980s, appearing as an attraction for various professional wrestling promotions. During the 1980s wrestling boom, he was paired with the villainous manager Bobby Heenan and feuded with Hulk Hogan in the WWF. The two headlined WrestleMania III in 1987, and in 1988, he defeated Hogan to win the WWF World Heavyweight Championship, his sole world heavyweight championship, on the first episode of The Main Event. He also held the WWF Tag Team Championship once (with Haku).
Outside of wrestling, he was best known for appearing as Fezzik, the giant in The Princess Bride. After his death in 1993, he became the inaugural inductee into the newly created WWF Hall of Fame. He was later a charter member of the Wrestling Observer Newsletter Hall of Fame and the Professional Wrestling Hall of Fame; the latter describes him as being "one of the most recognizable figures in the world both as a professional wrestler and as a pop culture icon."
TODAY'S ALMANAC
Traditional weather lore has it that St. Dunstan was a great brewer who sold himself to the devil on the condition that the devil would blight the apple trees to stop the production of cider, Dunstan's rival drink. This is said to be the cause of the wintry blast that usually comes about this time.
Every Year
1530s
1780s
1790s
1840s
1860s
1890s
1920s
1930s
1940s
1960s
1970s
1990s
2000s
2020s
COURTESY www.almanac.com