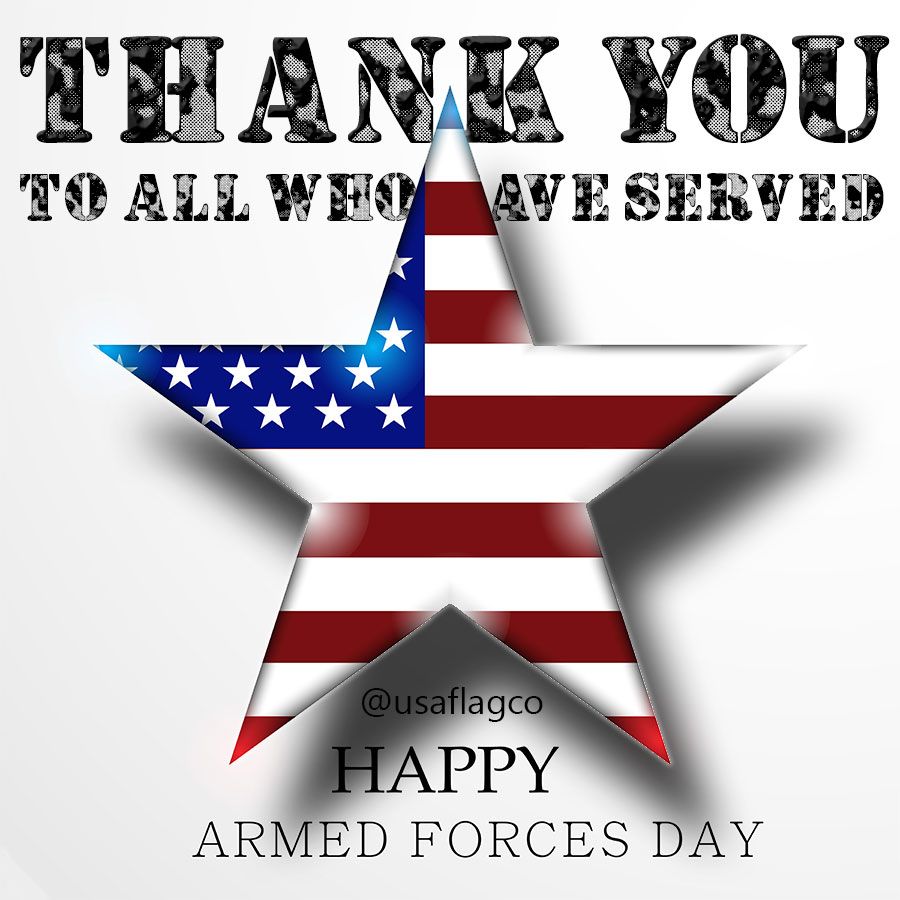 FROM WIKIPEDIA COMMONS
Many nations around the world observe some kind of Armed Forces Day to honor their military forces. This day is not to be confused with Veterans Day or Memorial Day.
United States
In the United States, Armed Forces Day is celebrated on the third Saturday in May. It falls near the end of Armed Forces Week, which begins on the second Saturday of May and ends on the third Sunday of May (the fourth if the month begins on a Sunday, as in 2016).
First observed on 20 May 1950, the day was created on 31 August 1949, to honor Americans serving in the five U.S. military branches – the U.S. Army, U.S. Navy, U.S. Marine Corps, U.S. Air Force and U.S. Coast Guard – following the consolidation of the military services in the U.S. Department of Defense. It was intended to replace the separate Army, Navy, Air Force, Marine Corps and Coast Guard Days, but the separate days are still observed, especially within the respective services.
The first Armed Forces Day was celebrated by parades, open houses, receptions and air shows. The United States' longest continuously running Armed Forces Day Parade is held in Bremerton, Washington. In 2019 Bremerton will celebrate the 71st year of the Armed Forces Day Parade.
Because of their unique training schedules, National Guard and Reserve units may celebrate Armed Forces Day/Week over any period in the month of May.
On 19 May 2017, President Donald Trump reaffirmed the Armed Forces Day holiday, marking the 70th anniversary since the creation of the Department of Defense.
Aside from the Armed Forces Day the Armed Forces and the National Guard Bureau are honored on the following days:
29 March: Vietnam Veterans Day (All US Military Branches)
Last Monday of May: Memorial Day
14 June: Flag Day and Army Day (United States Army)
4 August: Coast Guard Day (United States Coast Guard)
18 September: Air Force Day (United States Air Force)
13 October: US Navy Birthday (United States Navy)
27 October: Navy Day (United States Navy)
10 November: Marine Corps Birthday (United States Marine Corps)
11 November: Veterans Day
13 December: National Guard Day (National Guard of the United States)
TODAY'S DAILY ALMANAC
President Harry S. Truman led the effort to establish a single holiday for citizens to come together and thank our military members for their patriotic service in support of our country. On August 31, 1949, Secretary of Defense Louis Johnson announced the creation of an Armed Forces Day to replace separate Army, Navy, Marine Corps and Air Force Days. The single day celebration stemmed from the unification of the Armed Forces under the Department of Defense and is observed on the third Saturday in May.
Every Year
1600s
1610s
1710s
1830s
1850s
1880s
1890s
1900s
1930s
1960s
1970s
1980s
2000s
2010s
2020s
COURTESY www.almanac.com