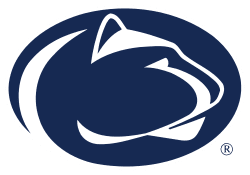 (May 13, 2021)
release: https://bit.ly/B1Ghome_away21-22
Big Ten Men's Basketball Home and Away Opponents Announced for 2021-22
The 10 home games include Indiana, Iowa, Michigan, Michigan State, Minnesota, Nebraska, Northwestern, Ohio State, Purdue and Rutgers

ROSEMONT, Ill. — Penn State Men's Basketball Head Coach Micah Shrewsberry and the Nittany Lions will face seven "double-play" opponents and six "single-play" opponents that will comprise the Big Ten's upcoming 20-game men's basketball schedule. The league office announced the opponent formats for 2021-22 on Thursday.
Penn State will play home and away games against Indiana, Iowa, Michigan State, Minnesota, Northwestern, Ohio State and Rutgers in 2021-22. Michigan, Nebraska and Purdue will round out the Nittany Lions' 10-game home schedule in the Bryce Jordan Center. Away games for single-play opponents send Penn State to Illinois, Maryland and Wisconsin.
Dates, network assignments and times for the Big Ten contests will be announced later this year.
The final 2020-21 kenpom.com rankings for strength of schedule had Penn State atop the list at +19.38, the highest final value in the 20-year history of kenpom.com. Nine Big Ten Conference teams held spots on the final kenpom.com top-10 list for strength of schedule in 2020-21.
FOLLOW PENN STATE MEN'S BASKETBALL PROGRAM
Keep up to date with the latest information from the Nittany Lions by following Coach Shrewsberry on Twitter at @Coach_Shrews. Penn State men's basketball is on Twitter and Instagram at @PennStateMBB and on Facebook at @pennstatebasketball.
Fans are able to sign up for the interest list for tickets for the 2021-22 men's basketball season by clicking here.
—NITTANY LIONS—
COURTESY PENN STATE ATHLETIC COMMUNICATIONS