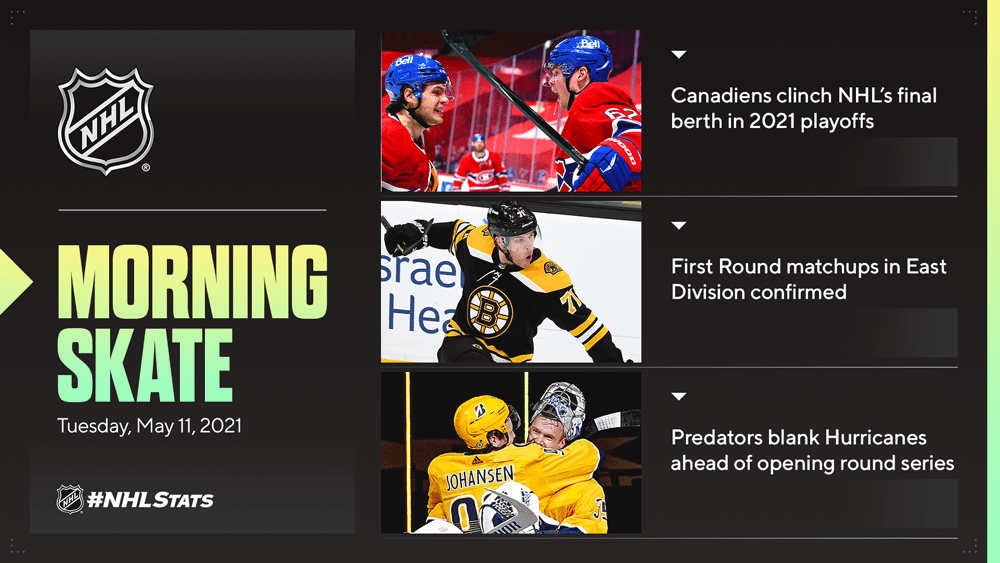 THREE HARD LAPS

* Some matchups and seeds are still to be determined, but the field is set for the 2021 Stanley Cup Playoffs as the Canadiens clinched the 16th and final berth on Monday.
 
* Both matchups in the MassMutual East Division First Round were confirmed – the Panthers also clinched the No. 2 seed in the Discover Central Division.

* Tonight's two-game slate features the Capitals and Bruins contesting their season finale before meeting in the 2021 First Round, while the Jets look to earn one point and clinch the No. 3 seed in the Scotia North Division.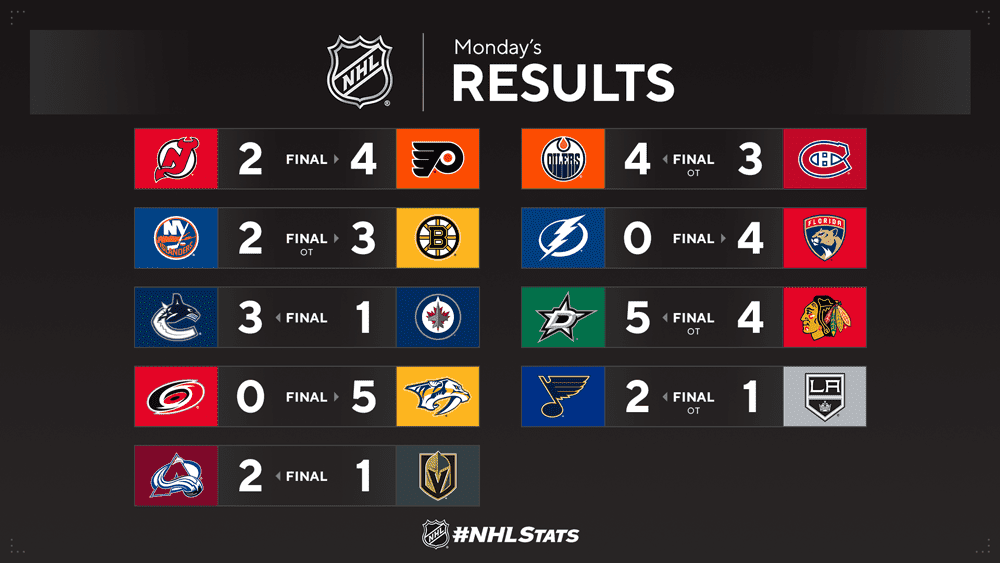 CANADIENS CLINCH NHL'S FINAL BERTH IN 2021 STANLEY CUP PLAYOFFS
Artturi Lehkonen (1-2—3) factored on all three of Montreal's goals – which included scoring a game-tying tally in the third period to force overtime – as the Canadiens earned a point and clinched the 16th and final berth in the 2021 Stanley Cup Playoffs. Montreal (24-21-10, 58 points), which currently occupies fourth place in the Scotia North Division, can finish the season as high as third after Winnipeg (28-23-3, 59 points) fell in regulation on Monday.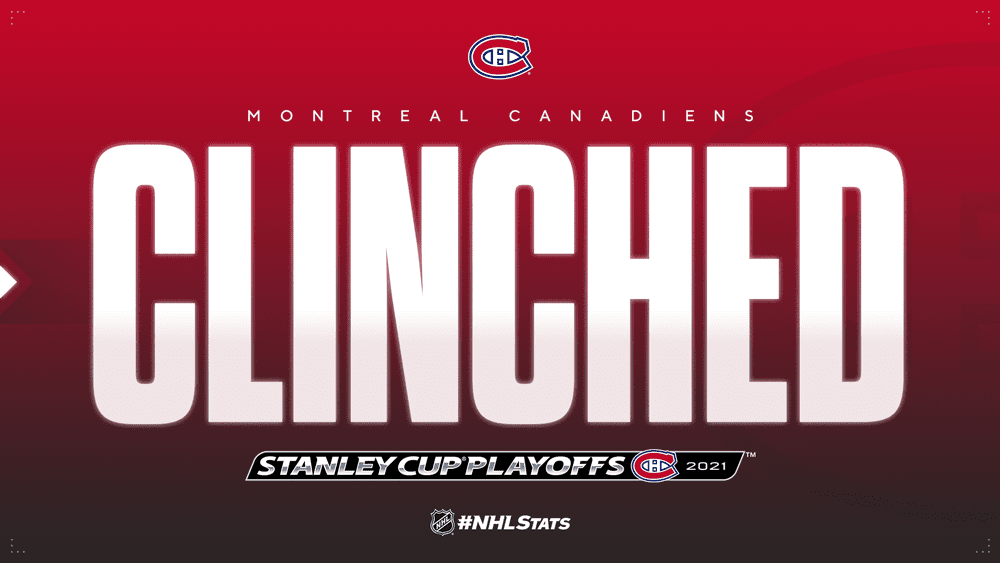 * The Canadiens are the most decorated franchise in Stanley Cup Playoffs history – they have the most championships (23), playoff seasons (85 including 2021) and series wins (93) of any team since the NHL's inception in 1917-18.

* Six players on the Canadiens roster have won a Stanley Cup, all of whom are in their first season as a member of the team: Jake Allen (2019 w/ STL), Joel Edmundson (2019 w/ STL), Michael Frolik (2013 w/ CHI), Corey Perry (2007 w/ ANA), Eric Staal (2006 w/ CAR) and Tyler Toffoli (2014 w/ LAK).

* It has been a long time since Montreal has faced either Edmonton or Toronto in the Stanley Cup Playoffs. The Canadiens last faced the Oilers in the 1981 Preliminary Round, where Wayne Gretzky (3-8—11 in 3 GP) led Edmonton to a three-game sweep. It has been 42 years since they have faced their Original Six rivals from Toronto – the teams last met when the Canadiens swept the Maple Leafs in the 1979 Quarterfinals on the path to their fourth consecutive Stanley Cup.

MORE 2021 FIRST ROUND MATCHUPS, SEEDS CONFIRMED
More matchups and seeds for the First Round of the 2021 Stanley Cup Playoffs materialized on Monday:

* Taylor Hall scored twice, including a highlight-reel overtime goal, as the Bruins (33-15-7, 73 points) defeated the Islanders and clinched the No. 3 seed in the MassMutual East Division, confirming they will face the second-seeded Capitals (35-15-5, 75 points) in the First Round of the 2021 Stanley Cup Playoffs. Washington and Boston have met in three prior postseason series (1990 CF, 1998 CQF & 2012 CQF) as well as during the 2020 Stanley Cup Qualifiers.

* The idle Penguins (37-16-3, 77 points), who clinched first place in the MassMutual East Division on Saturday, will square off with the fourth-seeded Islanders (32-17-7, 71 points) in the opening round. The last time Pittsburgh and New York met in a head-to-head Stanley Cup Playoffs series was during the 2019 First Round – Mathew Barzal, who had 1-1—2 on Monday, found the score sheet in each of his first four career postseason games (0-5—5) as the Islanders swept a best-of-seven for the first time since 1983.

* Chris Driedger (30 saves) earned his third shutout of the season and Juho Lammikko (1-1—2) factored on two of four Florida goals as the Panthers and Lightning closed out their regular seasons (FLA: 5-2-1, TBL: 3-5-0). Florida (37-14-5, 79 points), which outscored Tampa Bay 9-1 over its two-game set to conclude 2020-21, secured home-ice advantage in its first-ever playoff meeting against 'Sunshine State' rival Tampa Bay (36-17-3, 75 points).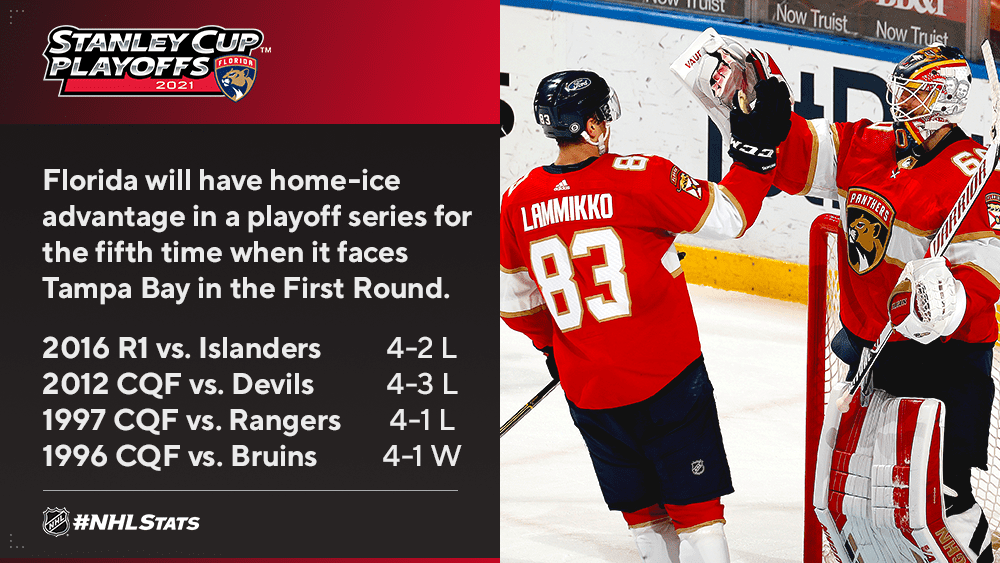 OTHER PLAYOFF-BOUND TEAMS EARN WINS

* Alex Newhook (0-2—2) recorded his first career multi-point game and Philipp Grubauer made 36 saves as the Avalanche (37-13-4, 78 points) stymied the NHL-leading Golden Knights (39-14-2, 80 points) from clinching the 2020-21 Presidents' Trophy; both clubs, as well as the Maple Leafs (35-13-6, 76 points), remain in the running for the title. Grubauer improved his 2020-21 goals against average to 2.00 – only one goaltender in Avalanche/Nordiques history has concluded a season with a lower mark (min. 25 GP): Patrick Roy (1.94 GAA in 2001-02).

* Ryan O'Reilly collected an assist on the overtime winner by Justin Faulk (1-1—2) as the fourth-seeded Blues (25-20-9, 59 points) earned a win against the Kings in their final road game of the season and await confirmation on whether they'll face the Golden Knights or Avalanche in the Honda West Division First Round. O'Reilly, who won the Conn Smythe Trophy in 2019 after establishing a franchise record for most points in a playoff year and guiding St. Louis to its first Stanley Cup, has found the score sheet in eight of his last 10 games dating to April 24 (7-6—13).

* Pekka Rinne (30 saves) earned the 60th shutout of his NHL career as the Predators concluded their campaign with consecutive wins over the Hurricanes, who they will face in the First Round of the 2021 Stanley Cup Playoffs. Nashville outscored Carolina by an 8-1 margin over the two-game set, with 15 different Predators players finding the score sheet.
 
* Connor McDavid (1-1—2) and Leon Draisaitl (0-2—2) each recorded multiple points for a sixth straight game as the Oilers improved to 34-18-2 (70 points) and await confirmation on their 2021 First Round opponent, which will either be the Jets or Canadiens. McDavid, who has 5-13—18 through his six-game run (3.00 P/GP), scored in overtime to mark his 11th game-winning goal of 2020-21. Only two Oilers players have recorded more in a single season: Jari Kurri (13 in 1984-85) and Wayne Gretzky (12 in 1981-82).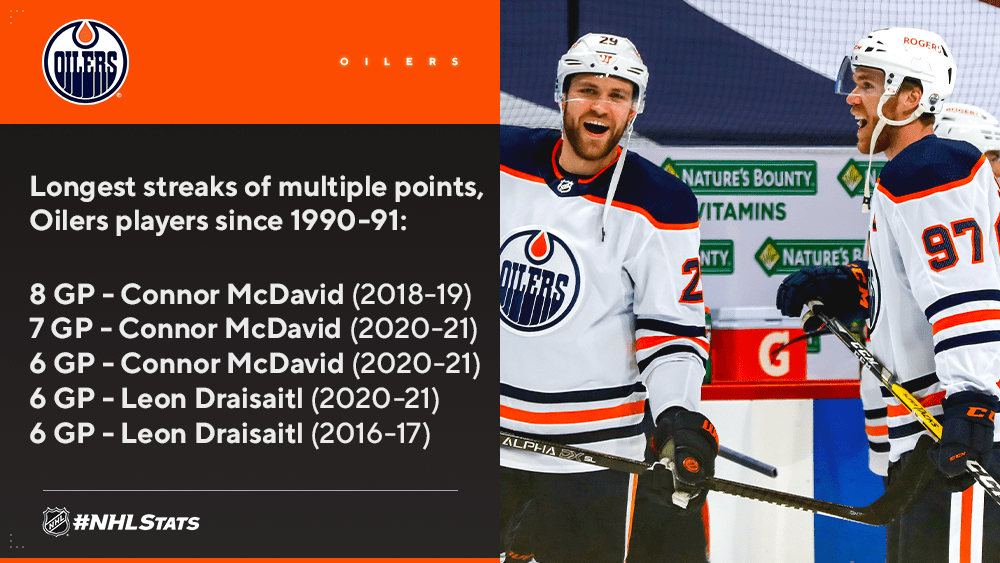 CAPITALS, BRUINS CLASH IN SEASON FINALE BEFORE FIRST ROUND MEETING
The Capitals and Bruins will conclude their regular season tonight at Capital One Arena before squaring off in the First Round of the 2021 Stanley Cup Playoffs, with Game 1 set for Saturday, May 15 at 7:15 p.m. ET.
 
* Seven players who dressed for either the Capitals or Bruins in the 2012 Conference Quarterfinals remain with that club (WSH: Nicklas Backstrom, John Carlson & Alex Ovechkin; BOS: Patrice Bergeron, David Krejci, Brad Marchand & Tuukka Rask). Washington defenseman Zdeno Chara also appeared in all seven games with Boston as the defending Stanley Cup champions fell in overtime during the winner-take-all showdown.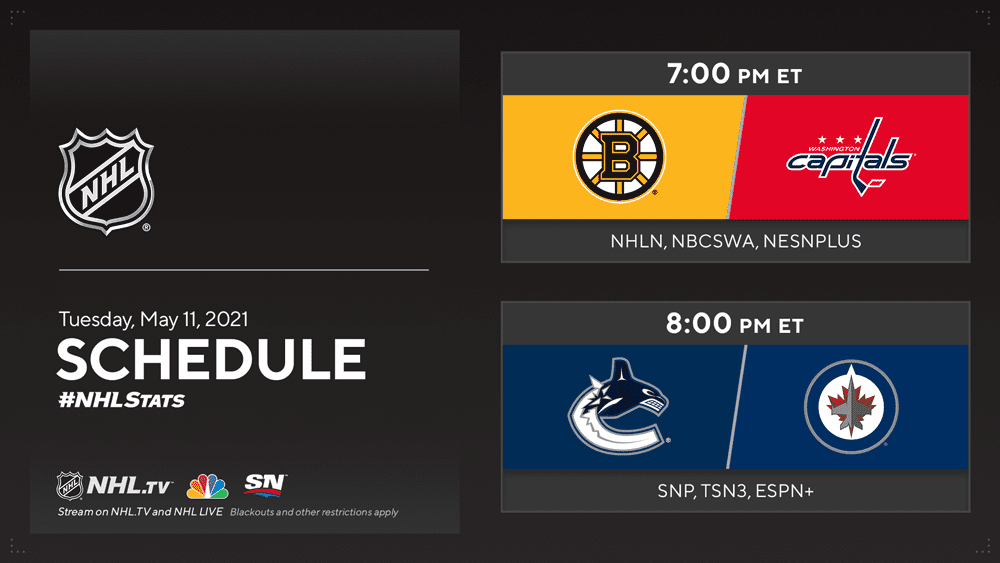 COURTESY NHLmedia.com