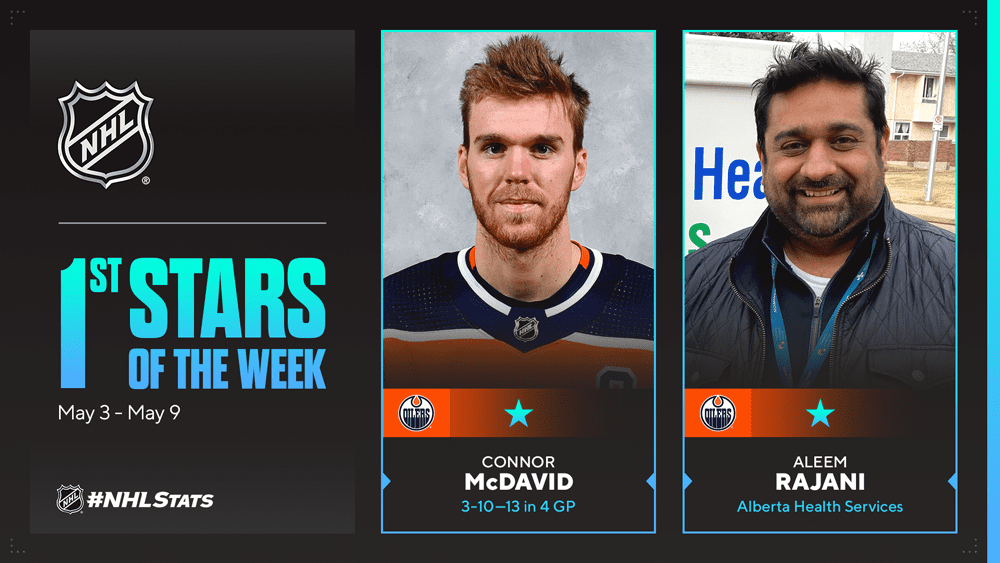 Wild's Kaprizov, Golden Knights' Fleury Round Out 'Three Stars'
NEW YORK (May 10, 2021) – Edmonton Oilers center Connor McDavid and Alberta Health Services program manager Aleem Rajani have been named the NHL's "First Stars" for the week ending May 9.
Throughout the 2020-21 season the NHL is celebrating the remarkable efforts of the off-ice stars who make it possible for us to play our games amid a pandemic by honoring frontline healthcare heroes from the regions represented by the League's weekly and monthly "Stars."
Rajani, an occupational therapist, works as a program manager with the Alberta Health Services (AHS) primary care and colorectal cancer screening program. He has been instrumental to the AHS Edmonton zone COVID-19 pandemic response over the past year, helping to set up the first coronavirus swabbing center as well as the largest assessment facility in the city, a pandemic response unit, and a rapid-flow vaccine center.
A leader for many aspects of the frontline response to COVID-19 in the Edmonton area, Rajani's motto of "be excellent" has been an inspiration to the redeployed staff working in assessment and vaccination facilities across the city.
Rounding out the "Three Stars" of the week are Minnesota Wild left wing Kirill Kaprizov and Vegas Golden Knights goaltender Marc-Andre Fleury. More on each NHL player's performance can be found below:
FIRST STAR – CONNOR McDAVID, C, EDMONTON OILERS
McDavid led the NHL with 3-10—13 in four games (all against the Vancouver Canucks) to reach the 100-point milestone and power the Oilers (33-18-2, 68 points) to a berth in the 2021 Stanley Cup Playoffs. He hit the 30-goal plateau for the fifth consecutive season on the strength of 2-2—4, his sixth four-point performance of 2020-21, in a 5-3 victory May 3. McDavid compiled five assists over his next two outings, picking up two helpers in a 4-1 triumph May 4 and assists on all three Edmonton goals in a 6-3 loss May 6. He again factored on all of the Oilers' goals in a 4-3 win May 8, capping the week with 1-3—4 to reach the 100-point milestone for the fourth time in his career (32-68—100 in 53 GP). In doing so, McDavid became the ninth player in League history – and first since 1995-96 (Mario Lemieux and Jaromir Jagr) – to hit the century mark in 53 or fewer games within a single season. The 24-year-old Richmond Hill, Ont., native and two-time Art Ross Trophy winner holds a 21-point lead in the 2020-21 scoring race, topping the NHL in points (100), assists (68), power-play points (35), power-play assists (26) and points per game (1.89) this season.
SECOND STAR – KIRILL KAPRIZOV, LW, MINNESOTA WILD
Kaprizov posted 4-4—8 in four contests to lift the Wild (35-14-5, 75 points) to a 3-0-1 week and within one point of second place in the Honda NHL West Division. He helped Minnesota split a pair of games against the Vegas Golden Knights, collecting 1-1—2 – including the tying goal with 1:32 remaining in regulation – in a 6-5 comeback victory May 3 and scoring both of the Wild's goals in a 3-2 overtime loss May 5. Kaprizov added four more points over the next two games (both versus the Anaheim Ducks), potting 1-1—2 – highlighted by his second overtime goal of the season (also Jan. 14 at LAK) – in a 4-3 triumph May 7 and registering two assists in a 4-3 overtime win May 8. The 24-year-old Novokuznetsk, Russia, native has skated in 54 total contests this season, topping rookies in goals (27), points (51), power-play goals (8) and shots on goal (152) while ranking second in assists (24), power-play points (13), plus/minus (tied; +11) and shooting percentage (17.8%).
THIRD STAR – MARC-ANDRE FLEURY, G, VEGAS GOLDEN KNIGHTS
Fleury (2-0-0, 1.48 GAA, .939 SV%) moved into sole possession of third place for all-time wins by a goaltender, stopping 46 of the 49 shots he faced across two starts to help the Vegas Golden Knights (39-13-2, 80 points) leapfrog the Carolina Hurricanes for first place in the overall League standings. Fleury surpassed Roberto Luongo for third place in all-time victories by a netminder with 26 saves in a 3-2 overtime win against the Minnesota Wild May 5. He then turned aside 20 of 21 shots in a 4-1 triumph over the St. Louis Blues May 8, stretching his winning streak to eight games dating to April 11 (1.61 GAA, .938 SV%, 1 SO). The 36-year-old Sorel, Que., native has appeared in 35 total contests this season, placing among the League leaders in wins (t-3rd; 25), shutouts (t-3rd; 5), goals-against average (7th; 2.04) and save percentage (7th; .927).
COURTESY NHLmedia.com