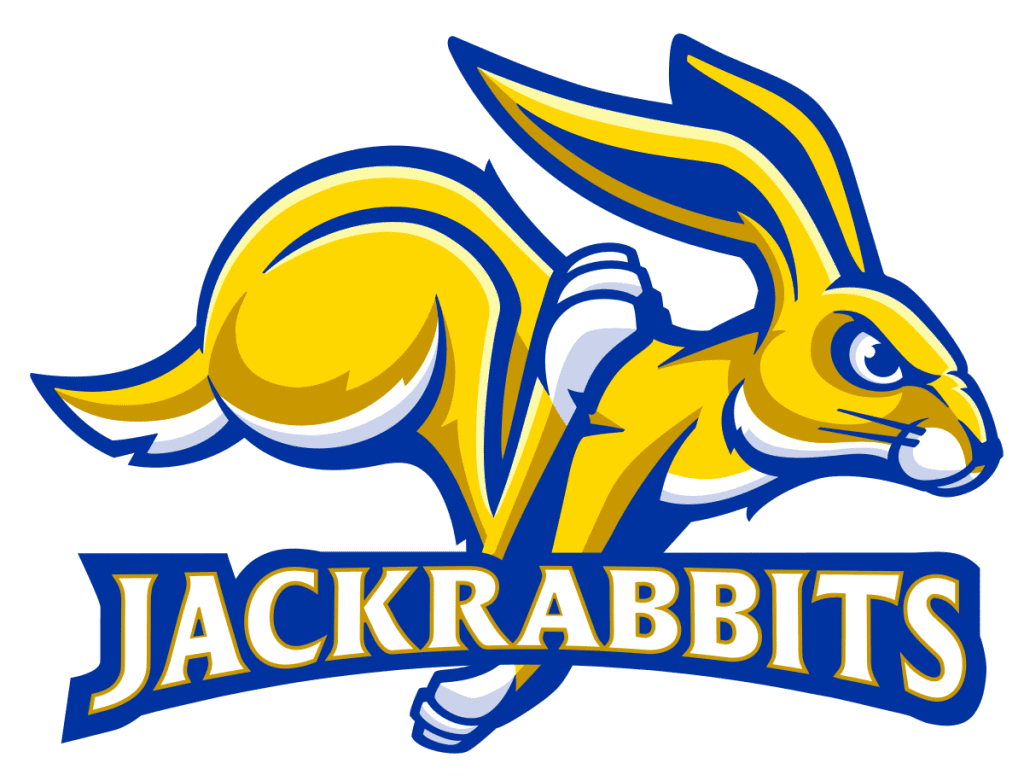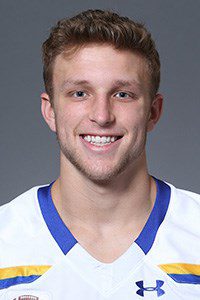 5/8/2021
The third time was definitely the charm.
After a pair of losses in its first two national semifinal appearances in 2017 and 2018, the South Dakota State University football team will play for a Football Championship Subdivision national title for the first time following an emphatic 33-3 victory over Delaware Saturday at Dana J. Dykhouse Stadium.
The top-seeded Jackrabbits, who improved to 8-1 overall and ran their winning streak to seven games, matched a program playoff record with seven sacks and put together a big second quarter offensively to move on to Frisco, Texas, for next Sunday's title tilt against either second-seeded Sam Houston State or No. 3 James Madison. Kickoff is set for 1 p.m. at Toyota Stadium, with television coverage on ABC.
Delaware put the first – and its only – points on the board with a methodical drive late in the first quarter. The Blue Hens converted three times on third down before settling for a 29-yard field goal by Ryan Coe that capped a 15-play, 54-yard drive that chewed up more than half the opening stanza.
SDSU responded with a 41-yard return on the ensuing kickoff by Jordan Meachum and the Jackrabbits grabbed the lead moments later on a 30-yard touchdown pass from Mark Gronowski to Jaxon Janke.
From there, the Jackrabbits unleashed a relentless defense and a quick-strike offense in the second half that quickly put the game out of reach. SDSU dug deep into the playbook on its first drive of the second half, scoring a touchdown on a throw-back halfback pass from Pierre Strong, Jr. to Gronowski that covered 24 yards.
After notching a pair of sacks on the next Delaware possession, SDSU built its lead to 20-3 with a short touchdown drive set up by a 55-yard punt return to the Delaware 27 by Jaxon Janke. Strong plunged in from 3 yards out for the score, but the extra point was missed.
SDSU added to its lead in the closing minutes of the half after blocking a 53-yard field goal attempt. Gronowski and Janke hooked up for 13 yards on third down to move the ball across midfield, with Gronowski later finding Blake Kunz in the right corner of the end zone for a 14-yard touchdown with 21 seconds remaining in the half.
Cole Frahm kicked field goals of 41 and 22 yards in the second half for the lone points in the final 30 minutes as the Jackrabbit defense came up big time after time. SDSU finished with 12 tackles for loss in the game, with defensive end Reece Winkelman notching 2.5 sacks among his 3.5 TFLs. Caleb Sanders added a pair of sacks.
Linebackers Preston Tetzlaff and Logan Backhaus shared game-high honors in overall tackles with 12 each.
The Jackrabbits held a 354-216 advantage in total offense, despite with SDSU rushing for 168 yards and throwing for 186. Strong led the ground game with 73 yards on 14 carries, with Isaiah Davis adding 70 yard on nine attempts. Gronowski completed 10-of-16 passes for 162 yards, with Janke totaling 64 yards on three catches.
Delaware quarterback Nolan Henderson, who returned after being shaken up on the Blue Hens' first-quarter scoring drive, was an efficient 18-of-21 passing for 142 yards. Gene Coleman II led the receiving corps with six catches for 43 yards.
The Blue Hens were limited to 68 net yards rushing, with Khory Spruill leading the team with only 16 yards on six carries. The SDSU defense held CAA Offensive Player of the Year Dejoun Lee to a mere nine yards on 11 carries.
NOTES
The all-time series is tied at 1-1
SDSU improved to 11-9 in FCS playoff games, including a 7-1 mark at Dana J. Dykhouse Stadium
Backhaus recorded double figures in tackles for the third time this season and fifth time in his career
The Jackrabbits improved to 5-1 against ranked teams this season as Delaware was fifth in both major FCS polls at the end of the regular season
Frahm has kicked a field goal in all nine games this season
Sanders has a sack in four consecutive games
Delaware held a 37:05 to 22:55 advantage in time of possession
SDSU first recorded seven sacks in a playoff game in a 2013 victory at Northern Arizona
Attendance was listed at 4,527
-GoJacks.com-
COURTESY SOUTH DAKOTA STATE ATHLETIC COMMUNICATIONS