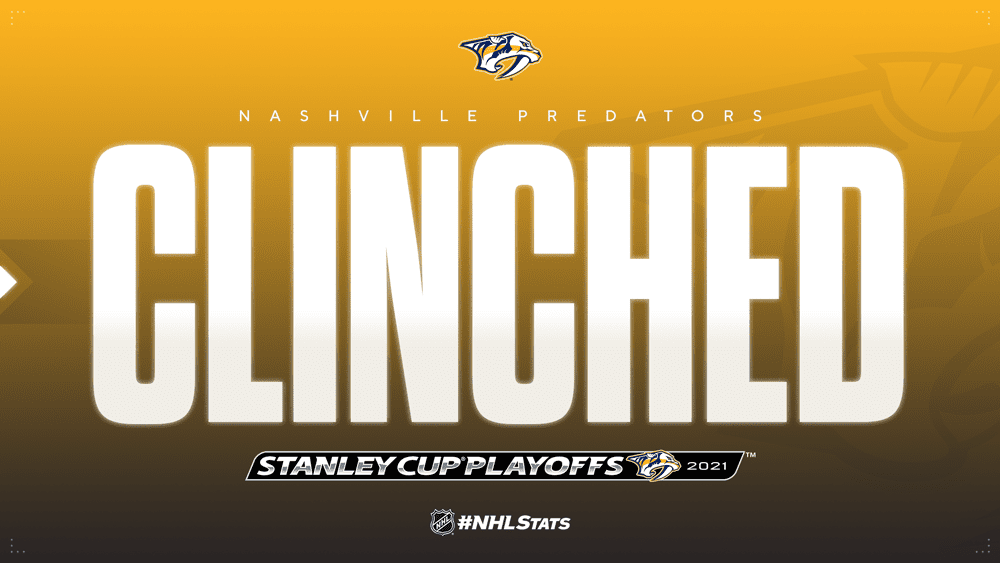 Ten #NHLStats about the Nashville Predators, who are headed to the postseason for the seventh consecutive season and 14th time in franchise history.
1. The Predators (14) are tied for the second-most postseason appearances among all NHL clubs since 2004, when they reached the playoffs for the first time. Only the Pittsburgh Penguins (15, including 2021) have more postseason appearances in that span, while the San Jose Sharks also have 14.
2. Among franchises to join the NHL in the 1990s or later, only the Sharks (21), Ottawa Senators (16) and Anaheim Ducks (14) have as many playoff appearances as Nashville – all in at least five more campaigns.
3. The Predators' run of seven consecutive postseason appearances is tied for the second-longest active run in the NHL behind the Penguins (15; 2007–2021); the Washington Capitals also have reached the playoffs each year since 2015.
4. The only Stanley Cup champion to play for Nashville this season is Brad Richardson, who won with the Los Angeles Kings in 2012.
5. Nine players who helped the Predators reach the Stanley Cup Final for the first time in 2017 remain with the club: Viktor Arvidsson, Mattias Ekholm, Ryan Ellis, Filip Forsberg, Calle Jarnkrok, Roman Josi, Pekka Rinne, Juuse Saros and Colton Sissons.
6. Roman Josi (Bern, Switzerland) aims to become the first Swiss-born captain in NHL history to lead his team to a Stanley Cup. Nicklas Lidstrom (Vasteras, Sweden; 2008 DET), Zdeno Chara (Trencin, Slovakia; 2011 BOS) and Alex Ovechkin (Moscow, Russia; 2018 WSH) are the only non-North American players to captain a Cup winner.
7. Filip Forsberg ranks first on the all-time franchise list for career playoff goals (26) and points (49). He also holds the franchise record for most points in a single postseason (16), set in 2017 and matched in 2018.
8. Pekka Rinne has played in 89 of 115 postseason games in franchise history (77.4%) and is the leader among all current Predators players in career playoff games played. He is one of three goaltenders to appear in over 70% of a current franchise's total postseason games. The others: Martin Brodeur (79.1% w/ NJD) and Connor Hellebuyck (77.1% w/ WPG).
9. Juuse Saros has reached the 20-win mark in a single regular season for the first time in his career in 2020-21. He appeared in all four Predators postseason games in 2020 (1-3, 3.22 GAA, .895 SV%), which were also his first four career postseason starts (11 GP).
10. Ryan Johansen leads all current Predators in career playoff assists (32) and ranks second in both goals (16) and points (48). He has recorded 10 or more points in a single postseason twice with the Predators (2017 and 2018), tied with Filip Forsberg (also 2017 and 2018) for the most in franchise history.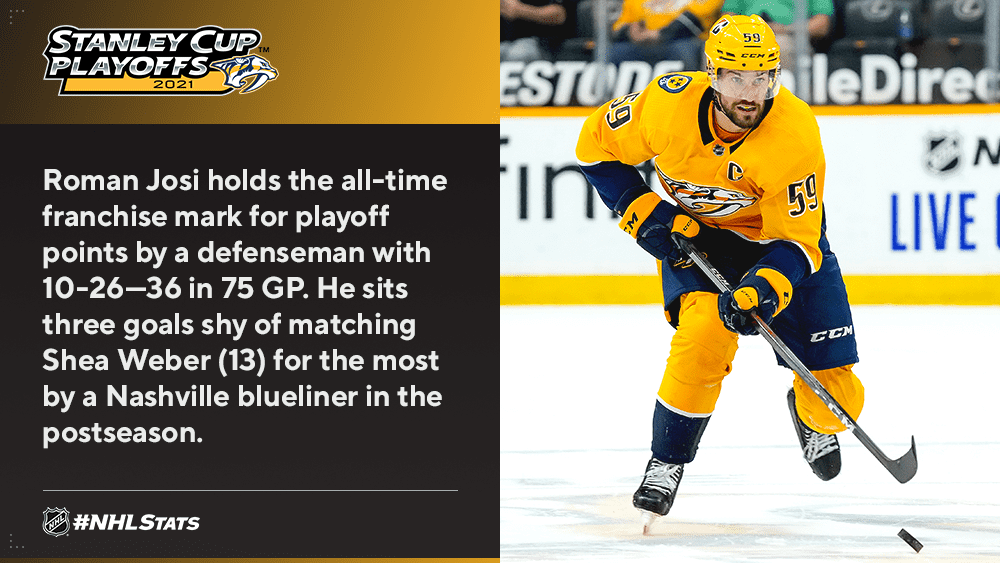 COURTESY NHLmedia.com