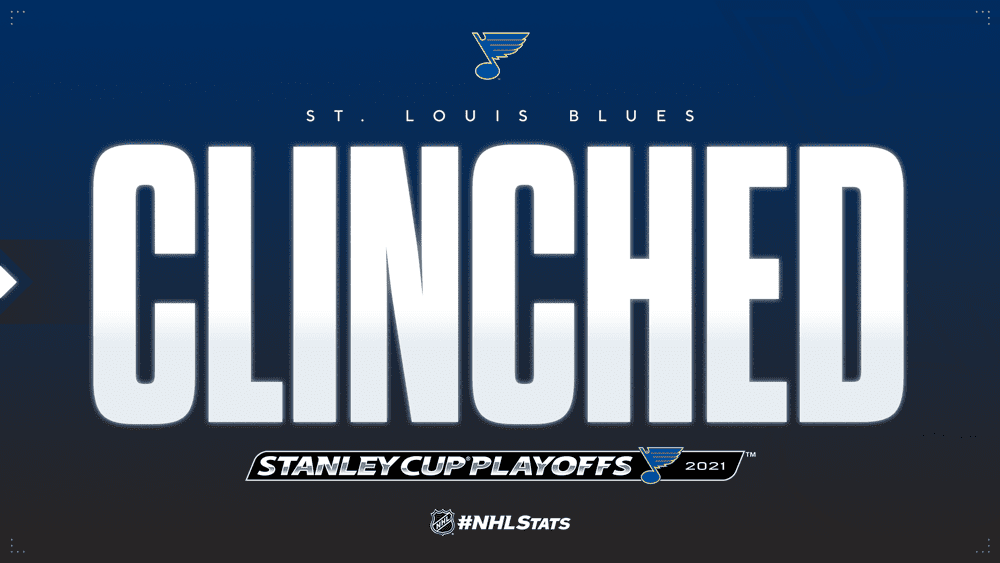 Ten #NHLStats about the St. Louis Blues, who are headed to the postseason for the third straight year and ninth time in 10 seasons.
1. The Blues have reached the postseason for the 44th time in franchise history, the most among non-Original Six clubs (ahead of the Philadelphia Flyers: 40). St. Louis made 25 of its 44 appearances from 1980 to 2004, tied for the third-longest stretch of consecutive playoff appearances in NHL history.
2. St. Louis is one of three clubs to reach the postseason in at least nine of 10 campaigns since 2011-12 (also Pittsburgh Penguins: 10 and Washington Capitals: 9).
3. In 2019, the Blues ended the longest wait in NHL history (51 seasons) for a team to win its first Stanley Cup; they eclipsed the Los Angeles Kings, who held the distinction after winning the Cup for the first time in 2012, their 44th season. The Blues now will look to follow the Kings' lead by winning a second title only two seasons later.
4. The Blues roster includes 17 players who have won the Stanley Cup, including 16 members of the historic 2019 championship team: Ivan Barbashev, Jordan Binnington, Sammy Blais, Robert Bortuzzo, Tyler Bozak, Vince Dunn, Carl Gunnarsson, Ryan O'Reilly, Colton Parayko, David Perron, Zach Sanford, BraydenSchenn, Jaden Schwartz, Oskar Sundqvist, Vladimir Tarasenko and Robert Thomas. Kyle Clifford (2012 LAK, 2014 LAK) is St. Louis' other Stanley Cup winner.
5. Ryan O'Reilly, winner of the Conn Smythe Trophy in 2019, has 12-22—34 in 35 career postseason games with the Blues after notching 3-4—7 in 13 playoff contests with the Colorado Avalanche (in 2010 and 2014). O'Reilly had 4-7—11 in the 2020 postseason, including 4-4—8 against the Vancouver Canucks (6 GP) – only Colorado's NathanMacKinnon (3-7—10 in 5 GP) and Vancouver's Elias Pettersson (3-6—9 in 6 GP) had more points in the 2020 First Round. In 2019, O'Reilly posted a four-game goal streak in the Stanley Cup Final, the longest by any player in the series since Wayne Gretzky had an equal run in 1985 with the Edmonton Oilers.
6. Vladimir Tarasenko has 33 career playoff goals (74 GP), two back of tying Bernie Federko (35 G in 91 GP) for second place in franchise history behind Brett Hull (67 G in 102 GP).Tarasenko's 11 career power-play goals in the postseason rank third in club history behind Hull (27 PPG) and Federko (13 PPG).
7. Jaden Schwartz, who ranks fourth in franchise history with 26 career playoff goals, has the most career postseason points among all current Blues (26-28—54 in 84 GP). Schwartz ranks fifth in franchise history with 54 career playoff points, one from tying Doug Gilmour (17-38—55 in 49 GP) for fourth place and four back of matching Al MacInnis (14-44—58 in 82 GP) for third place.
8. Torey Krug leads all current Blues in career playoff assists (41), five of which came against St. Louis in the 2019 Stanley Cup Final. Krug collected four points in his first-ever playoff game in St. Louis (Game 3 of 2019 SCF: 1-3—4), establishing a Boston Bruins franchise record for points in a Stanley Cup Final game.
9. Torey Krug will look to become the 10th player in the NHL's expansion era (since 1967-68) to lose to a team in the Stanley Cup Final and later win a championship with that franchise. The last players to achieve that feat were Kimmo Timonen and Daniel Carcillo in 2015 with the Chicago Blackhawks, after losing to Chicago in the 2010 Stanley Cup Final as members of the Philadelphia Flyers. Carcillo also won with Chicago in 2013.
10. Jordan Binnington (31 GP) is tied with Grant Fuhr and Glenn Hall for fifth place in career playoff appearances among Blues goaltenders and is within reach of climbing to second place in the First Round. Binnington (16-15) also needs one playoff victory to pull ahead of Curtis Joseph (16-16) and into a tie with GregMillen (17-17) and Mike Liut (17-20) for the most in franchise history.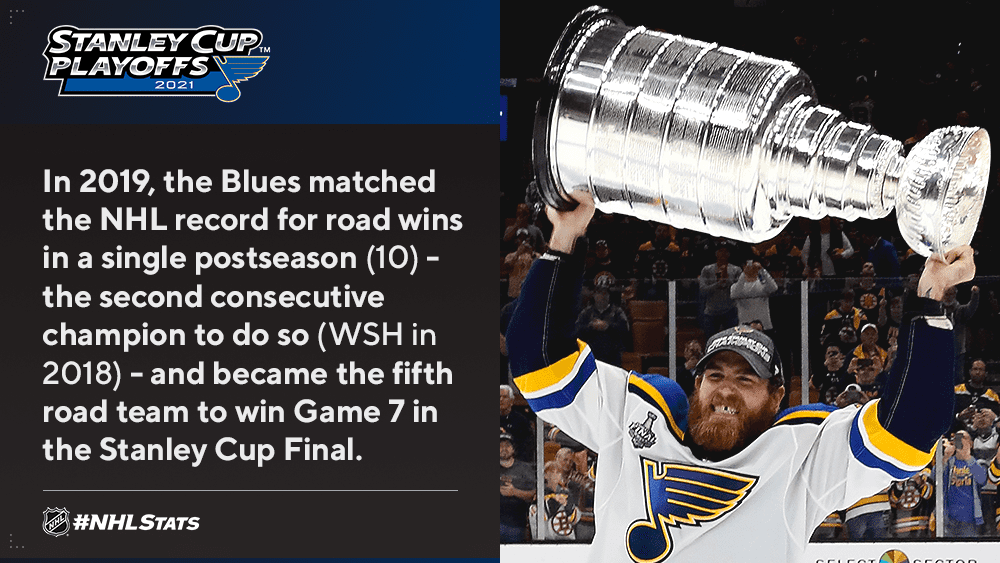 COURTESY NHLmedia.com