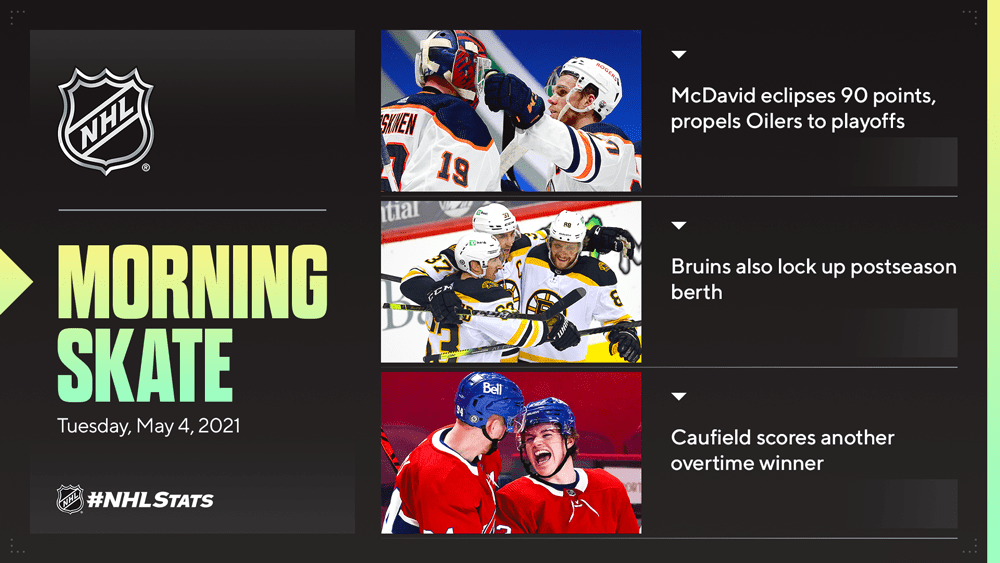 THREE HARD LAPS

* Connor McDavid eclipsed 90 points on the season as the Oilers became the second Scotia North Division team to clinch a berth in the 2021 Stanley Cup Playoffs.
* The Bruins locked up a postseason berth and moved past the playoff-bound Islanders for third place in the MassMutual East Division.
* The Canadiens, Predators and Blues, who occupy fourth place in their respective divisions, earned wins to improve their playoff chances.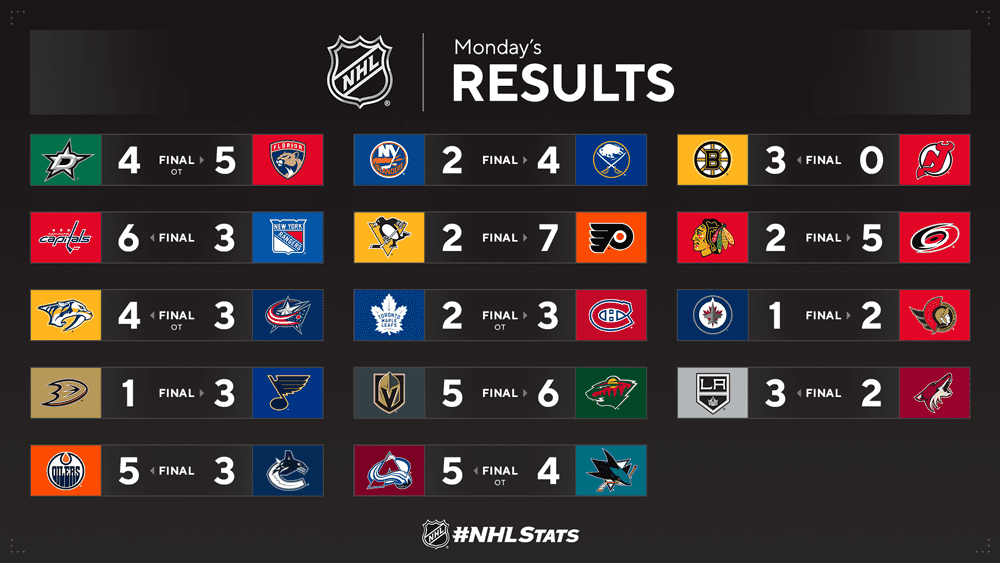 NHL, NHLPA TO SHARE STORIES OF PLAYERS OF ASIAN DESCENT FOR ASIAN & PACIFIC ISLANDER HERITAGE MONTH
For the first time, the NHL and NHLPA will celebrate Asian & Pacific Islander Heritage Month as part of their annual Hockey Is For Everyone campaign. Throughout the month of May, the League will unveil a series of features on NHL.com/APIHeritage and across its social platforms highlighting the memorable moments NHL and other professional hockey players of Asian descent have produced as well as the impact that they have had, and continue to have, on the game.
* DYK? Earlier this season, Filipino-American brothers Jason Robertson (DAL) and Nick Robertson (TOR) appeared in an NHL game on the same night, the first brothers of Asian descent to do so since Paul Kariya (w/ ANA) and Steven Kariya (w/ VAN) on Oct. 21, 2001. The Robertson's are one of two sets of known brothers of Asian descent to play in the NHL this season. The other: Kiefer Sherwood (COL) and Kole Sherwood (CBJ), who are of Japanese-descent.

WATCH: Celebrating the contributions and impact of Asian and Pacific Islander players in hockey's past, present and future.

READ: Asian and Pacific Islander communities make growing impact on NHL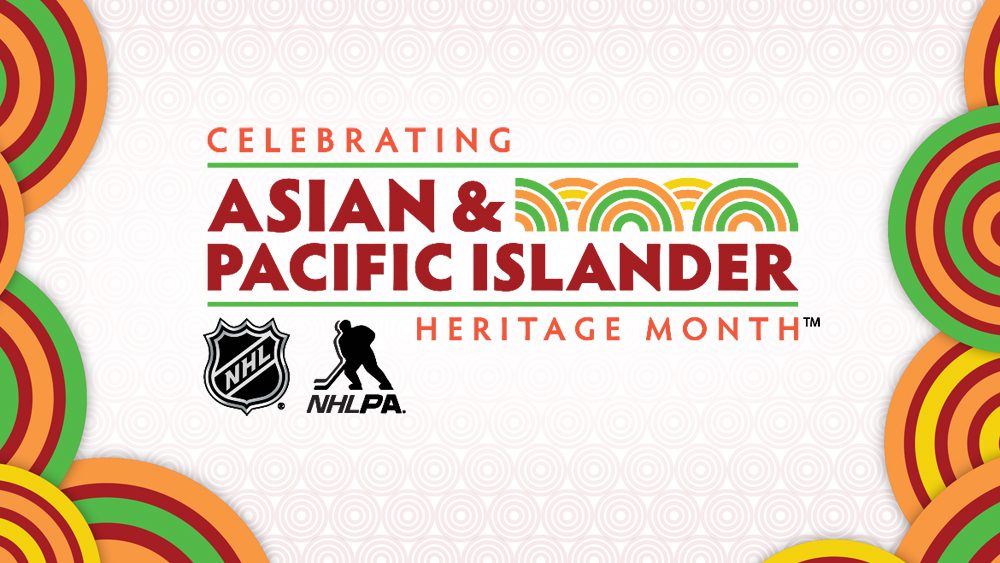 McDAVID ECLIPSES 90-POINT MARK AS OILERS CLINCH PLAYOFF SPOT
Connor McDavid (2-2—4) recorded four points to eclipse the 90-point mark (31-60—91 in 50 GP) and help Edmonton (31-17-2, 64 points) clinch the second playoff spot in the Scotia North Division. The Oilers will make a postseason appearance for the second straight year and 23rd time in franchise history.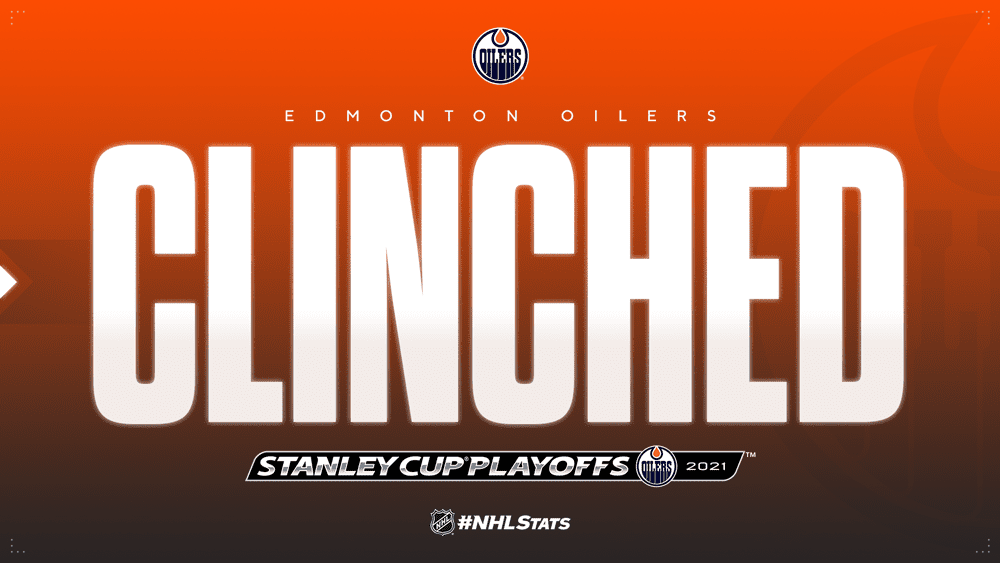 * Edmonton is 13-1 in 14 series versus Canadian teams in the Stanley Cup Playoffs (.929 W), with their only loss against Calgary in the 1986 Division Finals. The Oilers' last such meeting in the opening round came against the Flames in the 1991 Division Semifinals when Esa Tikkanen (3-1—4) completed a hat trick in overtime as Edmonton rallied from a three-goal deficit to win Game 7.
* McDavid (10-8—18) and Leon Draisaitl (9-13—22) each have skated in all of Edmonton's 17 postseason games since 2017, totaling 19-21—40 (2.35 P/GP combined). Should they maintain their current ranks in the 2020-21 scoring race, Edmonton will seek to join a short list of teams in the NHL's expansion era (since 1967-68) to win a Stanley Cup after having the top two highest-scorers during the regular season – only the Bruins (1970 & 1972), Oilers (1984, 1985 & 1987) and Penguins (1992) have done so.
* McDavid, who averages 1.82 points per contest this season, is on pace to conclude the 56-game campaign with 102. He became just the third player in NHL history to record 30 goals and 60 assists in 50 games or fewer.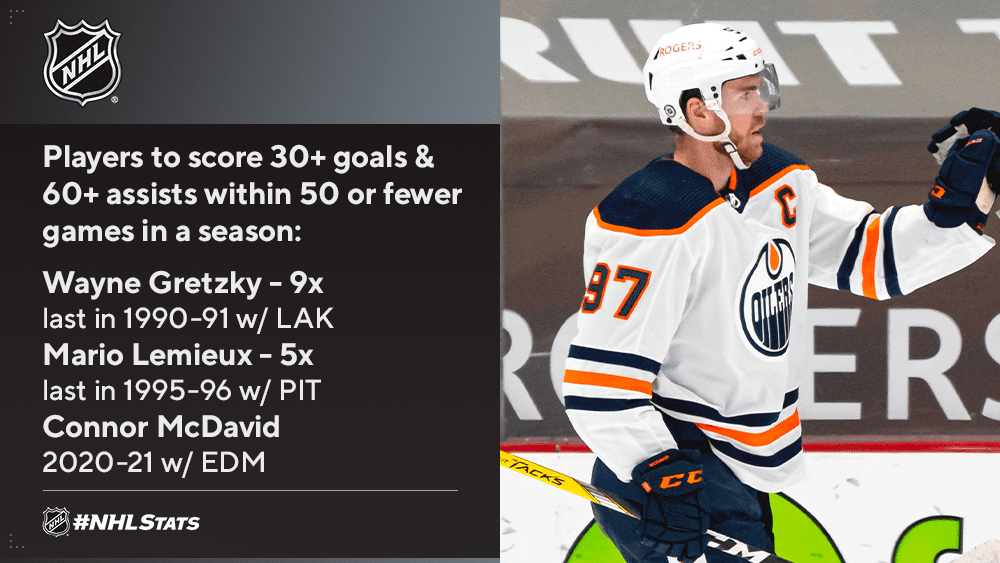 BOSTON CLINCHES FINAL POSTSEASON BERTH IN MASSMUTUAL EAST DIVISION
Patrice Bergeron (1-1—2) reached 20 goals on the season and Tuukka Rask turned aside all 20 shots he faced as the Bruins (31-14-6, 68 points) locked up the final playoff berth in the MassMutual East Division.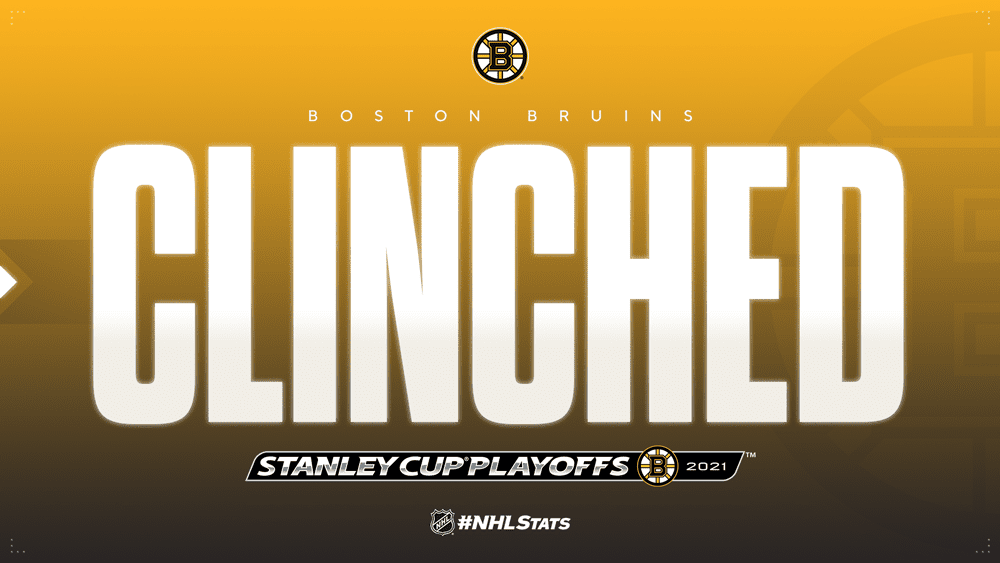 * This marks the 74th season in which Boston has qualified for the Stanley Cup Playoffs, the second-highest total in NHL history behind Montreal (84) – the Canadiens can still add to that total this season.
* Bergeron is three goals shy of tying Rick Middleton (45) for third all-time in Bruins postseason history and four away from Phil Esposito (46) for second. Bergeron has also scored nine career game-winning goals in the postseason – only Cam Neely (11) has more with the franchise.
* Rask (51-42) needs two wins during the Stanley Cup Playoffs to tie Gerry Cheevers (53-34) for the most in franchise history. Only Marc-Andre Fleury (81) and Henrik Lundqvist (61) have more career playoff wins among active goaltenders.
CAUFIELD SCORES ANOTHER OVERTIME GOAL FOR CANADIENS
Cole Caufield, who scored the overtime winner in Montreal's last game to record the first goal of his NHL career, tallied again in extra time as the Canadiens overcame deficits of 1-0 and 2-1 to defeat the Scotia North Division-leading Maple Leafs. Caufield became the third player in League history to score each of his first two career goals in overtime, joining New York Americans forward Albert Hughes in 1930 and Blackhawks defenseman Brent Seabrook in 2005.
* Caufield also became the fourth rookie in NHL history to score an overtime goal in consecutive team games, following Jacques Lemaire in 1968, Andrew Cogliano in 2008 and Kyle Connor in 2018. Lemaire accomplished the feat with Montreal during the Stanley Cup Playoffs, while Cogliano was the only rookie to extend his run to three games.
* The Canadiens (24-18-9, 57 points) occupy fourth in the Scotia North Division and now own the same amount of standings points as the third-place Jets (27-21-3, 57 points), who fell to the Senators on Monday. Winnipeg, however, owns one more regulation win than Montreal (WPG: 21, MTL: 20).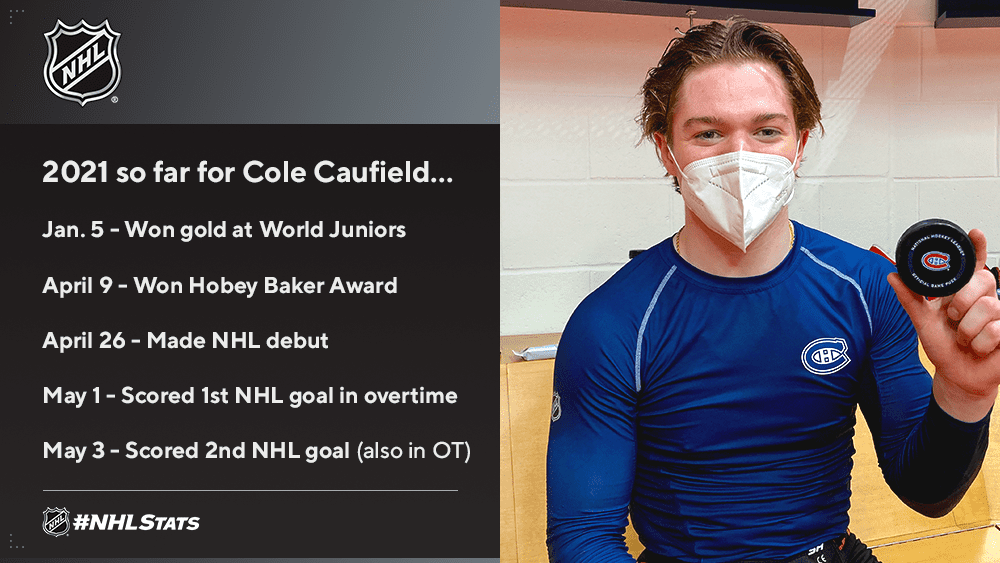 FOURTH-RANKED PREDATORS, BLUES PICK UP PIVOTAL WINS
Nashville (29-22-2, 60 points) and St. Louis (24-19-7, 55 points), which occupy fourth place in the Discover Central and Honda West Division, respectively, earned wins on Monday as each club inched closer to a berth in the 2021 Stanley Cup Playoffs:
* Emil Bemstrom scored a natural hat trick in the third period to pull the Blue Jackets even, but Roman Josi (2-0—2) tallied at 3:24 of overtime as the Predators moved four points ahead of the fifth-place Stars (21-17-14, 56 points) in the Discover Central Division.
* Robert Bortuzzo scored the game winner to record his first goal since March 8, 2020 and David Perron (0-1—1) reached multiple career milestones as the Blues moved five points ahead of the fifth-ranked Coyotes (22-25-6, 50 points) in the Honda West Division.
* Nashville improved to 5-1-1 in its last seven games, while St. Louis moved to 5-0-1 in its last six.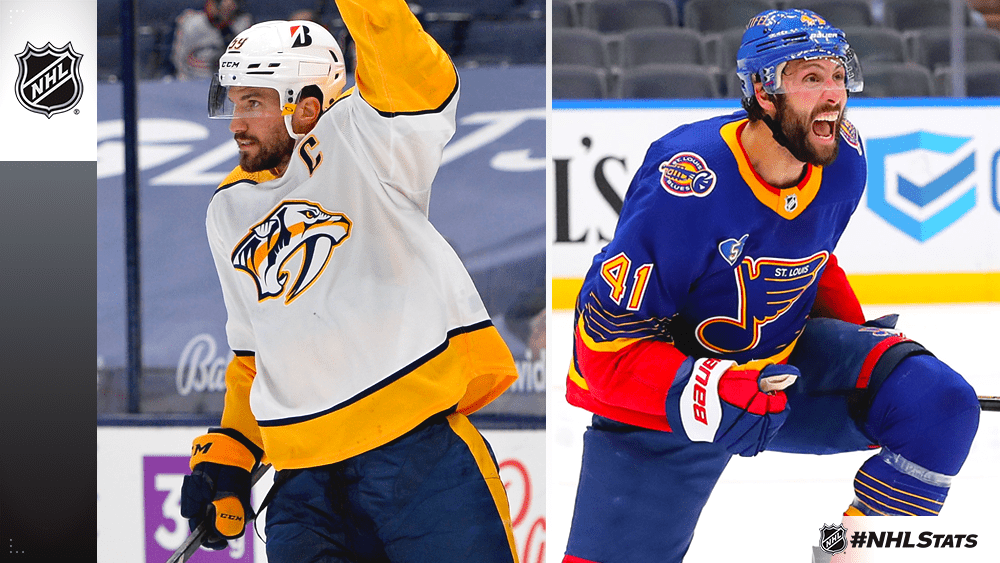 HURRICANES REMAIN ATOP NHL STANDINGS; CAPITALS CLAIM FIRST IN EAST . . .
The League-leading Hurricanes (35-10-7, 77 points) maintained their two-point lead atop the NHL standings, while the Capitals (33-14-5, 71 points) moved ahead of the Penguins (34-16-3, 71 points) for first place in the MassMutual East Division:
* Sebastian Aho recorded his fourth career hat trick and first by a Carolina player this season as the Hurricanes extended their point streak to 11 games (8-0-3). Dougie Hamilton (1-1—2), who ranks tied for fifth among defensemen with 42 points in 2020-21, opened the scoring to record his seventh straight 10-goal season.
* Daniel Sprong scored his third game-winning goal since April 24 (5 GP) and Vitek Vanecek made 23 saves as Washington improved to 8-2-0 in its last 10 road games. Vanecek moved to 19-9-4 through 34 appearances in 2020-21 (2.76 GAA, .907 SV%, 2 SO) – Vanecek's 19 wins vaulted him past Jim Carey (18) for sole possession of the third-highest single-season total by a Capitals rookie.
. . . PANTHERS, AVALANCHE AND WILD KEEP PACE WITH DIVISION LEADERS
Florida (35-14-5, 75 points) remained two points back of League-leading Carolina in the Discover Central Division, while Colorado (34-12-4, 72 points) and Minnesota (33-14-4, 70 points) moved within two and four points of Honda West Division-leading Vegas (36-13-2, 74 points):
* On the night Stars forward Tyler Seguin (1-0—1) returned to the lineup and helped Dallas erase a multi-goal deficit in the third period, Panthers captain Aleksander Barkov (1-1—2) scored in overtime and Spencer Knight (25 saves) improved to 4-0-0 as Florida captured its fourth straight win.
* Knight (No. 13 in 2019), the 36th goaltender ever selected among the top 15 in the NHL Draft and first by the Panthers at any point of the first round, has emerged into NHL after winning a gold medal with Team USA at the World Junior Championship and finishing as a finalist for the NCAA's Hobey Baker Award.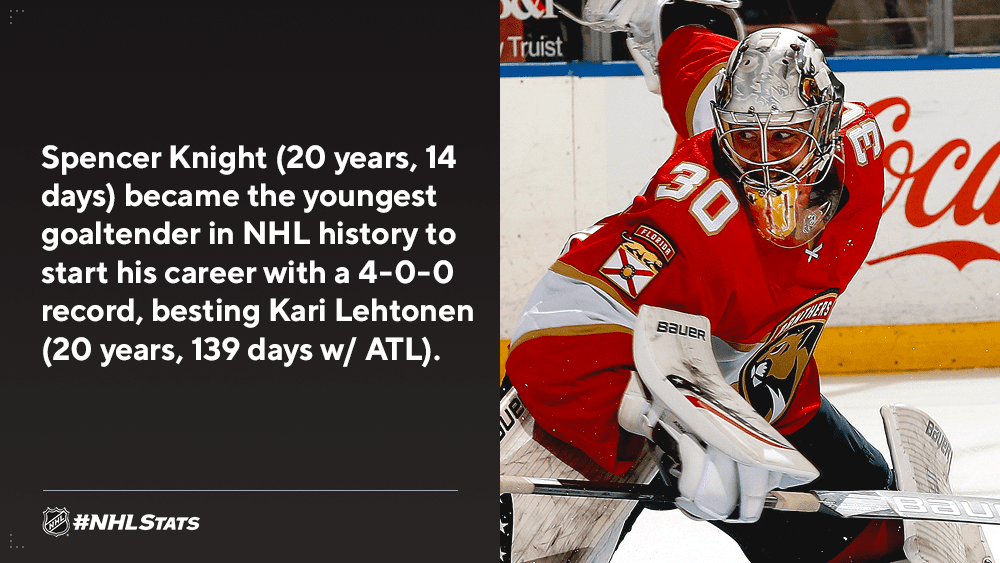 * Mikko Rantanen (1-1—2) assisted on the winner that Andre Burakovsky (1-1—2) scored 41 seconds into overtime as the Avalanche rallied from deficits of 3-1 and 4-2 to defeat the Sharks. Rantanen has recorded multiple points in each of his last five appearances dating April 12 (6-5—11).
* Nathan MacKinnon (0-2—2) extended his road point streak to a career-high 17 games (8-19—27). He has 36 points as a visitor this season, the second-highest total in the NHL.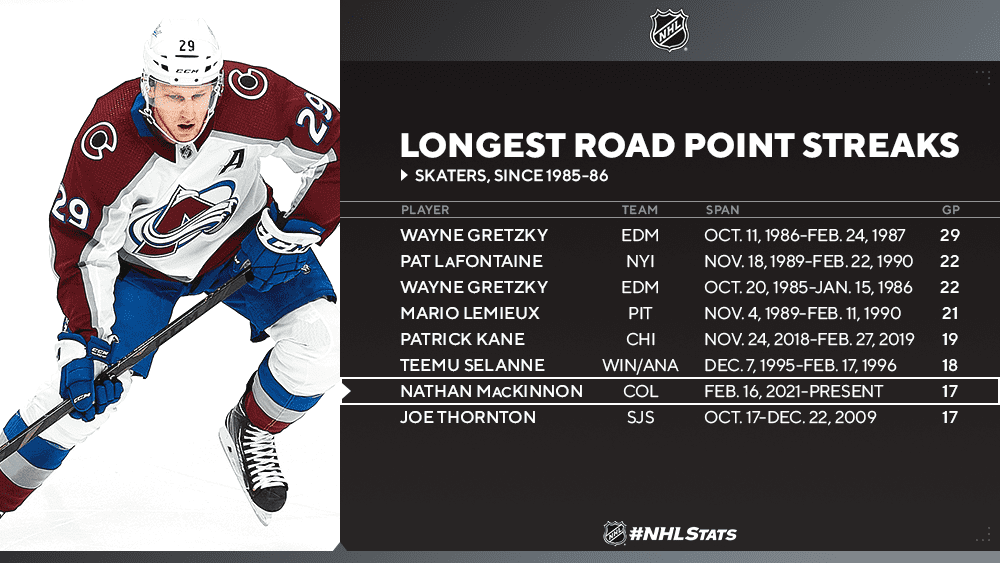 * Kirill Kaprizov(1-1—2), who leads all rookies in goals and points this season, scored one of three unanswered tallies as the Wild rallied from a 5-3 deficit to earn their second multi-goal comeback win in as many games. Minnesota earned its fifth straight win against Vegas dating to March 8 (VGK: 0-4-1) and overcame a multi-goal deficit in the third period to win a game for the fourth time this season, tied with Boston for the highest such total in the NHL.
* Kaprizov's 21 assists in 2020-21 matched Filip Kuba for the highest single-season total by a Wild rookie. Kaprizov is already the franchise's all-time leader in goals and points among rookies.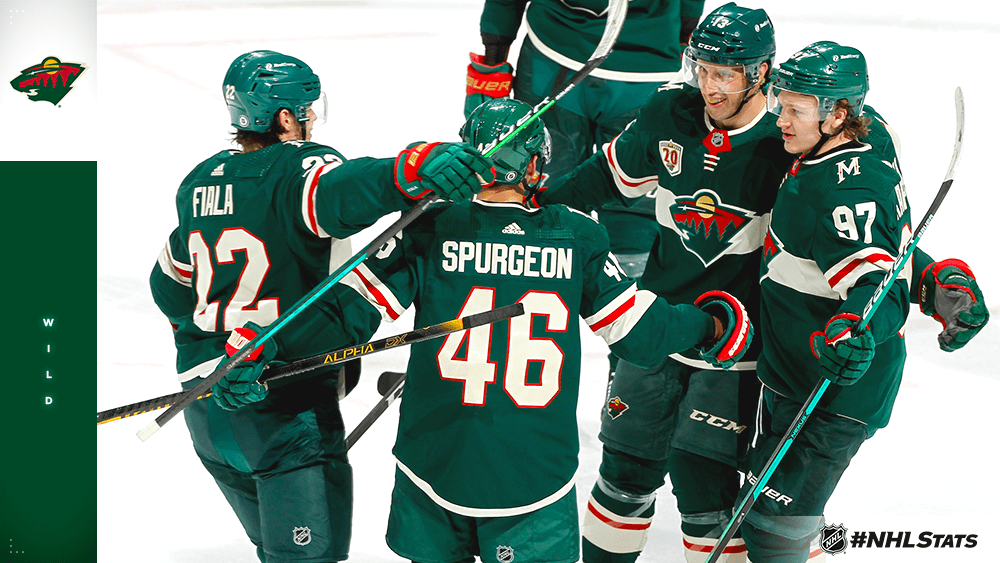 A NIGHT OF REMATCHES HIGHLIGHT TUESDAY'S ACTION
All five matchups tonight will feature rematches from Monday's action. After his club clinched a postseason berth yesterday, Bruins forward David Pastrnak sits one regular-season goal shy of 200 in his career. He can become just the third active player to score 200 regular-season goals and 20 playoff goals before age 25. Alex Ovechkin and Sidney Crosby are the only ones to do so.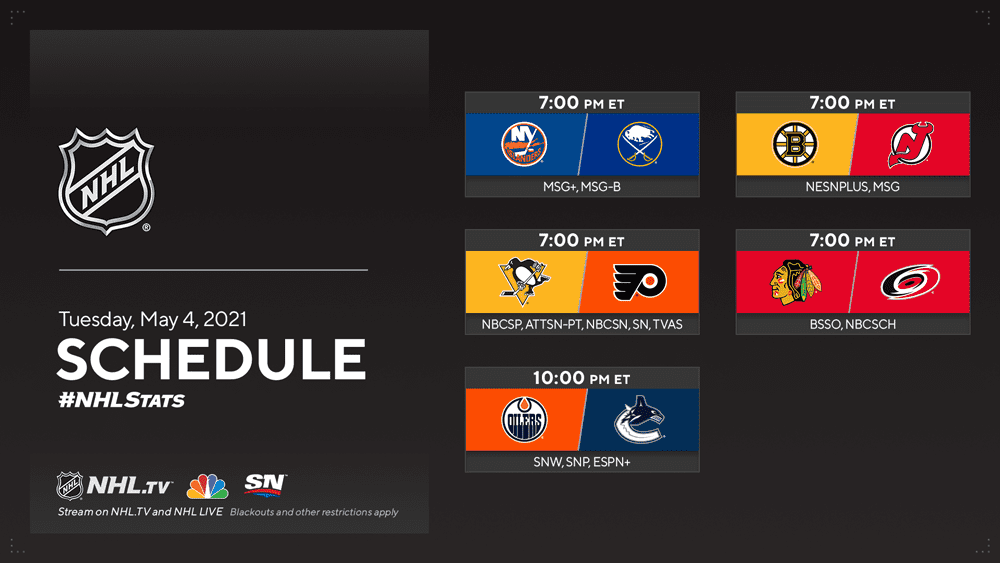 ONE MORE NOTE FOR MAY 3, 2021
Congratulations to @NHL referee Steve Kozari, who is working his 1,000th career regular-season game tonight at Gila River Arena. #NHLStats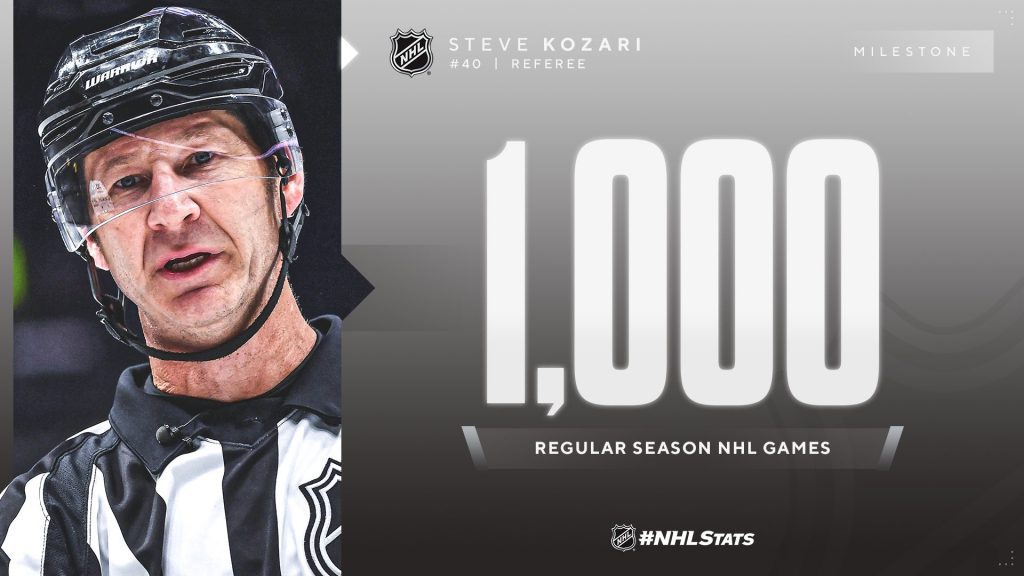 COURTESY NHL PUBLIC RELATIONS & NHLmedia.com