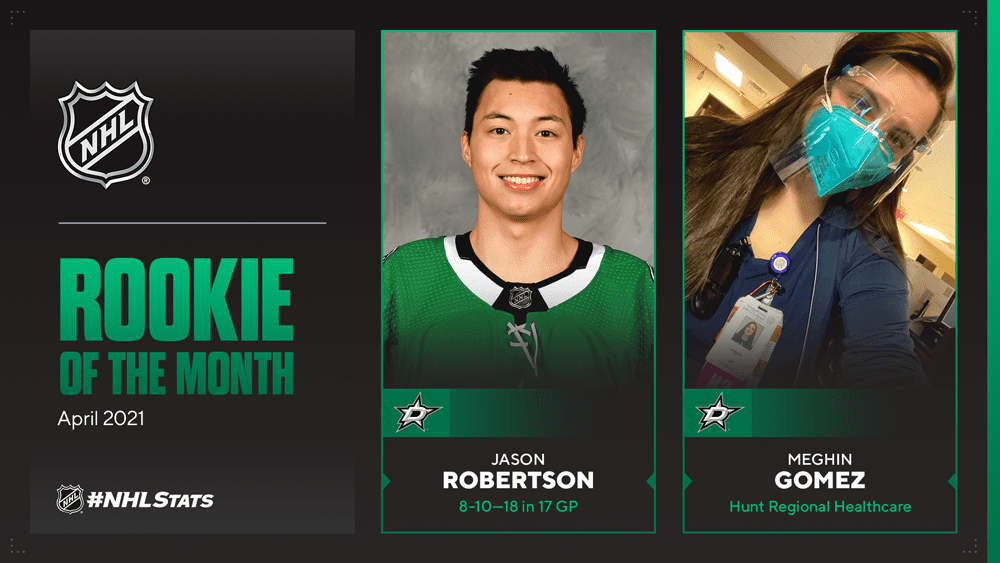 NEW YORK (May 1, 2021) – Dallas Stars left wing Jason Robertson and Hunt Regional Healthcare registered nurse Meghin Gomez have been named the NHL's "Rookies of the Month" for April.
Throughout the 2020-21 season the NHL is celebrating the remarkable efforts of the off-ice stars who make it possible for us to play our games amid a pandemic by honoring frontline healthcare heroes from the regions represented by the League's weekly and monthly "Stars."
Gomez works as a nurse at Hunt Regional Healthcare in Greenville, Texas. A rookie herself, she graduated from nursing school in May 2020 and began working in July 2020, during the height of the COVID-19 pandemic.
Gomez always knew that she wanted to be a nurse, ever since she cared for and tragically lost a beloved cousin with cerebral palsy eight years ago. She had hoped that she would one day become his nurse, but now her inspiration is to serve the public in his memory.
Gomez had to learn the job in the most challenging of circumstances, when new precautions and procedures were put in place for her safety – and the safety of patients. "Each day I had to tell myself how hard I had worked to be where I was and to not give up," she says. "No one understands the truth of COVID-19 until you're face-to-face with it and the only thing separating you is an N-95 mask and a face shield."
Robertson led rookies with 10 assists, 18 points and a +11 rating in 17 games (8-10—18) to edge Minnesota Wild left wing Kirill Kaprizov (11-3—14 in 15 GP), Ottawa Senators center Josh Norris (7-7—14 in 14 GP), New Jersey Devils center Yegor Sharangovich (7-7—14 in 16 GP) and New York Rangers goaltender Igor Shesterkin (7-4-2, 2.59 GAA, .915 SV%, 2 SO) for "Rookie of the Month" honors.
Robertson found the scoresheet in 13 of his 17 appearances during the month, highlighted by a nine-game point streak from April 13-27 (4-9—13) – the longest by any NHL rookie since 2017-18 (Clayton Keller: 10 GP w/ ARI). It also marked the Stars' longest point streak by a rookie since the team relocated to Dallas in 1993-94 and the fifth-longest such run in franchise history, behind only Jude Drouin (15 GP in 1970-71), Neal Broten (2x; 11 GP in 1981‑82) and Mike Modano (10 GP in 1989-90).
The 21-year-old Arcadia, Calif., native – who was selected with the 39th overall pick in the 2017 NHL Draft – has played in 45 total contests this season, ranking among the rookie leaders in assists (1st; 25), plus/minus (1st; 14), points per game (1st; 0.89), points (2nd; 40), shots on goal (2nd; 111) and goals (t-2nd; 15).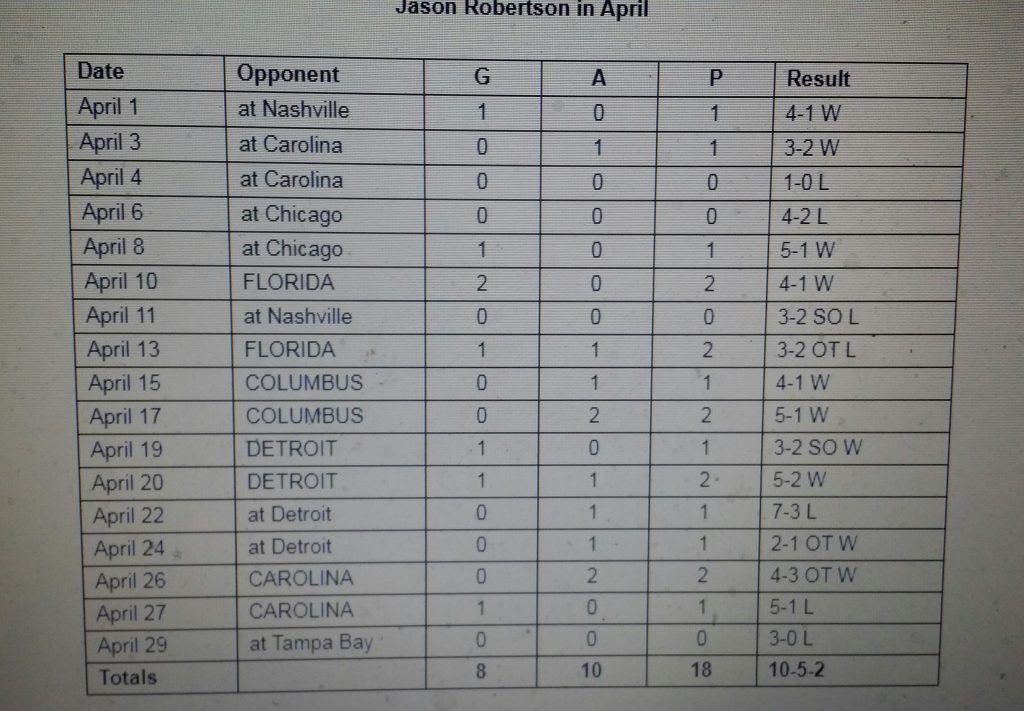 COURTESY NHLmedia.com