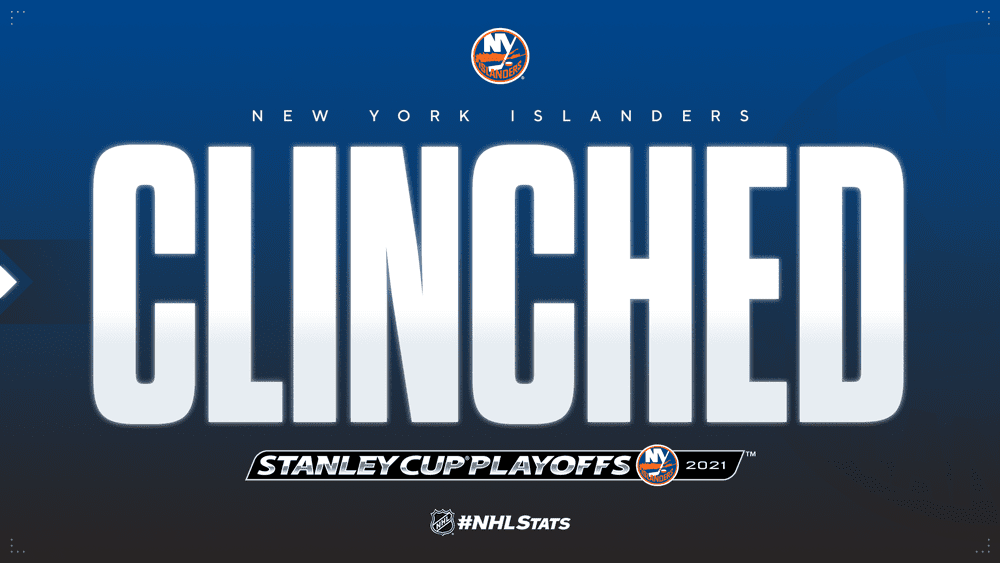 Ten #NHLStats about the New York Islanders, who are headed to the postseason for the third consecutive season and 27th time in franchise history.
1. The Islanders will participate in the postseason for a third consecutive season, tying the second-longest run in franchise history (3 from 2002 to 2004), behind only the franchise's 14-season run from 1975 to 1988 that included four consecutive Stanley Cup championships (1980-83).
2. The Islanders have advanced past the opening round in each of the last two playoff years, reaching the Conference Finals in 2020 and the Second Round in 2019. Should they win a playoff series again in the 2021 Stanley Cup Playoffs, it would mark the first time since a run of seven consecutive postseasons from 1979 to 1985 that the team won at least one playoff series in three or more consecutive seasons.
3. Barry Trotz (72-71) ranks 15th in NHL history among head coaches with 72 postseason victories – the only active head coaches with more are Joel Quenneville (119-100), Darryl Sutter (89-81), Alain Vigneault (78-77) and Peter Laviolette (75-68).
4. The Islanders have a 17-13 record in the postseason since Barry Trotz took over behind the bench, marking the most wins by a coach through their first 30 postseason games with the Islanders – one ahead of the legendary Al Arbour (16-14).
5. Lou Lamoriello has an all-time series record of 29-22 as an NHL general manager. He can become the second GM in NHL history to guide his teams to 30 series victories, joining Glen Sather (41-20).
6. Mathew Barzal has recorded 7-17—24 in 30 postseason appearances. Among players to make their NHL debut with the Islanders, only two had more points through their first 30 playoff appearances with the franchise: Denis Potvin (10-23—33 in 30 GP) and Mike Bossy (16-14—30 in 30 GP).
7. Semyon Varlamov posted back-to-back shutouts in the 2020 Stanley Cup Playoffs, blanking the Capitals in a series-deciding 4-0 W vs. WSH in Game 5 of the First Round and stopping all 29 shots he faced in a 4-0 W vs. PHI in Game 1 of the Second Round. In total, his shutout sequence of 138:17 spanning four games set a new postseason franchise record, besting the previous mark held by Billy Smith (136:59).
8. Ilya Sorokin has shared the crease with Semyon Varlamov in 2020-21 and has recorded the most wins by an Islanders rookie in a single season since Kelly Hrudey (19 in 1984-85). Sorokin can become the fourth rookie netminder in franchise history to earn a postseason victory and first since the aforementioned Hrudey, while Roland Melanson (1-0 in 3 GP in 1981) is the only Islanders rookie goaltender to earn a playoff win in a season in which the team won the Stanley Cup.
9. Since 2018-19, the Islanders team has averaged just 2.33 goals against per game in the postseason, second among all clubs over that span (MTL: 1.90). The franchise's 17 wins across the previous two postseasons are the most of any club that did not reach the Stanley Cup Final in one of the two campaigns.
10. Josh Bailey led all Islanders skaters with 2-18—20 in 22 GP during the 2020 postseason – only two players in franchise history have recorded more assists in a single postseason: Bryan Trottier (23 in 1982) and Bob Bourne (20 in 1983). Bailey was also the first Islanders player to record 20 points in a single postseason since Ray Ferraro in 1992-93.
COURTESY NHLmedia.com