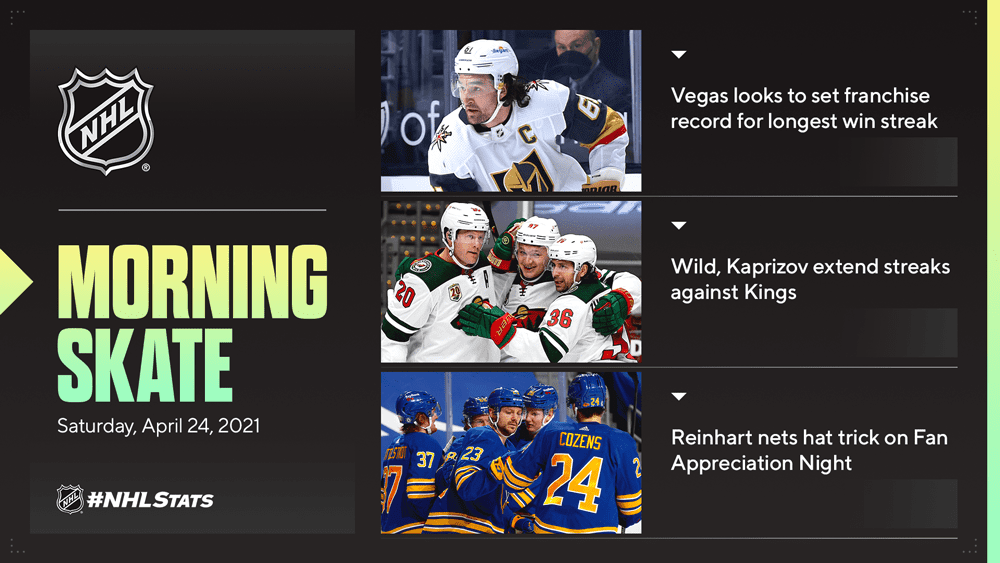 THREE HARD LAPS
 
* Saturday's 11-game slate includes the League-leading Golden Knights putting their lengthy winning streak on the line, the top two teams in the Discover Central Division going head-to-head again at BB&T Center as well as the Avalanche squaring off with the Blues in a matinee on NBC.

* The Wild improved to 6-0-0 in their last six games as Kirill Kaprizov became the first rookie to reach the 20-goal mark this season.

* The Rangers and Flames inched closer to fourth place in their respective divisions.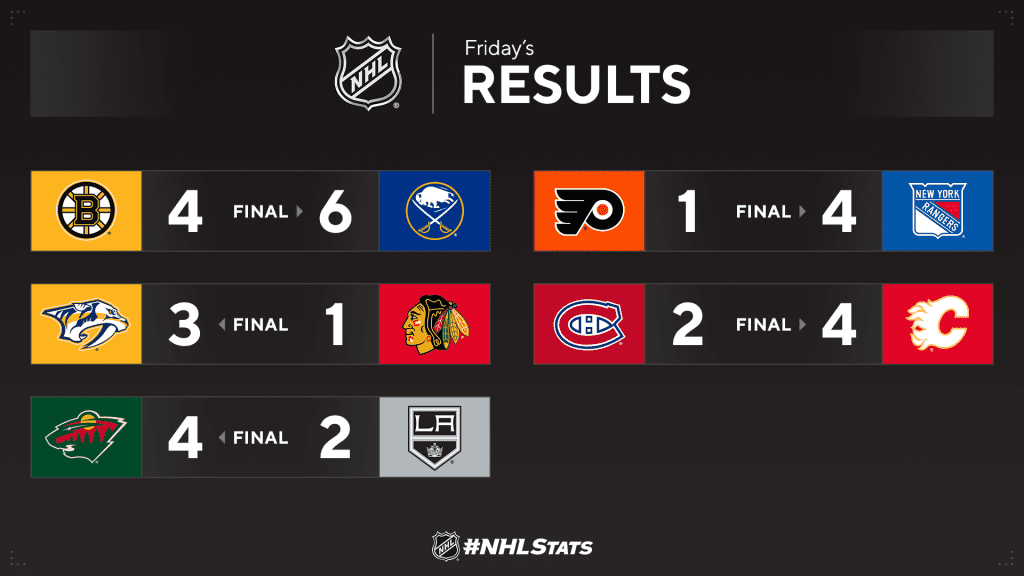 LEAGUE-LEADING GOLDEN KNIGHTS LOOK TO EXTEND LENGTHY WINNING STREAK
Saturday's 11-game slate is highlighted by the NHL-leading, playoff-bound Golden Knights (33-11-2, 68 points) looking to extend their winning streak to a franchise-record nine games when they visit the Ducks at Honda Center. Vegas can match the longest winning streak by any team this season, a mark set by the Islanders from Feb. 28 to March 14 (9-0-0).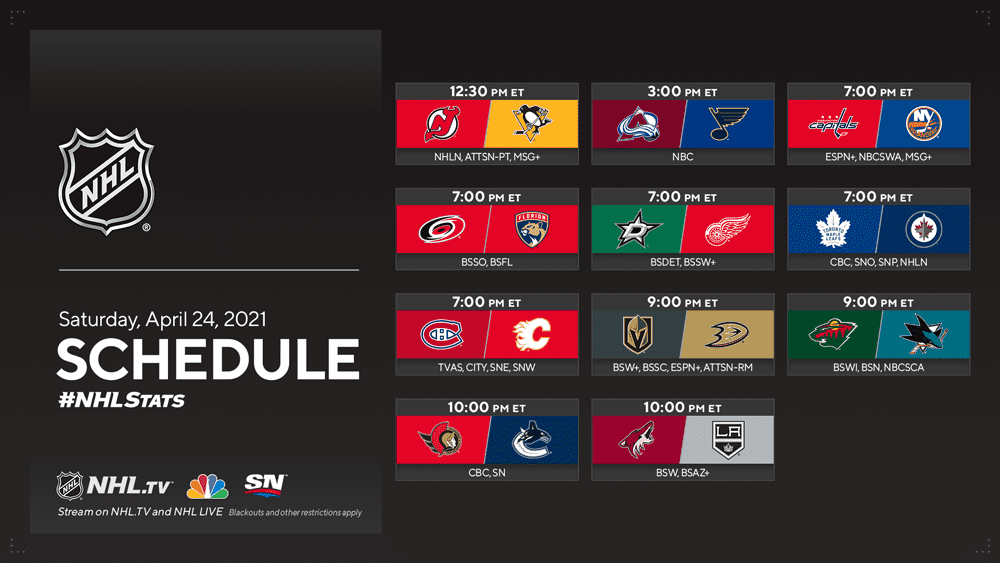 More #NHLStats to watch for on Saturday:

* The Discover Central Division-leading Hurricanes (31-10-5, 67 points) take on the second-place Panthers (30-13-5, 65 points) again at BB&T Center. Florida defenseman Keith Yandle is set to skate in his 915th consecutive game dating to March 26, 2009 and surpass Garry Unger (914 GP) for sole possession of the second longest "Ironman" streak in League history.
* Nathan MacKinnon (7-14—21 in 12 GP) looks to extend the League's longest active point streak to 13 games when the postseason-bound Avalanche (31-9-4, 66 points), who sit two points back of the Golden Knights, play the third contest of their four-game sojourn in St. Louis. The longest point streak of his NHL career is 14 games, a mark set in 2017-18 and equaled during the 2020 playoffs.

* Zdeno Chara is set to become the fifth defenseman in NHL history to skate in 1,600 career games when the MassMutual East Division-leading Capitals (30-13-4, 64 points) play the second contest of their three-game set against the third-place Islanders (29-13-5, 63 points), who chose Chara in the 1996 NHL Draft.
 
* Joe Thornton of the Scotia North Division-leading Maple Leafs (29-13-5, 63 points) and Patrick Marleau of the Sharks are also closing in on milestones. Thornton needs one assist to become the seventh player in League history to reach 1,100 while his former teammate Marleau will move within two games of becoming the second player to skate in 1,600 with one NHL franchise, in which he would join Gordie Howe (1,687 GP w/ DET).

WILD EXTEND STREAK; PREDATORS ALSO STRENGTHEN GRIP ON PLAYOFF SPOT
The Wild (30-13-3, 63 points) improved to 6-0-0 in their last six games to move within three points of the idle Avalanche (31-9-4, 66 points), who occupy second place in the Honda West Division, while the Predators (26-21-2, 54 points) earned another head-to-head win over the Blackhawks to strengthen their grip on fourth in the Discover Central Division:
 
* Kirill Kaprizov tallied twice to extend his goal streak to four games (5-0—5) and Cam Talbot made 40 saves as Minnesota defeated Los Angeles. Kaprizov (21-19—40 in 46 GP) became the first rookie to reach the 40-point mark this season, moving four ahead of Stars forward Jason Robertson (14-22—36 in 41 GP).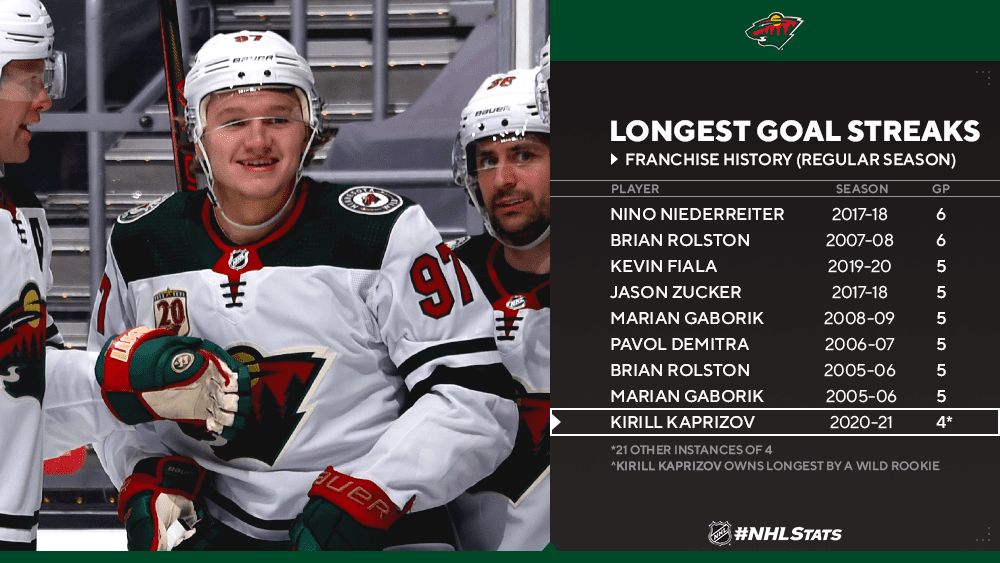 * Ryan Ellis recorded two assists as the Predators concluded their eight-game season series against the Blackhawks with a 7-0-1 record (CHI: 1-5-2). Nashville opened a five-point lead over Chicago (22-21-5, 49 points) and also moved four ahead of Dallas (19-15-12, 50 points), which was idle on Friday.
RANGERS, FLAMES INCH CLOSER TO FOURTH PLACE IN RESPECTIVE DIVISIONS
The Rangers (24-18-6, 54 points) and Flames (20-23-3, 43 points) earned wins on Friday to move closer to fourth place in the MassMutual East and Scotia North Division, respectively:
* Mika Zibanejad and Artemi Panarin posted two assists apiece as the Rangers defeated the Flyers to move within six points of the Bruins (27-13-6, 60 points), who occupy fourth place in the MassMutual East Division. Zibanejad had 18 points against Philadelphia in 2020-21 (7-11—18 in 8 GP), tied for the highest single-season total versus one opponent by a Rangers player during the NHL's expansion era.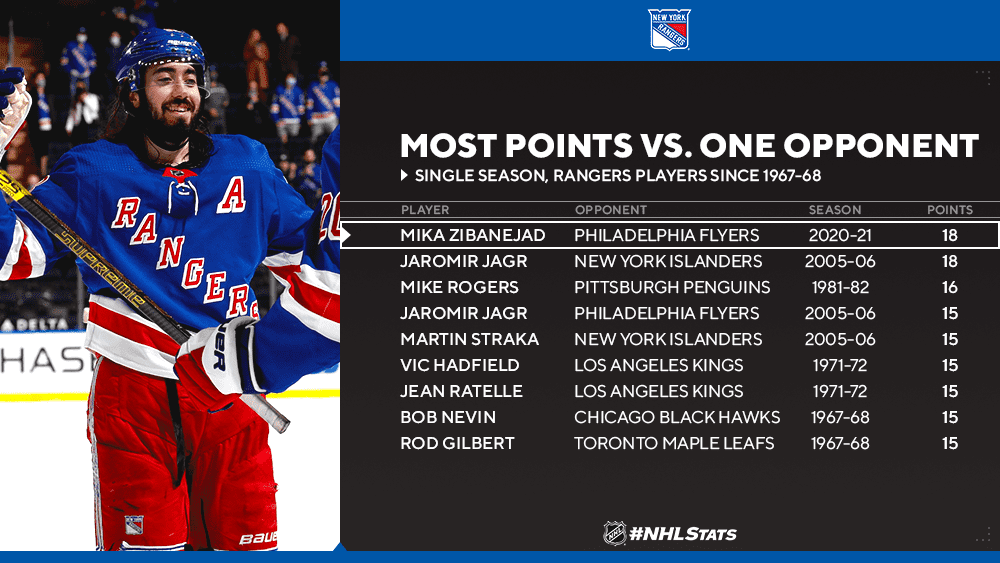 * Sean Monahan (1-2—3) scored the go-ahead goal at 5:58 of the third period as Calgary climbed within six points of Montreal (20-16-9, 49 points), which ranks fourth in the Scotia North Division. The Flames improved to 5-2-0 against the Canadiens in 2020-21 (MTL: 2-5-0) – the clubs are back in action at Scotiabank Saddledome tonight before concluding their nine-game season series on Monday.
REINHART RECORDS HAT TRICK, LUUKKONEN WINS NHL DEBUT
Sam Reinhart scored three of the Sabres' six goals to record the fourth hat trick of his NHL career and Ukko-Pekka Luukkonen made 36 saves to earn a win in his League debut as Buffalo snapped Boston's six-game winning streak. Reinhart recorded his fifth multi-goal game of the season, which trails only Auston Matthews (8) for the most in the NHL.
* ICYMI: Reinhart gave his stick to the family of the late Teddy Steeg, the Sabres' 2020-21 Fan of the Year who the team honored in a pre-game ceremony on Friday as part of their Fan Appreciation Night.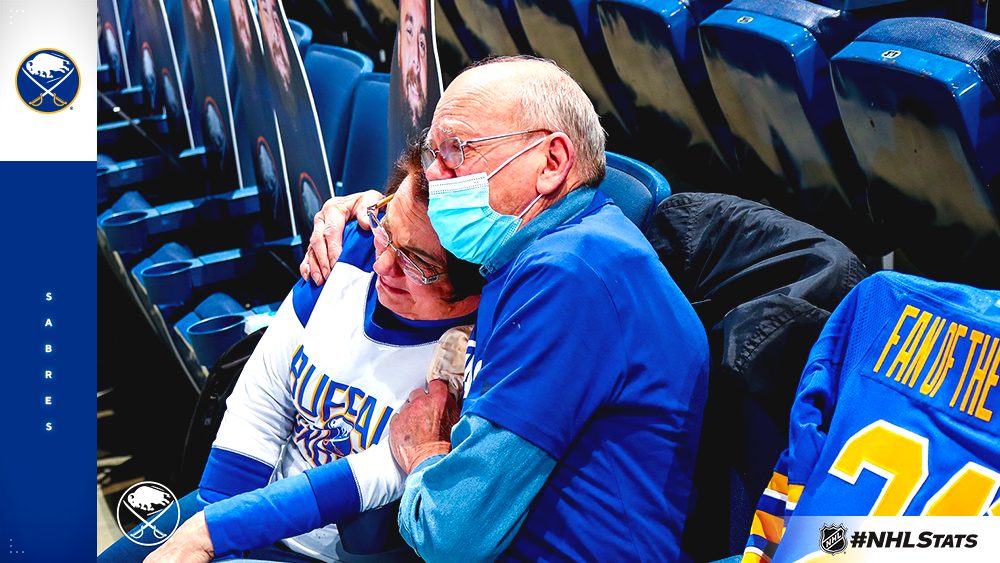 COURTESY NHLmedia.com