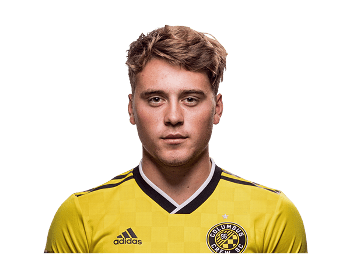 April 17, 2021
Crew SC midfielder suffered left knee injury in Thursday's 2021 Scotiabank Concacaf Champions League Round Of 16 Second Leg Match
COLUMBUS – Columbus Crew SC today announced that after additional evaluation, midfielder Aidan Morris will undergo Anterior Cruciate Ligament reconstruction on his left knee in the near future and is expected to be sidelined for approximately nine to 12 months.
Morris was signed as a Homegrown Player with Crew SC on January 14, 2020, and made 10 regular-season appearances. In Audi 2020 MLS Cup Playoffs action, Morris made one start at home against Seattle Sounders FC during MLS Cup 2020 and became the youngest player ever in MLS Cup history to start and provide an assist.
Crew SC begins the 2021 MLS regular season at home tomorrow, Sunday, April 18, against the Philadelphia Union [5:30 p.m. ET/ FS1 (English), FOX Deportes (Spanish) / 97.1 The Fan (English), ColumbusCrewSC.com (Spanish)]
ABOUT COLUMBUS CREW SC
Columbus Crew SC (Soccer Club) is the first club in Major League Soccer. Crew SC is operated by The Edwards Family and Haslam Sports Group. The Black & Gold are the 2020 MLS Cup Champions. The Club won its first MLS Cup championship in 2008 and also won the 2002 Lamar Hunt U.S. Open Cup as well as MLS Supporters' Shield titles in 2004, 2008 and 2009. The 2020 campaign was the Crew's 25th season in MLS and the 21st season at Historic Crew Stadium — the first soccer-specific stadium in the United States.
Website: ColumbusCrewSC.com | Twitter: @ColumbusCrewSC | Instagram: @ColumbusCrewSC | Hashtag: #Crew96 | Facebook.com/columbuscrewsc | Snapchat: ColumbusCrewSC | App: ColumbusCrewSC.com/app | Stadium: Historic Crew Stadium | Training Facility: Crew SC Training Center at Obetz | Future Training Facility (2021): OhioHealth Performance Center | New, downtown stadium coming July 2021.
COURTESY COLUMBUS CREW SC COMMUNICATIONS