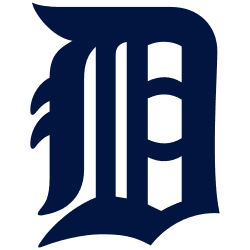 DETROIT TIGERS
GAME NOTES
WORLD SERIES CHAMPIONS: 1935, 1945, 1968, 1984
tigers.com • facebook.com/tigers • Twitter- @tigers, @TigresdeDetroit, @DetroitTigersPR • Instagram/Snapchat- @tigers, @TigresdeDetroit
Detroit Tigers (3-5) at Cleveland Indians (4-3)
Sunday, April 11, 2021 • Progressive Field, Cleveland, OH • 1:10 p.m. ET
RHP José Ureña (0-1, 15.00) vs. LHP Logan Allen (0-1, 3.60)
Game #9 • Road Game #3 • TV: Bally Sports Detroit/MLB.tv • Radio: 97.1 The Ticket
RECENT RESULTS: The Tigers dropped their third
straight game last night, falling to Cleveland, 11-3.
Robbie Grossman blasted his first homer since signing
with Detroit, finishing the contest 3×4 with a pair of
runs scored. Jeimer Candelario also left the yard,
smashing a two-run shot in the ninth inning for his first
home run of the 2021 campaign. Starting pitcher Tarik
Skubal grinded through 4.0 innings pitched, allowing
six earned runs on five hits and three walks, while
punching out three. Alex Lange made his Major League
debut in the contest, tossing a scoreless fifth inning for
the Tigers.

ROSTER MOVES: The Tigers have made the following
roster moves:
• INF/DH Miguel Cabrera placed on the 10-day
injured list with a left biceps strain
• INF Renato Núñez selected to the Major League
roster
• To make room for Núñez on the 40-man roster,
RHP Julio Teheran transferred to the 60-day
injured list
GET ON BASE, ANY WHICH WAY: Robbie Grossman has
been a machine at getting on base over the first seven
games of the season, reaching by hit or walk in 15 of 29
plate appearances. His .483 on-base percentage leads
the Tigers and ranks eighth in the American League. He
finished last night's contest 3×4 with a solo home run,
his first as a Tiger, marking his second multi-hit game
in his last three contests. Grossman's two hardest hit
balls of the season came last night: 105.7 MPH on a
leadoff single in the first inning, and 102.0 MPH on his
seventh inning homer.

CANDY CRUSHES: Jeimer Candelario finished last
night's contest 1×4, pulling a homer in the ninth inning
against the Indians. The two-run shot marked his first
longball of the season, and was one of two extrabase hits for Detroit in the contest. Through 34 plate
appearances this season he's posted an average exit
velocity of 92.2 MPH, which would establish a new
single-season career high (min. 30 plate appearances).
Candelario established career bests in multiple
offensive categories during the shortened 2020
season, including home run rate (3.4%) and ISO (.205).
ABOUT THAT DEBUT…: After being recalled from the
club's taxi squad, RHP Alex Lange made his Major
League debut last night at Cleveland. Topping out with
a fastball at 97.5 MPH, Lange worked a scoreless fifth
inning, punching out Franmil Reyes to end the frame
for his first Major League strikeout. Lange was the first
Tigers pitcher, and second player overall, to make his
big league debut this season (other, Akil Baddoo). The
last Detroit pitcher to throw a scoreless inning of relief
in his first Major League game was Bryan Garcia, on
September 2, 2019 vs. Minnesota.
LET'S GET DIVISIONAL: Today, the Tigers will close out
a season-opening, nine-game stretch of contests vs.
American League Central foes. Detroit has gone 3-5 so
far, but looks to finish on a strong note today against
the Indians. Dating back to the start of 2010, the Tigers
have posted a 401-392 record (.506 win %) in intradivisional games. Detroit went 12-28 against divisional
foes last season, including: 1-9 vs. Chicago (AL), 3-7 vs.
Cleveland, 4-6 vs. Kansas City and 4-6 vs. Minnesota.
The Tigers have posted a losing record against AL
Central teams in four consecutive seasons.
TIGERS VS. INDIANS
2021 Record: 2-3
2021 at Home: 2-1
2021 at Cleveland: 0-2
All-Time Record: 1130-1125-12
All-Time at Home: 614-510-5
All-Time at Comerica Park: 93-98
All-Time at Cleveland: 516-616-7
2021 Game Log
Date Site Result Winner/Loser/Save
4/1 DET W, 3-2 Boyd/Bieber/Soto
4/3 DET W, 5-2 Teheran/Plesac/B. Garcia
4/4 DET L, 9-3 Civale/Norris
4/9 CLE L, 4-1 Plesac/Holland/Clase
4/10 CLE L, 11-3 Civale/Skubal
4/11 CLE
5/24 DET
5/25 DET
5/26 DET
5/27 DET
6/28 CLE
6/29 CLE
6/30 CLE
8/6 CLE
8/7 CLE
8/8 CLE
8/13 DET
8/14 DET
8/15 DET
UPCOMING GAME DETAILS
DATE OPPONENT GAME TIME (ET) TIGERS OPPONENT TV/RADIO
PROBABLE PITCHER PROBABLE PITCHER
Monday at Houston 8:10 p.m. RHP Casey Mize RHP Zack Greinke BSDET/97.1
(0-0, 2.25) (1-0, 1.38)
Tuesday at Houston 8:10 p.m. LHP Matthew Boyd RHP Jake Odorizzi BSDET/97.1
(1-1, 2.13) (No Record)
Wednesday at Houston 7:10 p.m. RHP Michael Fulmer RHP Lance McCullers Jr. BSDET/97.1
GROUNDING THE ASTROS: Following today's series
finale in Cleveland, the Tigers continue their 10-game
road trip with three evening matches in Houston. Since
the start of the 2013 season, Detroit has posted a 22-
25 record against the Astros, including a 10-14 mark at
Minute Maid Park. The Tigers look to rebound from the
recent trend of results, which has seen them drop 11
out of 13 against Houston.
TAXI SQUAD MEMBERS: The Tigers currently have
three players on the taxi squad for this road trip.
• RHP Kyle Funkhouser
• RHP Erasmo Ramírez
• C Dustin Garneau
COMMUNITY HOT CORNER
Detroit Tigers Fun At Bat At Home Series, Powered
by Bally Sports Detroit and USA Baseball
A new, free virtual program, the Detroit Tigers Fun
At Bat At Home Series, powered by Bally Sports
Detroit and USA Baseball introduces children in
grades K-5 to the fundamentals of baseball and
critical character development principles through a
series of interactive videos aimed at growing sport
participation. Hosted by former Tigers outfielder
Craig Monroe, and featuring current Tigers players
and personnel, the virtual lessons begin April 16.
To learn more and register a child for the free
5-week program, visit www.Tigers.com/FunAtBat.
TODAY'S TIGERS STARTER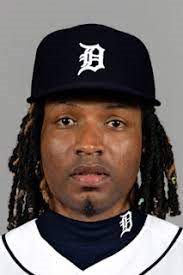 José Ureña – RHP
Height: 6-2 • Weight: 208 lbs. • Age: 29
Initially Signed: August 29, 2008 as a non-drafted FA (Florida)
Birthplace: Santo Domingo, DR
Residence: Santo Domingo, DR
Today's Start at Cleveland
• Ureña will make his first career start against the Indians today in
his second appearance of the season…today's start also marks the
100th of Ureña's Major League career.
• Has posted a 1-7 record and 4.91 ERA (80.2IP/44ER) over 20 games
that he's pitched in during the month of April, including 11 starts…
his early season games in March/April have produced the highest
ERA (5.44), opponents batting average (.300) and WHIP (1.49) of any
month during his career.
• Has made just two starts in his career against American League
Central teams, posting a 1-1 record with a 7.00 ERA (9.0IP/7ER) and
10 strikeouts.
2021 Spring Training
• Posted a 1.93 ERA (14.0IP/3ER) over four Grapefruit League outings,
including three starts…surrendered just seven hits along with nine
walks in those appearances, punching out five.
• Ranked among Grapefruit League leaders (min. 14.0 IP) in many
pitching categories, including: third in opponents slugging
percentage (.196), fourth in opponents batting average (.152) and
sixth in OPS against (.511)…was one of three pitchers in the pool of
those who threw 14.0-plus innings to not allow a home run (others,
Steven Matz and Michael Wacha).
• Statcast data indicates that it wasn't just luck that was helping
Ureña to these standout results this spring…among that group of
Grapefruit League pitchers with at least 14.0 innings pitched, his
stuff measured up against the best pitchers in the game, ranking
third in average horizontal break (9.9 inches) and 10th in average
velocity (91.0 MPH).
Career Notes
• Signed a one-year contract with the Tigers this offseason, after
spending the first six years of his career with Miami…has a
combined 32-47 record from his debut in 2015 to present, with a
4.65 ERA (600.0IP/310ER) and 411 strikeouts over 143 career games
(99 starts).
• Made just five starts in 2020 (all in September) after being on the
injured list for much of the season, sidelined from July 27-September
7…exited his final start of the season in the third inning on September
27 at New York (AL) after taking a D.J. Lemahieu line drive off of his
right forearm…x-rays revealed a non-displaced ulna fracture in his
right forearm, ending his season.
• Made his second consecutive Opening Day start for the Marlins in
2019, becoming the first Miami pitcher to do so since Josh Johnson
started three consecutive season openers from 2010-12.
• Established career highs in starts (31), innings pitched (174.0) and
strikeouts (130) in 2018 with Miami, allowing one run-or-less in six
of his final seven starts of the season, posting a 6-0 record with a
1.80 ERA (45.0IP/9ER) and 26 strikeouts in that stretch
• Began the season out of the bullpen in 2017, but went on to win a
career-high 14 games and appeared in a career-best 34 games that
season with the Marlins…allowed three earned runs-or-fewer in
seven consecutive starts from June 7-July 9, during which he had a
4-1 record with a 3.23 ERA (39.0IP/14ER) and 30 strikeouts.
JOSÉ UREÑA – 2021 DAY-BY-DAY
Date-Opp. Decision IP H R ER HR BB SO P-S
4/5 vs. MIN L, 15-6 3.0 4 6 5 1 4 5 81-39
TOTALS 0-1 3.0 4 6 5 1 4 5 81-39
2021 HIGHS STATISTIC CAREER HIGHS
3.0, 4/5/21 vs. MIN Innings Pitched 9.0, 8/19/18 at WSH
4, 4/5/21 vs. MIN Hits 12, 4/28/17 vs. PIT
6, 4/5/21 vs. MIN R 8, 7/29/16 vs. STL
5, 4/5/21 vs. MIN ER 8, 7/29/16 vs. STL
1, 4/5/21 vs. MIN HR 3, 8/4/18 at PHI
4, 4/5/21 vs. MIN BB 6, 5/28/17 vs LAA
5, 4/5/21 vs. MIN SO 7, 6x (last), 4/14/19 vs. PHI
81, 4/5/21 vs. MIN Pitches 112, 2x (last), 4/26/19 at PHI
UREÑA – 2021 AND CAREER W-L ERA G GS IP H R ER BB SO
2021: 0-1 15.00 1 1 3.0 4 6 5 4 5
Career: 32-47 4.65 143 99 600.0 596 325 310 212 411
UREÑA – vs. CLEVELAND W-L ERA G GS IP H R ER BB SO
2020: — — — — — — — — — —
Career: — — — — — — — — — —
BATTER vs. PITCHER MATCHUPS
UREÑA vs. CLEVELAND
Player Avg. AB H HR RBI BB SO
Bauers .000 2 0 0 0 0 1
Hedges .000 2 0 0 0 0 2
Hernandez .273 33 9 3 7 0 5
Naylor .500 2 1 1 2 0 0
Reyes .167 6 1 1 1 0 2
A. Rosario .400 15 6 0 3 0 3
ALLEN vs. DETROIT
Player Avg. AB H HR RBI BB SO
Candelario .000 2 0 0 0 0 0
W. Castro .667 3 2 0 1 0 0
Goodrum .000 1 0 0 0 1 0
Greiner 1.000 1 1 1 1 1 0
Jones .000 2 0 0 0 0 1
Núñez .000 2 0 0 0 1 2
Ramos .000 2 0 0 0 0 0
Reyes .000 2 0 0 0 1 0
TIGERS IN THE BOX
(Series numbers are for three games at Cleveland, April 9-11; Road trip numbers are for 10 games, April 9-18)
TIGERS SERIES: .145 (9×62) ROAD TRIP: .145 (9×62)
OPPONENTS SERIES: .246 (16×65) ROAD TRIP: .246 (16×65)
BULLPEN NOTES
W-L ERA IP H R ER BB-IBB SO
STARTERS 2-4 5.15 36.2 36 22 21 18-0 32
RELIEVERS 1-1 7.08 34.1 33 27 27 14-0 37
TOTAL 3-5 6.08 71.0 69 49 48 32-0 69
COURTESY DETROIT TIGERS & MLBpressbox.com