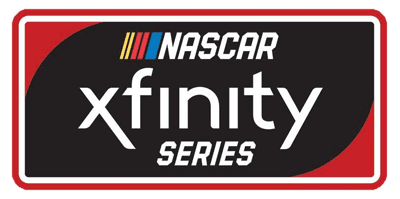 NASCAR Xfinity Series
Next Race: Cook Out 250
The Place: Martinsville Speedway
The Date: Friday, April 9
The Time: 8 p.m. ET
TV: FS1, 7 p.m. ET
Radio: MRN, SiriusXM NASCAR Radio
Distance: 131.5 miles (250 Laps); Stage 1 (Ends on Lap 60),
Stage 2 (Ends on Lap 120), Final Stage (Ends on Lap 250)
Nagging rain has forced NASCAR officials to postpone Friday night's NASCAR Xfinity Series Cook Out 250 to a Sunday finish at Martinsville Speedway.
The race will resume Sunday at noon ET with coverage on FS1, MRN and SiriusXM NASCAR Radio. Brandon Jones is scored as the leader with 91 of a scheduled 250 laps complete.
Noah Gragson won Stage 1 of the race, and the second stage was near its halfway mark when a rain shower halted the event at 9:32 p.m. ET. Track-drying efforts continued until storms intensified late in Friday evening. The start of the race was also delayed roughly a half-hour due to an early evening shower at the track.
The race at the 0.526-mile track marks the seventh Xfinity race of the season and the first in the 2021 Dash 4 Cash program. Justin Allgaier, AJ Allmendinger, Harrison Burton and Gragson are the four drivers competing in the race within a race. The highest finishing driver among those four takes the $100,000 prize. The winning driver also advances on to compete for the prize with the three highest finishing drivers running for Xfinity points in the next event at Talladega Superspeedway on April 24.
Burton, who won last fall in the first Xfinity race here since 2006, started on the pole with Allgaier lined up along side of him. Burton led the first 53 laps at Martinsville. Allmendinger had an issue early in the race and had to pit under green, leaving him a lap down.
NASCAR Xfinity Series
NASCAR Xfinity Series takes on 'The Paperclip' under the lights
After a two-week break, the NASCAR Xfinity Series is back in action at Martinsville Speedway for the Cook Out 250 at 8 p.m. ET on Friday, April 9 on FS1, MRN and SiriusXM NASCAR Radio.
The 2020 season marked the first year the Xfinity Series raced at the .526-mile paved track since 2006. Kevin Harvick won the race in 2006 and prior to that, the Xfinity Series last raced at Martinsville in 1994. In total, there have been 35 races at the Virginia short track and Sam Ard won the inaugural race in 1982.
Joe Gibbs Racing's Harrison Burton took home the victory last season at Martinsville after starting in the 10th position in his rookie year.
The race at Martinsville last season was the final Playoff race to secure the Championship 4. Burton won the race but was not in the Playoffs after being eliminated in the first round. Justin Allgaier was the highest-finishing Playoff driver, finishing second and Noah Gragson finished behind him in third.
The race was two hours, seven minutes and 56 seconds with an average speed of 61.673 mph. There were 10 cautions for 63 laps and 11 lead changes. There were 1,276 green flag passes (6.8 per green flag lap).
Allgaier's 2021 NASCAR Xfinity Series season didn't start out the way he had hoped. In five races, the driver of the No. 7 JR Motorsports Chevrolet had only one top-10 finish. Allgaier had been involved in various on-track incidents and started the season at Daytona International Speedway by starting second and finishing 28th. But he turned that all around at Atlanta Motor Speedway two weeks ago by winning the race and taking home his first victory of the season all while punching his ticket to the Playoffs. The win marked the 15th victory of Allgaier's career.
Friday night's race will be 131.5 miles and 250 laps with Stage 1 ending on Lap 60 and Stage 2 ending on Lap 120. Harrison Burton will start on the pole for the Cook Out 250 and Allgaier will join him on the front row.
Burton Family fun at Martinsville
Joe Gibbs Racing's Harrison Burton is the only driver entered into the NASCAR Xfinity Series race this weekend with a previous win at Martinsville, making him an obvious favorite. But if his cousin Jeb Burton were to win this weekend, he and his father Ward Burton would join Jeff and Harrison as the second Burton family father/son duo to win at the historic Martinsville Speedway.
Jeff Burton has two wins at Martinsville Speedway, one in the NASCAR Cup Series (1997) and one in the NASCAR Xfinity Series (1990). Harrison joined him in visiting Victory Lane at Martinsville last season in the Xfinity Playoff race a triumph that helped him secure the 2020 NASCAR Xfinity Series Sunoco Rookie of the Year honors.
Ward Burton has also won at Martinsville, much like his brother Jeff, in the NASCAR Xfinity Series at Martinsville back in 1993.
Jeb Burton is having a great start to the 2021 season driving for Kaulig Racing, in six starts he has collected three top fives and five top 10s. He is ranked sixth in the series driver standings. Last season, he made series track debut at Martinsville driving for JR Motorsports; he started eighth and raced his way up to fourth. Jeb also has experience in the NASCAR Camping World Truck Series at Martinsville, making eight starts on .526-mile track putting up a pole, two top fives and three top 10s.
Show Me The Money: Dash 4 Cash is back
The NASCAR Xfinity Series Dash 4 Cash program was designed to add elements of unpredictability and drama leading up to and during four designated races, increase on-track competition, engage fans and reward and recognize NASCAR Xfinity Series regular competitors. This weekend program makes its official start of 2021 with four drivers – Justin Allgaier, Harrison Burton, Noah Gragson and AJ Allmendinger – vying for the big $100,000 bonus payout.
The NASCAR Xfinity Series Dash 4 Cash will take place at four tracks in 2021 – Martinsville Speedway (April 9), Talladega Superspeedway (April 24), Darlington Raceway (May 8) and Dover International Speedway (May 15).
The March 20 race at Atlanta Motor Speedway was the initial qualifier for 2021 Dash 4 Cash program. The top four full-time finishers in the Atlanta race qualified for the first round of the Dash 4 Cash at Martinsville Speedway this weekend.
The first of the four Dash 4 Cash competitors to finish at Martinsville Speedway will win the $100,000 bonus.

The Dash 4 Cash winner and next three highest finishing full-time NASCAR Xfinity Series drivers will then qualify for the next round of the Dash 4 Cash program at Talladega. That format will continue to Darlington and Dover.
With five different race winners so far in 2021 and four drivers already locked in the NASCAR Xfinity Series Playoffs, there are a lot of shakeups each week in the Playoff picture.
Justin Allgaier took the fourth Playoff spot with his win at Atlanta over the weekend, joining Austin Cindric, AJ Allmendinger and Myatt Snider on the list of winners going to the postseason.
Daniel Hemric has stayed consistent and keeps the highest Playoff spot without a win. He's 97 points above the cutline and has two stage wins and two Playoff points.
In terms of biggest surprises in the Playoff outlook so far, two drivers are standing out. Jeremy Clements has been in the top 12 for most of the season and has shown speed all year. Clements is currently 31 points above the Playoff cutline. Clements finished 15th at Martinsville last season.
The same goes for Brandonbilt Motorsport's driver Brandon Brown, who is having a career season and got a career-best finish of third at Phoenix Raceway. In total, Brown has made six starts this season posting one top-five and three top-10 finishes. He is currently eight points above the Playoff cutline. He finished 18th at Martinsville last season.
Sunoco Rookie of the Year update
With six races in the books in 2021, the NASCAR Xfinity Series Sunoco Rookie of the Year standings are still tight.
Joe Gibbs Racing's Ty Gibbs is leading the charge in the Sunoco Rookie of the Year standings for the NASCAR Xfinity Series. He's won two awards and has 88 points. He's made two starts in 2021, including the first Xfinity Series start of his career where he walked away with a win at the Daytona Road Course. His second start was at Phoenix Raceway, where he finished runner-up after starting in 27th. He will be back in the No 54 Toyota this weekend.
Josh Berry is second in the rookie standings with 79 points and one award. Berry has made five starts for JR Motorsports this season and has a best finish of seventh at Las Vegas Motor Speedway. Unfortunately, Berry has been the victim of some on-track incidents resulting in a 38th-place finish last week at Atlanta and a 36th-place finish at Phoenix the week prior. Of his five starts, he has three DNFs.
Ryan Vargas is third in the rookie standings with 60 points and three rookie awards this season. Vargas has run in all six races so far this year and has a best finish of 18th in the season-opener at Daytona.
Jordan Anderson and Sam Mayer, who both have declared for rookie points for 2021, have not yet made a start so they are currently fourth and fifth in the rookie standings.
NASCAR Xfinity Series Etc.
Manufacturer Update – Chevrolet is leading the manufacturers championship standings right now with three wins and 221 points. Myatt Snider, AJ Allmendinger and Justin Allgaier got Chevrolet their three wins. Ford is second in the manufacturer standings with two wins and 211 points. Ford's two wins came from Austin Cindric in the season-opener and at Phoenix Raceway. Toyota is in third with one win and 214 points. Their win came from Ty Gibbs at the Daytona Road Course.
Double Duty This Weekend: Kaulig Racing's Justin Haley will be pulling double duty this weekend competing in both the NASCAR Cup Series and the NASCAR Xfinity Series races this weekend at Martinsville Speedway. Haley made his series track debut last season at Martinsville, he started third and finished 12th. He also has made six starts at Martinsville in the NASCAR Camping World Truck Series posting two top 10s
COURTESY NASCAR INTEGRATED MARKETING COMMUNICATIONS