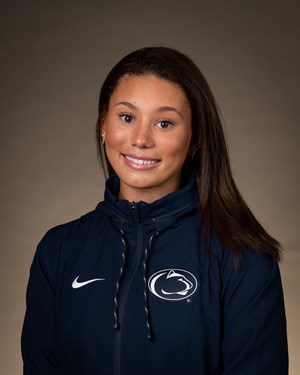 Freshman Mel Coombs went 4-for-5 at the plate with her first career home run
LINCOLN, Neb. – The Penn State softball team's (1-15, 1-15 Big Ten) resilience all season paid off Sunday afternoon as the Nittany Lions beat the Nebraska Cornhuskers (9-7, 9-7 Big Ten), 7-5, in eight innings at Bowlin Stadium.
Freshman Mel Coombs led Penn State at the plate, going 4-for-5 with a RBI on her first career home run.
Sophomore Maggie Finnegan recorded her second multi-hit game of the weekend while junior Chelsea Bisi and sophomore Kaitlyn Morrison also both had two hits. Bisi and classmate Lilia Crouthamel had multi-RBI games with two each.
Penn State started off hot, scoring four runs on four hits in the opening frame as all nine batters got to the plate. The offense also showed good base-running awareness, advancing bases on three passed balls by the Nebraska catcher to lead to runs scored.
Nebraska got a run back in the bottom of the second on two hits and an error to cut the Nittany Lions' lead to three, 4-1.
The Huskers then again cut the lead in half in the bottom of the third with one run on two hits.
In the top of the fourth, Coombs homered to left center, the first of her career, to put Penn State back up by three, 5-2.
Nebraska made it 5-4 with two runs on three hits in the bottom of the fifth before tying the game in the bottom of the sixth on two hits.
The Penn State defense was able to force extra innings, getting itself out of a bases loaded jam in the bottom of the seventh for a chance for a win.
Morrison singled to lead off the eighth inning before freshman Emily Maddock had a pinch-hit sacrifice bunt to move Morrison to second. Finnegan then singled up the middle and advanced to second on the throw while freshman Liana Jones, who came in to pinch run for Morrison, advanced to third.
Both Jones and Finnegan scored on a two-out two-RBI single by Bisi to give Penn State the momentum heading back to defense as the visiting team.
Even as the Huskers threated again, the Nittany Lions took care of business to secure their first win of the season.
Sophomore pitcher Vanessa Oatley picked up the win in the circle. Starting pitcher Bailey Parshall went 5.1 innings with eight strikeouts to set the Nittany Lions up for victory.
ON DECK
Penn State finally gets to play within the friendly confines of Nittany Lion Softball Park and Beard Field for the first time in 698 days when it hosts the Ohio State Buckeyes for a four-game series, April 2-4. First pitch Friday, April 2 is set for 5 p.m. and will be streamed live on Big Ten Network+.
GAME NOTES
* Freshman Mel Coombs' four hits is the most hits in a single game by a Nittany Lion since the 2018 season when Delaney Elling had four against Ohio State (4/11/18).
* Penn State's 12 hits are a season high for the offense.
* The Nittany Lion defense held Nebraska's leading hitter, Tristen Edwards, to go 0-for-4 at the plate.
* Head coach Clarisa Crowell picked up her first win as the head coach of the Nittany Lions.
— NITTANY LIONS —
COURTESY PENN STATE ATHLETIC COMMUNICATIONS