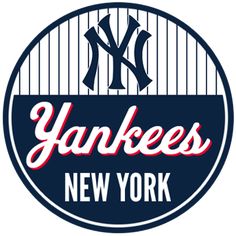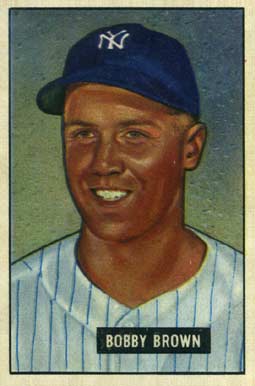 The New York Yankees mourn the passing of Dr. Bobby Brown — a member of five Yankees World Series championship teams (1947, 49-52), a veteran of WWII and the Korean War, President of the American League from 1984-94, practicing cardiologist and longtime fan favorite at Yankees Old Timers' Day. He passed away this morning in Fort Worth, Tex., at age 96.
"Few people who have worn the pinstripes have lived such an accomplished, fulfilled, and wide-ranging life as Dr. Brown, who was beloved by our organization for his warmth, kindness and character," said Yankees Managing General Partner Hal Steinbrenner. "He represented the pinstripes with elegance throughout his playing career and in subsequent decades as a frequent, welcome guest at Old Timers' Day. We also hold the utmost respect for the myriad of other accomplishments in his life — from service to our country, his stewardship of the American League and his longtime career as a cardiologist. The Yankees extend their deepest condolences to his family, friends and loved ones as we reflect on his incredible life."
Born on October 25, 1924, in Seattle, Dr. Brown went to Galileo High School in San Francisco, which was also attended by Joe DiMaggio. He enrolled at Stanford University in 1942 and enlisted in the Navy in 1943, serving stateside during World War II with assignments at UCLA, San Diego Naval Hospital and Tulane University as he worked toward his medical degree. He signed with the Yankees in February of 1946 and was called up to the Major League roster in September of that season.
A left-handed hitting third baseman, frequent pinch-hitter and road roommate of Yogi Berra, Dr. Brown played the entirety of his eight-year Major League career (1946-52, '54) with the Yankees, batting .279 (452-for-1,619) with 22 home runs, 237 RBI and a .367 on-base percentage. He played in a career-high 113 games in 1948, batting .300 (109-for-363) with three home runs, 48 RBI and a .383 on-base percentage. With Casey Stengel as his manager beginning in 1949, Dr. Brown's playing time was frequently limited by Stengel's penchant for platooning.
Dr. Brown was called up by the Army medical corps in the middle of the 1952 season and was overseas during the Korean War for 19 months, not returning to the United States until April 28, 1954, and missing the Yankees' World Series appearances in 1952 and 1953. Upon his arrival home, he announced that he would take up a medical residency on July 1 at San Francisco City and County Hospital. When asked about these plans, he told the United Press, "In the meantime, I would love to try and play for a couple of months with the Yankees before the residency begins. I am going to call them up and see if we can get together." Dr. Brown played in 28 games for the Yankees in May and June of 1954 before retiring from baseball.
As a Yankee, he is most remembered for his play in the postseason (all in World Series games before the advent of Divisional Play), appearing in four Fall Classics and batting a combined .439 (18-for-41) with nine RBI and a .500 on-base percentage. His postseason batting average is the highest in Major League history among players with at least 35 plate appearances (including all rounds), and his on-base percentage ranks second only to Colby Rasmus's .571. In World Series play, his batting average ranks second only to David Ortiz's .455 (min: 35PA).
In the Yankees' seven-game World Series victory over Brooklyn in 1947, Brown solely appeared as a pinch-hitter, reaching base safely in all four plate appearances (single, two doubles, walk), including a double to tie Game 7 at 2-2 in the fourth inning as the Yankees went on to win by a score of 5-2 at Yankee Stadium. In the Yankees' 4-games-to-1 World Series triumph over the Dodgers in 1949, he batted .500 (6-for-12) with four runs, one double, two triples, five RBI, two walks and a .571 on-base percentage over four games played.
In May 1974, 20 years into his career as a cardiologist, he became president of the Texas Rangers, holding that position until the end of the season. Brown then returned to his medical career, though he remained on the Rangers Board of Directors until the team was sold to new ownership in 1980. In 1984, he became president of the American League, a role he served until 1994.
Dr. Brown had been one of two living Major League players to have been a member of a team that won a World Series prior to 1951 (along with Eddie Robinson, who won the World Series with Cleveland in 1948 and is currently the oldest living current Major League player and Yankee, having played for the team from 1954-56). Dr. Brown was also the last remaining Yankee to have played for the franchise prior to the 1951 season. Art Schallock (born April 25, 1924 — six months before Brown) pitched in 28 games across five seasons for the Yankees from 1951-55 and played on World Series-winning teams in 1951, '52 and 53. Schallock holds the distinction as the last living Yankee to play for the club prior to 1954 and the last remaining player from the franchise's five-year run of titles from 1949-53.
At his final Old-Timers' Day visit in 2019, Dr. Brown recalled what he suggested his then-future wife should say to her parents about him — "Tell your mother that I'm in medical school, studying to be a cardiologist. Tell your dad that I play third base for the Yankees."
Dr. Brown is survived by his son, Dr. Pete Brown, daughters, Beverley Dale and Kaydee Bailey, 11 grandchildren, numerous great-grandchildren, and his entire extended family. Dr. Brown's wife of more than 60 years, Sara, passed away in 2012.
COURTESY NY YANKEES & MLBpressbox.com