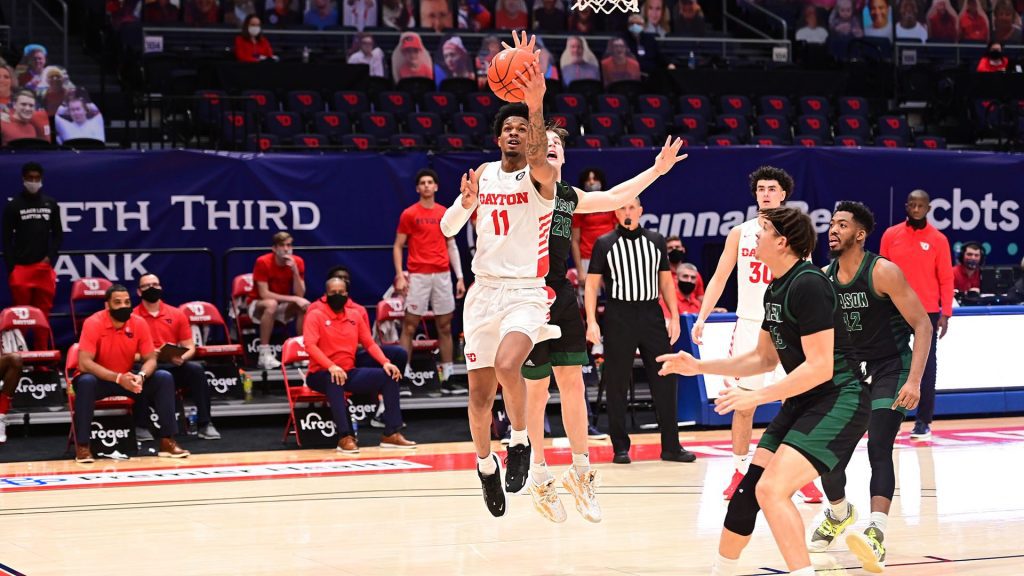 DENTON, Tex. – The University of Dayton men's basketball team ended its season in the National Invitation Tournament Saturday, losing in the first round to one of the NIT one-seeds, Memphis, 71-60.
The game had 14 lead changes, but the Tigers outscored the Flyers 15-2 to pull away over the game's last six-and-a-half minutes.
Elijah Weaver led Dayton with 16 points. Ibi Watson had 13 and Mustapha Amzil had 11.
Dayton finishes the year 14-10.
GAME BREAKDOWN
First Half: Dayton 28, Memphis 27
It was a back-and-forth first half with Memphis leading 7-6 at the first media break just over four minutes into the game.
Memphis led 16-14 at the 10:32 mark.
Back-to-back threes by Elijah Weaver boosted UD to a 21-19 advantage with 7:01 to go.
The Flyers led 25-23 with 3:53 left.
A Mustapha Amzil three snapped a two-minute and 52 second Dayton scoring drought and gave UD a 28-27 halftime lead.
The Flyers shot 48% from the floor, while the Tigers shot 31%.
Turnovers were relatively even (Dayton 5, Memphis 4) but the Flyers scored five points off turnovers while Memphis had none.
Nine offensive rebounds gave the Tigers four second-chance points. Dayton had no offensive rebounds in the first half.
Weaver led UD with eight points off the bench.
Amzil, starting in place in the injured R.J. Blakney, had seven points and five rebounds.
Second Half: Memphis 71, Dayton 60
Dayton scored the first six points, but then Memphis went on a 16-3 run to lead 43-37 at the 15:18 mark.
Memphis continued to lead at the next media break, 48-45 with 11:21 left in the game.
UD made four consecutive field goals to pull to within one, 56-55, with 7:14 to go.
Dayton took its last lead (58-56) at the 6:51 mark, but Memphis out-scored the Flyers 15-2 over the last 6:31 to advance.
BY THE NUMBERS
Elijah Weaver's 16 points were the most he has scored in a Dayton uniform, and were one off his career set when he played at USC.
Weaver was 6-for-8 from the field, and4-for-4 from three-point range.
Ibi Watson joined Weaver in double digits with had 13 points and Mustapha Amzil added 11.
Amzil led Dayton with eight rebounds. Koby Brea, who started for the first time in 13 games in place of injured senior Rodney Chatman, was second on the team with five rebounds. He also scored seven points.
Watson and Jalen Crutcher shared team honors with three assists.
Crutcher was hounded into a six-point night in the scoring column. The Memphis senior finishes his career 16th in career scoring (1,593 points), fourth in three-pointers (242), second in assists (584) and second in total minutes played (4,097).
Dayton shot 50% (25-50) from the field, but was outrebounded 44-26, including 17-2 on the offensive glass. Memphis turned that discrepancy into 12 second-chance points.
COURTESY DAYTON MEDIA RELATIONS