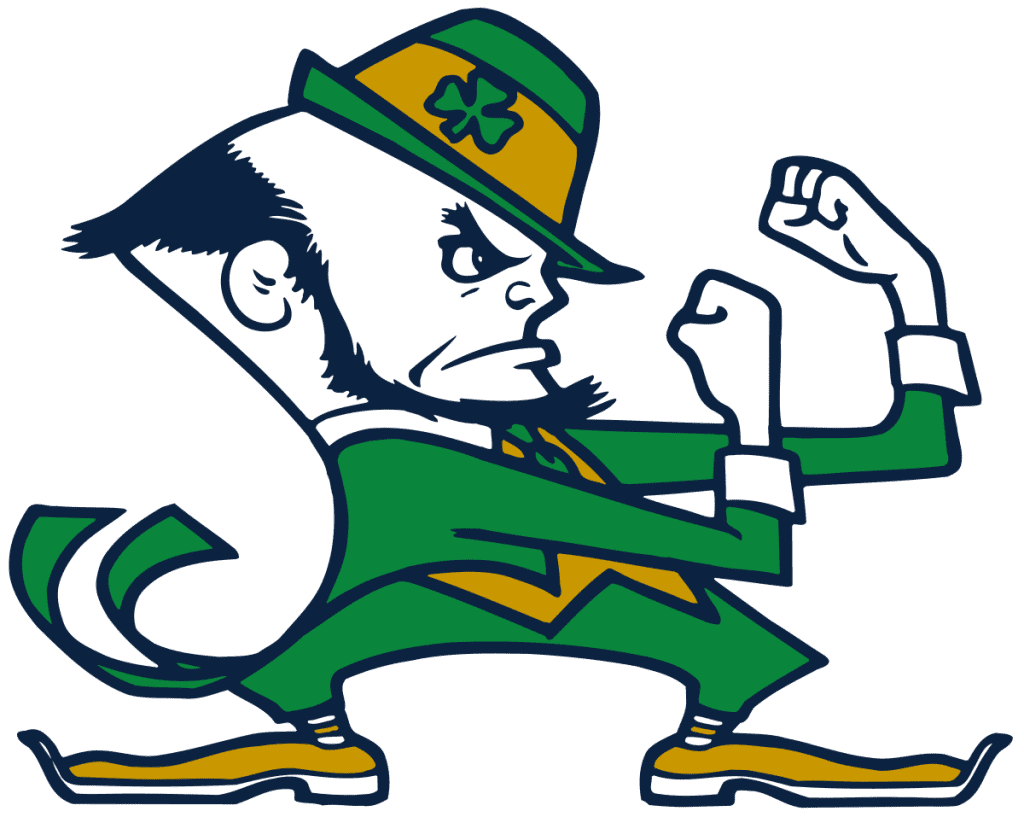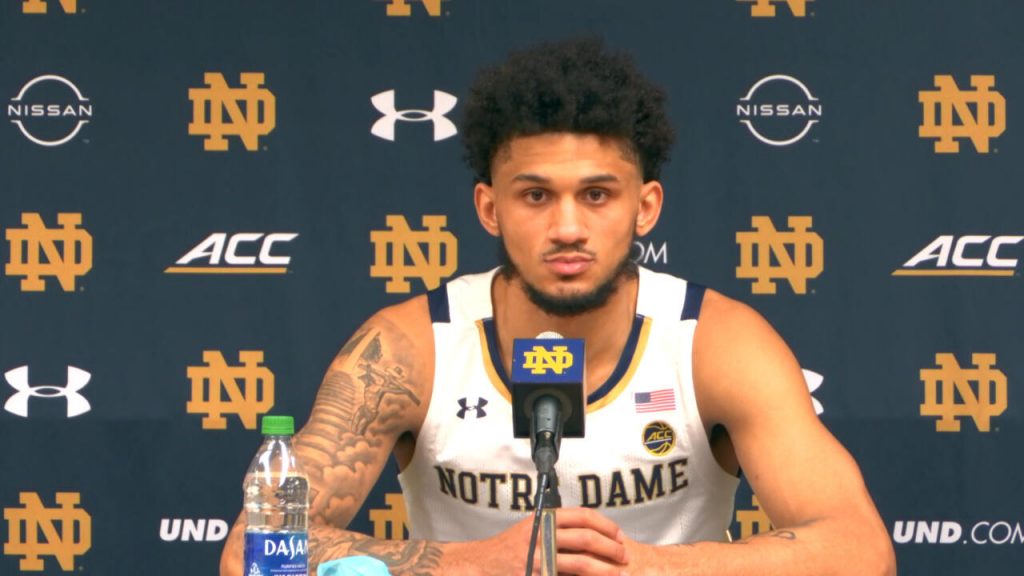 University of Notre Dame men's basketball junior guard Prentiss Hubb has been named to the All-Atlantic Coast Conference Third Team, by a vote from the league coaches and media members, as announced on Monday, March 8, 2021. Hubb led the ACC in total assists (145) and assist average (6.0) while leading the Irish in scoring (14.7 ppg).
Classmate and forward Nate Laszewski was highlighted as well by the league, earning All-ACC Honorable Mention honors.
Hubb led the Irish with five 20-point games in 2020-21 and posted three points-assists double-doubles in conference competition. He is one of just five major conference players across the nation to compile over 100 assists in league play, but also flashed his scoring ability by leading the ACC in three-pointers made in conference play (60).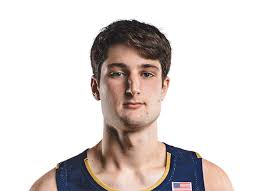 Laszewski improved across the board in 2020-21, increasing his points-per-game by 6.4 (7.4 to 13.8), while improving his shooting percentage 19% and his three-point percentage by 15 percent. He also compiled three double-doubles for points and rebounds during the season, but just missed that plateau in 12 other contests when he finished with nine rebounds.
Hubb and Laszewski will lead the 11th-seeded Irish into the first round of the ACC tournament on Tuesday, March 9, against No. 14 Wake Forest at 7 p.m. ET on the ACC Network.
2021 ALL-ACC TEAM
FIRST TEAM
Name School Points
Moses Wright Georgia Tech 344
Justin Champagnie Pitt 343
Carlik Jones Louisville 327
Matthew Hurt Duke 310
Sam Hauser Virginia 281
SECOND TEAM
Name School Points
Keve Aluma Virginia Tech 277
Jose Alvarado Georgia Tech 244
Jay Huff Virginia 214
M.J. Walker Florida State 200
Aamir Simms Clemson 176
THIRD TEAM
Name School Points
RaiQuan Gray Florida State 167
Isaiah Wong Miami 102
Quincy Guerrier Syracuse 55
Prentiss Hubb Notre Dame 42
Armando Bacot North Carolina 41
Scottie Barnes Florida State 41
HONORABLE MENTION
Michael Devoe Georgia Tech 35
Kihei Clark Virginia 31
Alan Griffin Syracuse 29
David Johnson Louisville 22
Nate Laszewski Notre Dame 18
Jericole Hellems NC State 13
Tyrece Radford Virginia Tech 10
Note: All-ACC Team points are determined on a 5-3-1 system (five points for first team, three points for second team, one point for third team).
ACC PLAYER OF YEAR
Name School Votes
Moses Wright Georgia Tech 33
Carlik Jones Louisville 13
Justin Champagnie Pitt 13
Sam Hauser Virginia 5
Jose Alvarado Georgia Tech 4
Matthew Hurt Duke 3
Keve Aluma Virginia Tech 3
Jay Huff Virginia 1
ACC FRESHMAN OF THE YEAR
Name School Votes
Scottie Barnes Florida State 53
Day'Ron Sharpe North Carolina 10
DJ Steward Duke 6
Jae'Lyn Withers Louisville 5
Kadary Richmond Syracuse 1
ALL-DEFENSIVE TEAM
Name School Votes
Jose Alvarado Georgia Tech 69
Manny Bates NC State 62
Jay Huff Virginia 53
Jordan Goldwire Duke 43
Moses Wright Georgia Tech 34
ALL-FRESHMAN TEAM
Name School Votes
Scottie Barnes Florida State 74
DJ Steward Duke 67
Day'Ron Sharpe North Carolina 63
Jae'Lyn Withers Louisville 58
Caleb Love North Carolina 32
COACH OF THE YEAR
Name School Votes
Mike Young Virginia Tech 26
Leonard Hamilton Florida State 24
Josh Pastner Georgia Tech 16
Tony Bennett Virginia 6
Brad Brownell Clemson 2
Chris Mack Louisville 1
DEFENSIVE PLAYER OF THE YEAR
Name School Votes
Jose Alvarado Georgia Tech 35
Jay Huff Virginia 17
Manny Bates NC State 13
Jordan Goldwire Duke 5
Aamir Simms Clemson 4
Keve Aluma Virginia Tech 1
MOST IMPROVED PLAYER
Name School Votes
Matthew Hurt Duke 17
Isaiah Wong Miami 13
Moses Wright Georgia Tech 11
Justin Champagnie Pitt 11
RaiQuan Gray Florida State 10
Nate Laszewski Notre Dame 5
Quincy Guerrier Syracuse 3
Armando Bacot North Carolina 2
Jay Huff Virginia 2
David Johnson Louisville 1
SIXTH MAN OF THE YEAR
Name School Votes
Scottie Barnes Florida State 39
Day'Ron Sharpe North Carolina 24
Nick Honor Clemson 6
Jordan Goldwire Duke 5
Nikola Djogo                           Notre Dame                   1
COURTESY NOTRE DAME ATHLETIC COMMUNICATIONS