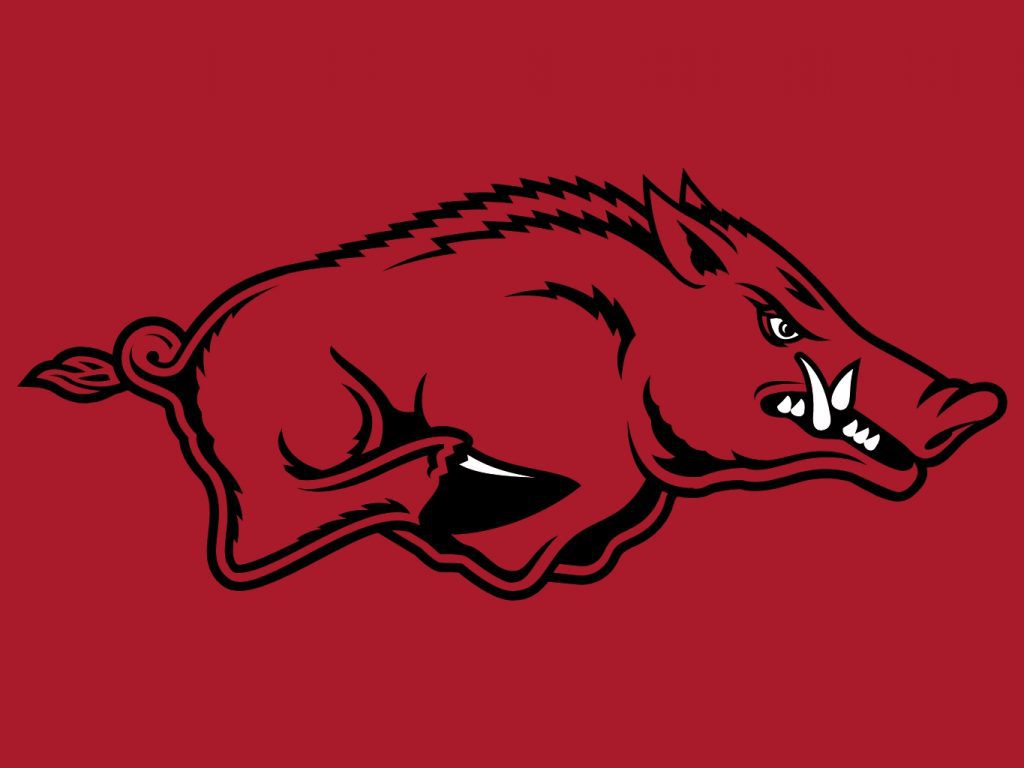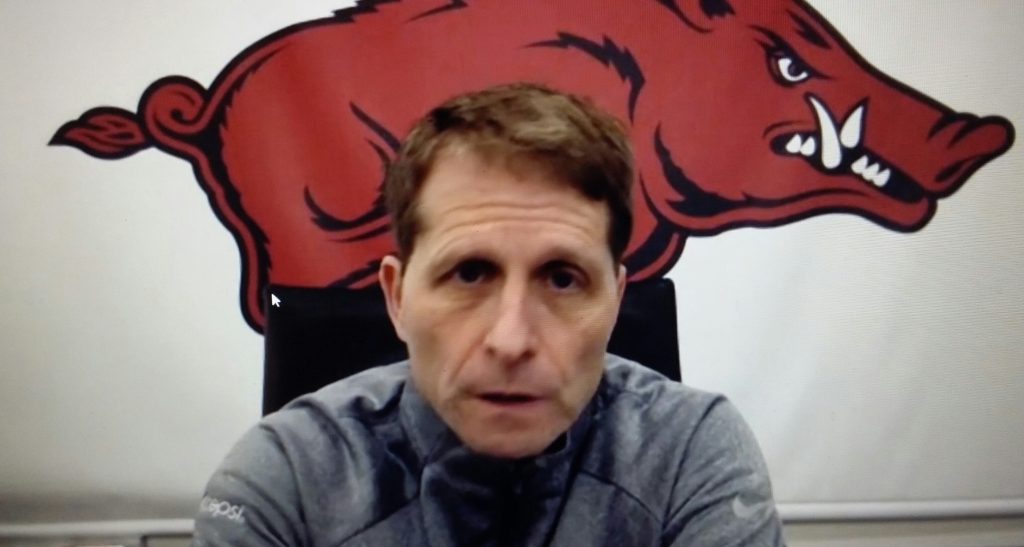 Razorbacks are 21-5, 13-4 in the Southeastern Conference.
Eric Musselman was named Arkansas' 13th head men's basketball
coach on April 7, 2019. He has over 30 years of coaching experience,
including five as a collegiate head coach and 14 as a professional
head coach.
In his five years as a collegiate head coach, Musselman has won at
least 20 games each season (24, 28, 29, 29 and 20) to post a 130-46
record and .739 winning percentage – ninth-best among active Division I coaches. Prior to entering the collegiate head coaching ranks,
Musselman was a head coach for seven professional teams, including
two seasons with the Golden State Warriors (2002-04) and one with
the Sacramento Kings (2006-07). He has won over 550 games as a
professional head coach with a combined winning percentage of .626
(553-330).
Musselman is married to Danyelle Sargent Musselman who has
worked at ESPN, Fox Sports and the NFL Network as a broadcaster.
Musselman has two sons, Michael and Matthew, and the couple has
a daughter, Mariah.
Musselman's father Bill was also an NBA head coach and they were
the first father-son combination to become head coaches in the NBA
MUSSELMAN DID YOU KNOWS….
• Named General Manager of CBA's Rapid City Thrillers at age of 22. The
next year, became head coach of the Thrillers at he age of 23, the
youngest coach in CBA history.
• From 1990–1997, had 26 players called up to the NBA, the highest number in the league during that span … The only person in CBA history to
coach in five league All-Star Games (1990, 1992, 1993, 1994, 1997)
• The first coach in professional basketball history to win 100 games
by the age of 28.
• At the age of 37, named head coach of the Golden State Warriors and
was the youngest head coach in the NBA at the time.
• He and his father, Bill, were first father-son combination to both
become head coaches in NBA history.
• In 2003, was runner-up to San Antonio's Gregg Popovich for NBA
Coach of the Year Award voting (231 points, including 26 first-place
votes).
• Only needed 130 games to win his 100th game as a collegiate head coach.
• Is the CBA's third all-time winningest coach (270-122 in seven seasons) and the most successful coach (54-3 in two seasons) in the
history of the United States Basketball League.
• Led CBA in scoring (116.7 ppg) in 192-93 —2nd in NBA in scoring (102.4
ppg) in 2002-03.
Highlights in SEC 10-Game Win Streak
AUBURN: Arkansas was down 19 (37-18) with just over four minutes left in the first half. Arkansas made 8 of its last 10
field goals in the first half to trim the deficit to 12 at the break.
• Arkansas opened the second half on a an 18-4 run and shot 52.9% from the field in the period.
AT VANDERBILT: Arkansas led from wire-to-wire, dished out 22 assists and shot a season-best 57.1% from the field,
including 42.1% from 3-point range. Arkansas has won seven straight and 11 of the last 12 versus Vanderbilt.
OLE MISS: Arkansas held Ole Miss to its season-low 59 points and the Rebels missed their first 14 3-pointers, finishing
1-of-16 from deep.
MISSISSIPPI STATE: Arkansas snapped a six-game losing streak to Mississippi State dating back to Feb. 9, 2016.
• Arkansas was down 14-2 to start the game as the Razorbacks missed 16 of its first 17 shots of the game. Arkansas used
a 21-2 run in the first half and a 10-2 run to start the second to get the win.
• The MSU game was just the first time four Razorback players scored at least 10 points and had seven rebounds in
an SEC game (Smith 10 & 10; Vanover 13 & 8; Davis 10 & 8 and Moody 13 & 7). It was just the second time it has ever
happened with the other occurring in 1996 versus Troy. (HogStats.com)
AT KENTUCKY: Arkansas snapped an eight-game losing streak to Kentucky dating back to Feb. 27, 2014.
• Jalen Tate got an offensive rebound, was fouled and made two free throws with 4.3 seconds left to provide the 81-80
final. (Davonte Davis sealed the win with a steal.) The last time Arkansas won that late in a game was Mason Jones
banking a 3-pointer from right wing with 0.1 seconds left in OT to win at Georgia Tech, 62-61, on Nov. 25, 2019.
• Odd stat … Kentucky shot a season-best 53.8% (14-of-26) from 3-point range, but just 11-of-35 (31.4%) from 2-point.
AT MISSOURI: Arkansas was 20-of-23 at the free throw line, including 7-of-9 in overtime. The 20 made were the most
since making 23-of-34 in an earlier loss to Missouri this year (Jan. 2, 2021). Arkansas has made 20-plus free throws five
times this year and has shot over 80% from the line seven times.
• The win was the Razorbacks' first over an AP top 10 program since 2016. It was additionally the Hogs' first road win over
an AP top 10 team since 2006. In fact, it was just Arkansas' fifth-ever road win over an AP top 10 team
FLORIDA: Arkansas got just the third win over the Gators in the last 20 games. Florida had won three straight, 11 of the
last 12 and 17 of the last 19 heading into the game.
ALABAMA: Arkansas led for 31:55 but the Crimson Tide scored the first seven points of the second half to lead by six
45-39. Arkansas answered with a 17-2 run — including a 10-0 spurt — to lead by nine. Alabama cut its deficit to four
before the Hogs went a 14-2 run to go up 16 with 5:55 left and held a double-digit lead the rest of the way.
LSU: Arkansas was down five at halftime and shot just 33/3% from the field in the half. The Razorbacks bounced back
to score 51 second-half points and shot 55.2% from the field. Arkansas used a 17-5 run early in the second half to go
from seven down to up five with 14:41 left. LSU got to within three (56-53 with 12:11 left) before Arkansas went on a 22-4
run (including a 14-1 run) to take its largest lead of 21 points with six minutes left.
SOUTH CAROLINA: Three Razorbacks scored over 20 points for a 101-73 win for the program's fourth straight SEC road
win. By scoring over 100 points, Arkansas cracked the century mark in an SEC game for the first time since defeating
Auburn 101-87 on Feb. 10, 2015. The 28-point win is the 11th-biggest margin of victory in an SEC game, the third-largest
in an SEC road game and the 22nd-largest in a road game ever.
Winning streak reached 11 as the Razorbacks won Saturday afternoon against Texas A&M.
Hogs Jump to #12 in AP / #13 in Coaches
• After wins over the top two teams in the SEC last week – including a victory versus
sixth-ranked Alabama, Arkansas moved up eight spots to 12th in the AP poll and
seven places to #13 in the USA Today Coaches Poll. The leap was the best in both
polls among the top 25 teams this week.
The Razorbacks are among the nation's top 15 for the first time since November 15,
2000 and have not been ranked as high as #12 since the poll released on Feb. 23,
The Hogs are additionally a program-best #19 in the NCAA NET rankings.
• This is the third week in a row Arkansas is ranked standing at #24 and #20, respectively, the last two weeks
COURTESY ARKANSAS ATHLETIC COMMUNICATIONS