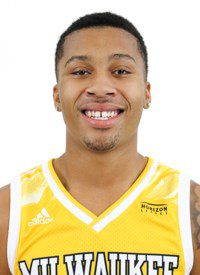 Milwaukee looks to halt WSU's seven-game winning streak
The Milwaukee men's basketball team sets course for a challenging weekend, traveling to Ohio to take on a Wright State team that sits in second place in the conference standings at 13-3 and is on a roll, riding a seven-game winning streak on the year. Friday's tilt is set to tip at 6 p.m. CST, while the weekend series then wraps up Saturday at 2 p.m. CST. Both matchups will be available on ESPN3, have live statistics available, and will be carried on the Black & Gold Network with Scott Warras on the call. All links are posted on the MKE website.
With no fans permitted at all conference venues this season, fans can engage with the Panthers' Virtual Gameday hub, a page on MKEPanthers.com that houses all links fans will need for the gameday experience.
LOOKING AT THE RAIDERS
Fifth-year head coach Scott Nagy – a three-time Horizon League Coach of the Year – has WSU coming off another successful campaign – finishing 25-7 overall and 15-3 in league play to claim the regular-season title. He is 106-47 overall as the Wright State head coach coming into play Friday, with an impressive .750 winning percentage in conference games at 66-22.
So far this winter, the Raiders are 15-4 overall and currently sit in second place at 13-3. The team has won seven straight and eight of its last nine. The offense is led by four different players averaging double-figures: Tanner Holden (16.1 ppg), Loudon Love (15.8 ppg), Grant Basile (14.2 ppg), and Tim Finke (10.1 ppg) – giving them three of the top 16 in the league. Love averages a double-double with 10.2 rebounds per contest, ranking third in the league in that category,
SERIES HISTORY
The series is near dead-even, with Wright State holding a 32-30 all-time lead, as well as 31-29 in Milwaukee's NCAA Division I era. WSU has had the better of it of late, sweeping the season series each of the last two years, as well as knocking Milwaukee out of the postseason in March of 2018 to extend its winning streak to five in the matchup.
LAST TIME OUT
Northern Kentucky stretched a small lead into a 10-point cushion midway through the second half in handing Milwaukee a 79-65 loss Feb. 6.

The Panthers (7-8, 6-7 Horizon League) were within five points on numerous occasions against the Norse (11-8, 9-5 Horizon League) after the break, but could not get over the hump. The victory helps NKU extend its winning streak to six games on the season.

Josh Thomas led the MKE offense with 19 points off the bench, connecting on an impressive 8-of-10 field goals. DeAndre Gholston was also in double-figures with 10, adding four rebounds and four assists.
POSTSEASON SEED UPDATE
With the unbalanced schedule this season, the Horizon League will update the seeding of the 12 teams each week. The adjustments are based on the League Adjusted RPI, which is similar to the RPI formula used by the NCAA, adjusted to better represent the four conference priorities (league winning %/strength of schedule/weighting road wins more than home wins/number of games played vs. scheduled). As of Feb 7.
1. Cleveland State
2. Wright State
3. Oakland
4. Northern Kentucky
5. Youngstown State
6. Detroit Mercy
7. Green Bay
8. Milwaukee
9. Purdue Fort Wayne
10. UIC
11. IUPUI
12. Robert Morris
EYES ON THE PRIZE
Freshman Donovan Newby has worked his way into the starting lineup, getting the call for the first time against IUPUI Jan. 30. One thing he has been doing amazingly well at all season long is making free throws. With seven more attempts, he will reach the record book minimum (40 attempts) and possibly put his name at the top of the list. He comes into play against the Raiders at .939 (31-of-33). He also made 20 straight earlier this year (missing vs. IUPUI Jan. 29), making him just the third player to sink at least 20 straight since Jordan Aaron set the school mark of 32 back in 2012-13. Matt Tiby (20 in 2013-14) and Vance Johnson (26 twice in 2018-19) are the others.
SEASON FT% RECORD
1. Pat Easterlin (1993-94): .870 (40-46)
2. Jordan Aaron (2012-13): .864 (95-110)
3. Vance Johnson (2018-19): .860 (80-93)
4. J.J. Panoske (2014-15): .857 (36-42)
5. James Eayrs (2008-09): .849 (62-73)
BIG DAY FOR JT
Josh Thomas led the team in scoring for the first time this season against Northern Kentucky Feb. 6 when he dropped in 19 to lead the offense. Not only did it come on an extremely efficient 8-10 field-goal shooting, but also marked his high in a Panther uniform, just edging the high of 18 he recorded twice last year.
PROBABLY IMPROBABLE
The "comeback kids" added another recent chapter, overcoming an early 13-point hole to top IUPUI Jan. 30. Down 14 points with 2:46 to play against Cleveland State Jan. 23, things looked a bit bleak for the Panthers before pulling off the improbable 81-80 victory. As crazy as it sounds, the team has had three similar finishes in recent history.
*Dec. 13, 2018: Down 9 points with 2:45 to play against Kansas City, MKE scored the final 12 points of the day to turn a 66-57 deficit into a 69-66 victory.
*Nov. 19, 2017: The team erased a 19-point first-half hole against Elon, closing the game on a 12-2 run to earn the buzzer-beating 72-71 victory.
*Jan. 22, 2017: MKE closed regulation on a 13-4 spree against Youngstown State over the final 6:32 to force overtime, eventually winning 94-85.
The last comeback that featured such a quick comeback from a double-digit deficit came Jan. 31, 2009, when the Panthers trailed UIC, 61-51, with 1:27 remaining before winning on a Deion James three-pointer as time expired, 63-62.
WHERE ARE WE … BASKIN-ROBBINS?
For the third time in his career, Te'Jon Lucas has netted 30-plus points in a game. And, for the third time, he ended the contest with exactly 31 points – this time against Cleveland State Jan. 23. He added 10 rebounds against the Vikings, posting the third double-double of his career.
Lucas also went for 31 points and 12 rebounds against IUPUI Feb. 8 of last season. He scored 16 of his 31 in the final 12 1/2 minutes, including what turned into the eventual game-winner with 7.0 seconds left. The first 31-point game came against Green Bay Jan. 11.
THE GOAL FOR GHOLSTON
DeAndre Gholston scored 20-plus points in back-to-back games for the first time in his collegiate career against Cleveland State Jan. 22-23, capping the weekend with the game-winning layup with 3.2 seconds left. He set a new MKE high each time with 20 in the opener, then 21 the next day while adding 7 rebounds in both. He continued that hot stretch of offense with another 24-point effort against IUPUI Jan. 30 to up his season-high yet again.
DOING IT ALL FOR CHARITY
The Panthers finished an impressive 26-of-30 (.867) from the free throw line against Vikings Jan. 23 and are now at .749 (230-307) on year and on pace for one of the best seasons in program history (the top two marks are .772 and .746).
The last time MKE made as many as 26 free throws in a game that didn't go into overtime was a 28-of-35 effort against Detroit Mercy in the Horizon League Tournament in March of 2017. Since then they have made more on two occasions, sinking 33 against LIU Brooklyn (OT) in November of 2018 and 32 against WMU (3OT) in November of 2019.
THE TREK TO 1,000
Te'Jon Lucas will have a major milestone waiting for him this season, as he is on pace to cross the 1,000-point plateau for points in a career at some point. The most recent player to achieve the feat in a Panther uniform was Jake Wright, who netted his 1,000th in his final collegiate game to close out the 2018-19 season (with 288 of those points coming at MKE).
When Lucas gets the milestone, he would be the 28th player to do so wearing a Panther uniform, while also joining Wright as the second one to not have spent most of his career at Milwaukee. The most recent to hit the mark in MKE-only games was Matt Tiby in 2016, finishing with 1,332 points (in three seasons).
Lucas enters Friday at 969 points.
SIMMS-SATIONAL!
Tafari Simms enjoyed what can only be called the best breakout offensive game for a Panther in decades against IUPUI Jan. 8. His 32 points were noteworthy on so many levels.
*Topped his former collegiate-best of 21 points that he netted against New Mexico Junior College on January 30, 2020.
*Most for a Panther since Akeem Springs netted 33 against Youngstown State in January of 2016.
*Most points off the bench since Avery Smith scored 36 against Oakland in December of 2006.
*Outside of Simms and Smith's performances, just one other Panther has scored 30-plus off the bench in the past two decades (Jeremiah Bell had 31 vs. Detroit Mercy in March of 2017).
*Simms had just 12 points on the season coming into the day. For perspective, he scored 12 points during the decisive 19-0 run against the Jags.
*Added his name to the MKE record book in both the single-game field goal (.769) and single-game three-point field-goal (.833) categories.
IN THE ZONE IS AN UNDERSTATEMENT
Tafari Simms also added his name to the program record book with his impressive shooting display against IUPUI Jan. 8. His 32 points included a 10-for-13 showing from the floor and a 5-for-6 showing free three-point range.
SINGLE-GAME FG%
.846 (11-13) Adrian Tigert 2006
.846 (11-13) Dylan Page 2003
.833 (10-12) Bryce Nze 2017
.833 (10-12) Marc Mitchell 1992
.769 (10-13) Three players, now including Simms.
*Last to do so: Avery Smith 2006
SINGLE-GAME 3FG%
1.000 (6-6) Joe Schultz 1991
1.000 (5-5) 4 times, most recent Darius Roy 2020
.833 (10-12) Ronnie Jones 2002
.833 (5-6) Simms
THAT'S OFFENSIVE!
The Panthers put up their most points in a first half this season against IUPUI Jan. 8 with 44, topping the 40 they scored by halftime against Western Michigan Dec. 13. The 94 total points they ended the contest with are also the most points in a game that did not go into overtime since piling up 98 against UIC back on February 28, 2016.
In addition, the MKE offense posted back-to-back shooting highs as a team, starting with 52.5 percent (31-of-59) Friday before topping that with a 55.8 percent (29-of-52) clip on Saturday. Both of those were the highest since a .609 performance against Wisconsin Lutheran on Nov. 12 of 2019 and the best against an NCAA DI opponent since connecting on 58.5 percent (31-of-53) showing against Albany back on November 30, 2018. Milwaukee's 56.5 percent (13-of-23) performance from three-point range against the Jaguars Jan. 8 was also its highest since that same game against Albany. That afternoon they sank 57.1 percent (12-of-21) from deep in a game played in a tournament in Northern Ireland.
FILLING IT UP FROM DEEP
Grant Coleman tied for the team lead with his 16 points against Robert Morris Jan. 1, marking the first time a freshman led MKE in scoring in a game since January of the 2016-17 campaign. That month, both Jeremy Johnson (17 points against Cleveland State 1/20/17) and Bryce Nze (22 against UIC 1/17/17) accomplished the feat. His five three-pointers in a game is also the high-water mark for a freshman since Austin Arians sank five against Loyola Chicago in a 17-point effort back on January 30, 2013.
PHOILING THE PHOENIX
The Panthers started Horizon League play with a pair of wins, moving to 2-0 to open the conference slate for the first time since the 2011-12 campaign. It also marked the first regular-season sweep of the Phoenix since that same winter. Te'Jon Lucas paced the win Dec. 19 by scoring 18 of his 21 points in the second half, leading the way in scoring, rebounding (7) and assists (6) in the contest. The next day it was DeAndre Gholston coming through with his first double-double as a Panther, netting a team-high 18 points and 10 rebounds to pace four players in double-figures.
BUCKING THE BRONCOS
The Panthers claimed their first victory of the season against Western Michigan with a strong finish Dec. 13, with Te'Jon Lucas playing the leading role down the stretch. His 1-of-2 effort at the line with 2:39 left started the decisive span, pushing the lead to 60-57. After a WMU miss, he hit a tough shot in the paint and, following another miss by the Broncos, found Courtney Brown Jr. for a huge three-pointer that made it 66-57 with 1:06 to go. Lucas then made 5-of-6 from the line over the final 33 seconds to ice the win. He accounted for each of MKE's final 11 points, scoring eight of them while assisting Brown Jr.'s three.
LEAGUE LIFTOFF
Milwaukee broke a recent skid in Horizon League openers, topping Green Bay (68-65) after having dropped the initial game of the conference slate each of the past six seasons, dating back to an 82-76 victory over Youngstown State in 2013-14. Since joining the MCC/Horizon League, Milwaukee is now 14-13 in league openers. The last time the team was 2-0 was 2011-12, the same year they started 3-0 before a loss. The last 4-0 start came in 2008-09 (in which they started 5-0).
DROPPING DIMES
Te'Jon Lucas wasted no time in setting the bar for what he can do in the passing game. He recorded nine assists in the season-opener against Kansas State Dec. 11, finishing just one off of his career-high that he set against Kansas City last season. The nine helpers is also the most in a season opener in Milwaukee's NCAA DI history, with the closest totals over the past 25 years coming from Jordan Johnson (7 vs. Denver in 2015) and Jordan Aaron (7 vs. Mary in 2012).
IS IT STILL TECHNICALLY A RECORD?
Speaking of helpers, Te'Jon Lucas will start play Friday with 423 assists in his NCAA career. The Milwaukee career record is 383 set by Kaylon Williams (2010-12), a total that Lucas passed against IUPUI Jan. 9. However, to clarify, 234 of his 423 have come while wearing a Panther uniform.
DOUBLE-FIGURES IN No. 1
The Panthers had four different players finish in double-figures in the season opener against Kansas State Dec. 11, including one freshman when Grant Coleman scored 14 points off the bench. That marked the most points for a freshman in a season opener since Tony Meier recorded a double-double of 14 points and 12 rebounds against Loyola Marymount on November 14, 2008. The last time someone had more was when Clay Tucker lit up Central Michigan for 24 in his MKE debut in the 1999 opener – a game he sank a three at the buzzer to win. In addition, it marks only the third time since Meier that a frosh has netted double-figures in the opener: Jeremy Johnson had 11 against MSOE in 2016-17 and Justin Jordan also finished with 11 in the 2014-15 debut against Auburn. Coleman's six rebounds against the Wildcats tied for the team lead – again the first time that has been accomplished by a freshman since Meier's 12 in 2008.
FRESHIE-FRESH DEBUTS
The Panthers saw four different freshmen make their collegiate debuts against Kansas State Dec. 11, with Grant Coleman (20 minutes), Kaleim Taylor (14), Donovan Newby (8) and Devon Hancock (2) all seeing time on the court against the Wildcats. It's the most freshmen to see action in a season opener for the Panthers since the 2016-17 campaign. That season, six different freshmen made their initial college debuts against MSOE: Bryce Barnes, Sam Burkhart, August Haas, Seth Dittmer, Bryce Nze, and Jeremy Johnson.
THE NEXT LEVEL
DeAndre Gholston put together an impressive debut for the Panthers against Kansas State in the season opener Dec. 11. He led the way with 15 points against the Wildcats, adding six rebounds, three assists and a pair of blocks. It's the second consecutive season that Milwaukee has seen a great debut by a JUCO transfer – a year ago it was Josh Thomas who finished with 18 points against Concordia Wisconsin.
A WHOLE NEW WORLD
The program was paused in late November due to COVID-19 protocols, forcing the Panthers to cancel the MKE Classic and postpone the start of the new campaign. The 2020-21 season-opening date of Dec. 11 is the first to take place in the month of December since the 1992-93 campaign (Dec. 1 that season) and the latest in program history since the 1926-27 slate tipped off on Dec. 22, 1926. In addition, as of January 11, the team had played as many games (7) as it had cancelled due to COVID protocols (7).
P.O.Y. POSSIBILITIES
Te'Jon Lucas is in the midst of a memorable senior season. Following a junior campaign in which he led the Horizon League in assists and steals while also scoring nearly 15 points per game, Lucas will be on the short list of everyone's conference Player of the Year candidates. In addition to topping the field in assists and steals, Lucas also ranked third in the league in assist-to-turnover ratio (1.6), fifth in free throw percentage (79.4), ninth in minutes played (33.4 mpg), and 12th in scoring.
NEW FACES
There will be numerous new faces for the fans to get to know this season. In fact, just one team in the country at the NCAA Division I level has more newcomers than the eleven MKE now has on the 2020-21 roster.
12 – Arkansas
(4 grad transfers/3 transfers/5 freshmen)
11 – Milwaukee
11 – Alcorn State
11 – Arizona
11 – New Mexico
11 – Seattle
11 – South Dakota
The makeup of Milwaukee's 11 fresh faces breaks down to the following:
Transfers set to play (2):
Vin Baker Jr., Joey St. Pierre
Transfers who will sit (1):
Jordan Lathon (Jr.)
JUCO transfers (2):
DeAndre Gholston, Tafari Simms
Redshirt Freshmen (1):
Tyler Ellingson
True Freshmen (5):
Donovan Newby, Devon Hancock, Kaleim Taylor, Nick Pappas, Grant Coleman
LEAGUE SCHEDULE NOTE
The updated 2020-21 Horizon League schedule for Panthers features a unique slate of 20 games split evenly between home and road venues. However, due to the COVID-19 pandemic, the setup of the games is unprecedented, with teams playing the same opponent on back-to-back dates at the same location. Each school will have five home weekends and five road weekends and will play 10 of 11 league opponents (Milwaukee will not play Youngstown State.)
START ME UP
The Panthers returned five players who made starts in 2019-20, including a pair of players in Te'Jon Lucas (30-of-30, missing one to injury) and C.J. Wilbourn (30-of-31) that started 30 of the team's 31 contests. In addition, MKE returned Josh Thomas (20 starts in 31 games), Courtney Brown Jr. (starts in 16 of final 17 outings while playing in all 31 games), and Amir Allen (10 starts in 23 appearances).
SPECIAL COMBINATION
Te'Jon Lucas pulled off a pair of special statistical achievements last winter, finishing as the Horizon League leader in both assists (5.1 apg) and steals (1.9 spg). In finishing No. 1 on the assist chart, he joined Kaylon Williams (league leader in 2010-11 and 2011-12) as the only other Panther to do so in program history while also becoming the first MKE player to pace the league in steals. In the process, he became just the fifth Horizon League player to accomplish the double-No. 1 feat.
The others:
*Kay Felder, Oakland (2013-14)
*Cedric Jackson, Cleveland State (2008-09)
*Roy Simms, Detroit Mercy (1982-83)
*Darius Clemons, LaSalle (1980-81).
TOP TALENT IN 2019-20
Te'Jon Lucas got the nod as a member of the second team when the Horizon League announced its All-Conference Teams last winter, making him the first Panther to earn a postseason award since Jeremiah Bell was also a second-team honoree in 2017-18. In addition, C.J. Wilbourn was also recognized, earning a spot on the Horizon League All-Freshmen Team. He was the first Panther to be named to the All-Freshman team since Jordan Aaron in 2012-13 (formerly the All-Newcomer team).
THE MAIN DISH
With his league-leading assists total finishing at 153, Te'Jon Lucas was creeping up on an all-time mark as a junior. He finished with the sixth-best total in program history, just behind Marc Mitchell's 156 in 1991-92. For perspective, Kaylon Williams set the standard with 178 in 2010-11.
CHARITY STRIPE SAGA
The Panthers have been very good at the free throw line as a team over the past few seasons, recording the top two marks in program history very recently. A year ago, the team connected on .709 (399-of-563) to finish third in the Horizon League and just outside of the Top 5 in program history.

TOP TEAM FREE THROW %/SEASON
1. 2015-16 season .772 (554-718)
2. 2018-19 season .746 (379-508)
NEARLY NO ONE BETTER
Speaking of free throws, MKE had two of the top five in the Horizon League a season ago, with Te'Jon Lucas (.794 on 108-136) at No. 5 and Darius Roy (.815 on 97-119) checking in at No. 4. After passing the minimum amount of attempts to qualify for the career free throw percentage list in program history, Roy was knocking on the door of a school record. The current mark of .838 (207-of-247) is held by Jordan Aaron (2012-14). Roy finished his Milwaukee career at .828 (183-of-221).
Lucas himself looks to keep a three-year trend going, having converted at a better rate from the free throw line each of his three college seasons:
FRESHMAN: 42-of-71 (.592)
SOPHOMORE: 32-of-52 (.615)
JUNIOR: 108-of-136 (.794)
CAREER: 182-of-259 (.703)
AND WE'RE OFF
A couple of different looks to the season opener, which saw Milwaukee playing its opening game of the season on the road for the fifth time in eight years. The team is now 18-13 in season openers since returning to the NCAA Division I ranks full-time in 1990-91, including a 72-62 victory over Concordia Wisconsin to start the 2019-20 slate a year ago. In all, the Panthers have also posted a 4-12 mark in season openers played away from home in that span. On the flip side, MKE is 25-5 in that same stretch in home openers, claiming victories in 18 of the past 20 (13 in a row at one point). This was the fourth opener for head coach Pat Baldwin, having gone 2-1 over the previous three seasons at the helm.
A TRUE SPORTSCENTER #1
While it may have been a bit of time since the Panthers last made the SportsCenter Top 10, they did so with a bang Jan. 5 last season. Te'Jon Lucas' game-winner against UIC not only made the list, but came in at No. 1 on the "Worldwide Leader in Sports". It is the first time the Panthers have ever earned the top spot on the highlight feature.
BROADCAST BASICS
Each and every Panther game this season will be available on the Black & Gold Network. In conjunction with the website mixlr.com, Scott Warras – back for his fifth season with the MKE men and 15th with the Panthers overall – will broadcast every game over the internet at the following link: mixlr.com/mke-panthers.
GAME PROGRAMS AVAILABLE ON-LINE
With the announcement of no fans in the stands throughout the 2020-21 campaign, fans can still be part of the in-arena feel with the option to download game programs as the season rolls on. Head to the MKE website and click on the "Gameday" tab for download options.
THE BEAR NECESSITIES
Former Milwaukee forward Demetrius Harris (2011-13) was once again on the active roster in the National Football League in 2020, playing with the Chicago Bears following one season with the Cleveland Browns and five years with the Kansas City Chiefs. An undrafted free agent to start his career, he caught seven passes for 45 yards this season, making five starts in 15 appearances. Coming into 2020, Harris had caught 79 passes for 799 yards, including nine touchdowns. The first Panther to play in the NFL since 1983, Harris played two seasons at Milwaukee and helped the team to a College Basketball Invitational appearance in 2012 before putting up 9.1 ppg and 5.3 rpg in 2012-13. The 6-foot-7 Harris made his NFL debut when he appeared in eight games as a tight end for the Chiefs in 2014 and hauled in three passes for 20 yards before suffering a season-ending foot injury during warm-ups against Buffalo in early November.
IT'S OUR HOUSE
Although the building is not new and has been the site to many historic basketball moments in Milwaukee history, this is Milwaukee's sixth season in an arena that bears its name – UW-Milwaukee Panther Arena. In July of 2014, the University and Wisconsin Center District entered into a 10-year partnership that included naming rights to the facility formerly known as The MECCA and U.S. Cellular Arena.
UP NEXT
The Panthers return home to close out the regular season with a final series against Oakland. Game one tips Friday at 5 p.m. from the Klotsche Center.
GAME PREVIEW COURTESY MILWAUKEE PANTHERS ATHLETIC COMMUNICATIONS