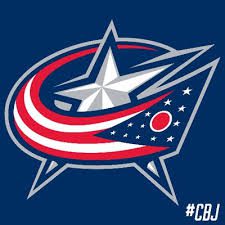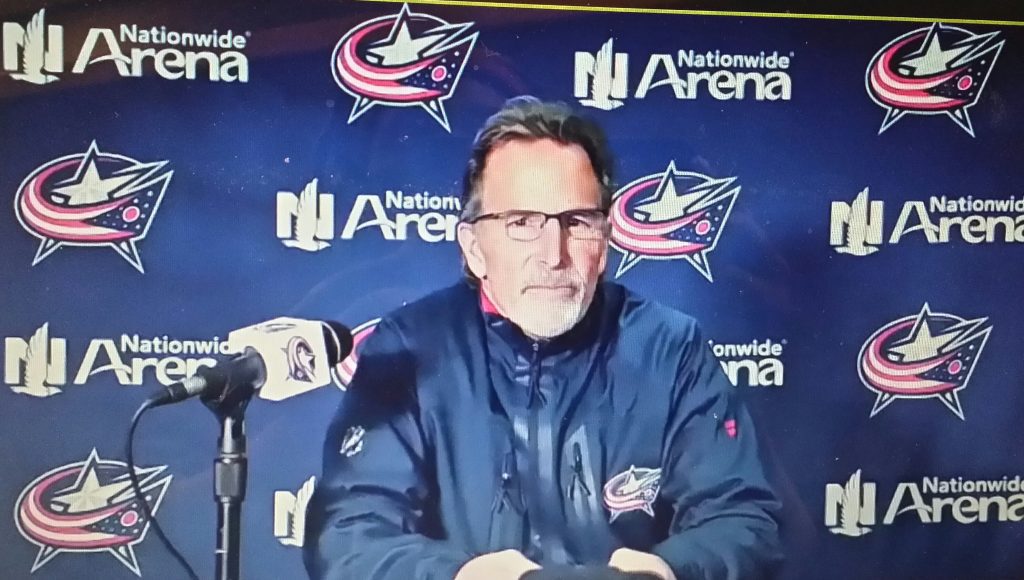 THE LAST GAME: Feb. 8, 2021 – CBJ (3) vs. CAR (2)
CBJ Goal Scorers: Harrington, SHG/PS – Atkinson, Roslovic
CAR Goal Scorers: Niederreiter, McGinn
Goalies: CBJ – Korpisalo (22/24, 60:00); CAR – Nedeljkovic (19/22, 58:15)
CBJ PP: 0/1; PK: 1/1 | Shots: CBJ: 22 / CAR: 24
3 Stars: 1. Korpisalo, CBJ; 2. Roslovic, CBJ; 3. Jones, CBJ
Noteworthy: CBJ and CAR split back-to-back set… CBJ notched their 1st penalty shot and penalty shot goal vs. CAR in all-time series… Roslovic
tallied 2nd career GWG with 4:36 remaining and stretched career best point streak to 5 games… Atkinson collected 14th career SHG and is now tied
with Rick Nash for CBJ record… Harrington scored his 1st goal of the season.
OhioHEALTH INJURY REPORT
Nyquist (shoulder); Placed on Injured Reserve (1/11); five to six months; (14 games)
Merzlikins (upper body); (3 games)
Kivlenieks (lower body); day-to-day; (2 games)
Werenski (lower body); Placed on Injured Reserve (2/4); 1-2 weeks; (2 games)
TOTAL MAN GAMES LOST: 35
RECENT TRANSACTIONS
Feb. 11 Activated Merzlikins off IR, added Peeke to roster from taxi squad
Feb. 9 Koivu announced retirement from the NHL after 16 seasons
Feb. 9 Assigned Foudy and Johnson to taxi squad
Feb. 7 Added Johnson to the roster from the taxi squad on emergency conditions
Feb. 6 Placed Werenski on Injured Reserve retroactive to Feb. 4 and recalled Foudy from taxi squad
Feb. 4 Placed Merzlikins on IR, added Kivlenieks to the roster and recalled Johnson to taxi squad
Feb. 3 Activated Stenlund off IR
Feb. 3 Assigned Foudy to taxi squad and Gerbe to Cleveland (AHL)
AGAINST THE BLACKHAWKS
2020-21 Series: 1-1-0 (1-1-0 at CHI)
2019-20 Series: 0-0-2 (0-0-1 at CHI)
All-Time Series: 35-42-2-10 (16-24-1-4 at CHI)
Last 10 (Overall | AWAY): 4-4-2 | 3-5-2
All-Time GF/GA: 238-289
All-Time SF/SA: 2,541-2,724
All-Time PP: 57-of-374
All-Time PK: 292-of-357
THE LAST GAME AT CHI: Jan. 31, 2021 – CBJ (1) at CHI (3)
CBJ Goal Scorers: Jenner
CHI Goal Scorers: Kurashev, Suter, Kane
Goalies: CBJ – Merzlikins (33/36, 56:39); CHI – Lankinen (32/33, 59:54)
CBJ PP: 0/2; PK: 2/2 | Shots: CBJ: 33 / CHI: 36
3 Stars: 1. Lankinen, CHI; 2. Kane, CHI; 3. Kurashev, CHI
Noteworthy: Teams traded 1st period goals before CHI notched 2 3rd period goals (GWG with 12:19 to play)… Roslovic (assist) collected 1st point as a
Jacket… Jenner scored 3rd goal of season… Del Zotto (7) tallied a player game high in hits, with the club overall recording a game high number of hits (39).
SEASON SERIES LEFT: Feb. 13 at CHI… Feb. 23 at CBJ… Feb. 25 at CBJ… Apr. 10 at CBJ… Apr. 12 at CBJ
CBJ/CHI CONNECTIONS
CBJ: McCudden served as skating and skills coach of AHL's Chicago Wolves from 1994-97, 2002-15… // CHI: Murphy was born in Dublin and played
for AAA Blue Jackets
NOTED (Team Highlights vs. CHI)
Home team is 8-3-1 in last 12 meetings… CBJ are 3-2-2 in past 7 meetings and 7-5-2 in last 14… CBJ have earned a point in three of their past four
visits to the United Center (2-1-1)… Most goals scored at CHI: 7 (10/23/07)… Most goals allowed at CHI: 7 (1/22/04).
NOTED (Player Highlights vs. CHI)
Atkinson played in 300th career NHL game on 4/9/16 vs. CHI… Bjorkstrand skated in his 100th career game on 2/24/18 vs. CHI… Foligno tallied 1st
assist in CBJ uniform on 1/26/13 vs. CHI… Savard skated in 100th career game on 4/4/14 vs. CHI.
HOW THE JACKETS WERE BUILT (Active: 23, Injured Reserve: 2, Taxi Squad: 5)
Drafted (14): Atkinson, Bemstrom (TS), Bjorkstrand, Carlsson, Foudy (TS), Gavrikov, Jenner, Korpisalo, Merzlikins, Peeke, Savard, Stenlund, Texier,
Werenski (IR)
Trade (6): Domi, Foligno, Harrington, Jones, Laine, Roslovic
Free Agent (10): Clendening (TS), Del Zotto, Grigorenko, Johnson (TS), Kivlenieks, Kukan, Matteau (TS), Nash, Nyquist (IR), Robinson
BLUE JACKETS NOTES
STRIKE FIRST, STRIKE FAST
The Blue Jackets have made it a habit of scoring the first goal in their game this season, scoring first in ten of the fourteen contests. That total ranks
second in the NHL (Montreal; 11). The club has scored 16 goals in the first, tied for the third-most in the NHL. Columbus' +8 goal differential in the
opening 20 minutes (16-8) is also tied for second best in the NHL (Montreal) trailing only Tampa Bay (+9). Eight of the club's first period goals have been
scored in the first 10 minutes of play in the game, including four in the opening five minutes.
AWAY FROM HOME
Columbus concluded a four-game homestand on Monday, finishing the homestand 2-2-0. The club, which enters a three-game road stretch playing at Chicago (Feb. 11-13) and Carolina (Feb. 15), has recorded points in three of its last four road contests (2-1-1). Thursday is the first of five road contests in the month of February for the Blue Jackets.
KOIVU CALLS IT A CAREER
Forward Mikko Koivu announced his retirement following an illustrious 16-year playing career with the Blue Jackets and Wild. He recorded 206-505-711 in 1,035 career NHL games, including 1-1-2 in seven contests with CBJ in 2020-21. The Turku, Finland native ranks fifth among Finnish born players in NHL history in assists and points and seventh in games played and goals.
HOMETOWN KID
Jack Roslovic made his Blue Jackets debut at Nationwide Arena against the Panthers on Jan. 28 and has since rattled off a career-best five-game point
streak (2-5-7) beginning on Jan. 31 at Chicago. He recorded his second career game-winning goal vs. Carolina on Feb. 8. His first was recorded while with Winnipeg on Mar. 15, 2018 vs. Chicago. The 25th overall pick in the 2015 NHL Draft became the second Columbus native (New Albany's Kole
Sherwood on Feb. 16, 2019 at Chicago) to play for the franchise with his first game. He grew up playing in the Ohio AAA Blue Jackets program, suiting
up for the 14U team in 2011-12 and 16U/18U teams in 2012-13
LAINE IN COLUMBUS
Patrik Laine made his CBJ debut Feb. 4 vs. Dallas at Nationwide Arena and has scored three goals in the last three games, including his second multigoal outing of the campaign on Feb. 7 vs. Carolina. The 2016 second overall pick was acquired along with Roslovic in a trade from the Jets on Jan. 23. Laine, who has 143-110-253 in 310 career GP, ranks third in the NHL in PPG (53), ninth in goals-per-game (.46) and goals (tied) since making his NHL debut in 2016-17. He has tallied 28-plus goals and 50-plus points in each of his four NHL campaigns.
MAESTRO MAGIC
Forward Oliver Bjorkstrand leads the team in assists, points and multi-point efforts with 4-7-11 and four multi-point outings in 13 games in 2020-21. The
winger, who signed a five-year contract extension with CBJ on Jan. 6, led the club in goals (21), GWG (five) and multi-point efforts (11) in 2019-20
despite being limited to 49 contests due to injury.
CAPTAIN AT HOME
Forward Nick Foligno notched his first multi-point outing of the season on Sunday vs. Carolina (1-1-2), including his 200th career tally in the second
period. The Blue Jackets' captain has recorded points in five of the club's seven home games this season (3-3-6). He finished second on the club in
scoring at Nationwide Arena in 2019-20 with 9-12-21 in 34 games.
ATTA BOY, ATKINSON
Forward Cam Atkinson scored his 14th CBJ/NHL career shorthanded goal on Monday vs. Carolina and is now tied with Rick Nash for the most in
franchise history. The goal was also his second career penalty shot goal (fourth attempt). He has points in five-of eight home games this season (3-3-6). He notched his 200th career NHL goal on Feb. 4 vs. Dallas.
KEEP UP WITH THE JONES
Defenseman Seth Jones has a four-game point streak (1-4-5) going into the club's road series at Chicago. He leads all defensemen on the team with six
points (1-5-6). He notched his 200th career assist on Feb. 4 vs. Dallas and his 200th CBJ career point on Feb. 7 vs. Carolina. In the 2019-20 season,
Jones was selected to play in his fourth consecutive All-Star Game and ranked seventh in the NHL in time on ice (25:17), finishing with 6-24-30 in 56 games.
RECENT MILESTONES
•Foligno notched his 200th career NHL goal on 2/7 vs. CAR
•Jones collected his 200th CBJ career point on 2/7 vs. CAR
•Atkinson scored his 200th CBJ/NHL career goal on 2/4 vs. DAL
•Jones notched his 200th NHL career assist on 2/4 vs. DAL
•Laine scored his 1st goal in CBJ uniform on 2/4 vs. DAL
•Roslovic collected his 1st goal as a Jacket on 2/4 vs. DAL
UPCOMING MILESTONES
•Harrington is 7 games from 200 in his NHL career
•Kukan is 9 games from 100 in his NHL career
2020-21 TEAM QUICK HITS
•CBJ is 5-1-3 in 1-goal games (1st-T in NHL in 1-Goal GP; ANA)
•CBJ ranks 9th in the NHL in blocked shots-per-game (14.15)
•CBJ (38 goals overall) have scored 16 goals in the 1st period and 15 in the 3rd period this season
•CBJ have recorded points in last 3 Thu. games (2-0-1)
2020-21 PLAYER QUICK HITS
•Del Zotto is 9th-T among NHL defensemen in +/- (+8)
•Foligno, who finished 7th in the NHL with a career-high 212 hits in 2019-20, is 2nd on the club in hits (32)
•Robinson has 6 points in the last 9 games (2-4-6)
•Savard recorded 11th career multi-assist game with 0-2-2 on Sunday &1st multi-point GP since 0-2-2 on 10/24/20 vs. CAR
CBJ 2020-21 TEAM GAME HIGHS
GOALS: 5 – 2x (MR: 2/7 vs. CAR)… GOALS AGAINST: 6 – 2x (MR: 2/7 vs CAR)… PPG: 1 – 5x (MR: 2/7 vs. CAR)… PPGA: 2 (2/2 vs DAL)… SHOTS:
44 (1/16 at NSH)… SHOTS AGAINST: 37 – 2x (MR: 1/21 vs. TBL)… PIM: 24 (1/18 at DET)… HITS: 39 (1/31 at CHI)… FOW: 34 (1/14 at NSH)… BKS: 22
(2/9 vs CAR)
CBJ 2020-21 PLAYER GAME HIGHS
GOALS: 2, Laine (2/7 vs CAR)… ASSISTS: 2 – 4x, MR: Savard, Jones, Roslovic (2/7 vs CAR)… POINTS: 2 – 14x, MR: Jones, Laine, Savard, Foligno,
Roslovic (2/7 vs CAR)… HITS: 7, Del Zotto (1/31 at CHI)… PLUS/MINUS RATING: +3 – Gavrikov &Savard (1/23 vs. TBL)… SOG: 6 – 4x, MR: Texier
(1/31 at CHI)… TOI: 27:59 – Jones (1/21 vs. TBL)… SAVES: 35 – Korpisalo (1/18 at DET, 37 shots)
COURTESY BLUE JACKETS COMMUNICATIONS