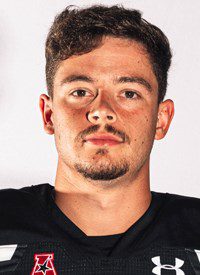 Postgame Notes
2020 AAC Football Championship
No. 23 Tulsa at No. 9 Cincinnati
Nippert Stadium
Dec. 19, 2020

Final Score: Cincinnati 27, Tulsa 24

Coin Toss:
CAPTAINS: #5 Darrick Forrest & #9 Desmond Ridder.
Forrest was out for the coin toss today. Tulsa won the coin toss and deferred to the second half. Cincinnati received the opening kickoff in the North end of the stadium.
Series Notes:
Cincinnati's win tonight marks their second straight over Tulsa. This game marks the fourth matchup since 1997 and the fifth different date for the game this season. The teams were originally scheduled to meet during the regular season on Oct. 1, the game was moved to Dec. 5, then Dec. 4, then Dec. 12 before canceling on Dec. 8. With this win Cincinnati continues to close all times series record with a Tulsa leading 17-16-2, with UC winning six of the last seven match ups.
Championship Notes:
Desmond Ridder was named the MOP of the game completing 19-29 passes for a total of 269 yard and 1 passing touchdown. Ridder also rushed for 83 yards and a touchdown.
This was Cincinnati's first outright AAC Championship title and second time in the AAC Championship game, following last year's loss to Memphis. It was the Bearcats first outright league title since winning the BIG EAST Conference in 2009.
General Notes:
Cincinnati now has 14 interceptions on the season and leads the AAC
Tulsa was scoreless in the first quarter, marking the fifth time this season Cincinnati was able to shutout a team in the first quarter.
The Bearcats picked off Tulsa's Zach Smith twice in the game as both Jarrell White and Darrian Beavers each snagged an interception on the night. The two picks marks the third time the Bearcats' defense has recorded multiple interceptions in a game this season after posting five against USF and three against ECU. Additionally, all three multiple pick games have come at Nippert Stadium this year.
UC is 31-5 since 2018, ranking among the top five teams in CFB in winning percentage during that span (.861). UC has won 20-straight at Nippert Stadium, going undefeated at home in three-straight seasons for the first time in school history. UC ranks in the Top-10 of all three national polls for the first time since the end of the 2009 regular season and is off to an 9-0 start for the fourth time in program history, along with 1951, 1954 and 2009.
UC has forced a turnover in 19-straight games, the longest active streak in the NCAA FBS.
Tulsa's Defense was averaging 4.5 yards per play prior to the AAC Championship, UC was able to average 6.3 yards per play.
With their 27-24 victory tonight, the Bearcats moved to 9-0 on the year. Following today's results from around the nation, Cincinnati joins Alabama (11-0) and Coastal Carolina (11-0) as the only three teams in the FBS to post an undefeated record this year after playing at least eight games. Notre Dame (10-1) was on the list before falling in the ACC Championship game earlier today to Clemson.
Player Notes:
Opening drive interception by #8 Jarell White, this interception marked his second of the season and fourth of his career. 
First quarter 42-yard rushing touchdown by #24 Jerome Ford. This is his second longest rushing touchdown, his longest being 48 yards against Memphis. This was also the sixth longest touchdown of the season for UC.
Career Starts: (Defense) #5 Derrick Forrest made his 35th career start, # 7 Coby Bryant made his 33rdcareer start. (Offense) #9 Desmond Ridder made his 34th career start. 
Cincinnati kicker #91 Alex Bales kicked off against Tulsa in the AAC Championship for his first collegiate appearance. 
Late in the first quarter #12 Alec Pierce received a 45-yard pass from #9 Desmond Ridder, putting the QB at 99 yards after the play. This play projected Ridder into fourth all-time passing yards in UC history, passing Hayden Moore's 6,518 total yards. 
Heading into today Pierce had 9 catches, 141 total yards, and 1 touchdown for the season. In tonight's game he has 5 catches for 146 yards and 1 touchdown, averaging 29.2 yards per catch. This marks a career high in receiving yards, his previous best was 108 yards at Marshall, Sep. 26, 2019. This is just his second 100+ yard receiving game. 
In the third quarter, Desmond Ridder scampered for a 10-yard touchdown, his 12th of the year and 22nd of his career. With 22 career scores by land, Ridder moved into a tie with Bob Heuck (1910-12) for eighth on the program's all-time rushing touchdown ledger. Additionally, his 12 rushing touchdowns have allowed him to lead the NCAA in rushing touchdowns by a QB. Desmond has now scored a passing and rushing touchdown in each of his last six games. He is now holds the longest streak by any UC player, breaking the previous record that was held for 20 years. 
Darrian Beavers picked off a Zach Smith pass in the third quarter for his second interception of the season and the second of the game for the Bearcats.
Desmond Ridder spread the love around through the air tonight as he connected with 10 different Bearcats receivers to make it all nine games this year in which he has found at least eight different teammates. The most he has connected with was 11 in the win over ECU and also has hit double digits twice (Army and USF).
Alec Pierce finished with 146 yards on five grabs with one touchdown. All told, his yardage surpassed his previous career-high 108 yards recorded last year at Marshall (9/28). His yardage smashed the previous season-high total of any Bearcats player (81 yards by Josh Whyle at UCF) and makes him the only 100-yard receiver this season for UC.
Cole Smith connected on a 34-yard field goal in the final seconds winning the game for Cincinnati tonight. The last time Cincinnati won a game on a final second field goal was on Nov. 16, 2019 when Sam Crosa kicked a 37-yard field goal to give Cincinnati a 20-17 lead over USF. 
COURTESY UC SPORTS COMMUNICATIONS