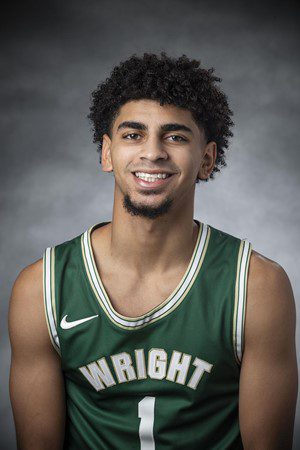 Trey Calvin led all Wright State scorers with 16 points
80 Marshall 2-0,0-0 C-USA
64Wright St. 0-1,0-0 Horizon
12/3/2020
The Wright State men's basketball team hit the court for the first time in the 2020-21 season on Thursday night and jumped out to an early lead in the first half, but visiting Marshall was too much, handing the Raiders an 80-64 loss inside the Nutter Center.
The Raiders jumped out to a 21-8 lead in the opening 10 minutes of action, with Trey Calvin dropping eight quick points and Loudon Love adding eight of his own. Marshall jumped back into the game with a 21-13 run over the final 10 minutes before Wright State headed to the locker room leading by five at the break.

Marshall scored four of the first six points in the second half before the teams traded buckets for the next five-plus minutes. The Thundering Herd took the lead for the first time at the 12:09 mark, scoring 14 of the next 16 points to gain control of the game.

Calvin led Wright State with 16 points in 38 minutes, including three three-pointers, while he added three steals, two assists and a rebound. Love tallied his first double-double of the year, scoring 11 points to go along with 16 rebounds, giving him 897 for his career – inching closer to Bill Edwards' 907 career boards.

Tanner Holden, with 13 points and nine rebounds, and Tim Finke, 10 points and five rebounds, rounded out the double-figure Raiders, who also saw Grant Basile turn in nine points. James Manns' three in the closing seconds of the first half put him in the scorebook, while Alex Huibregtse scored his first collegiate points with a pair of free throws midway through the second half.

After 12 team rebounds in the first 10 minutes, Wright State ended the night getting out-rebounded 45-38, while Marshall used 15 Raider turnovers to grab a 18-9 advantage in points off turnovers. Wright State finished the night shooting 37 percent from the floor and 39 percent from three-point range, while Marshall ended the game connecting on 43 percent of its shots, 27 percent from beyond the arc.
COURTESY WRIGHT STATE ATHLETICS COMMUNICATIONS