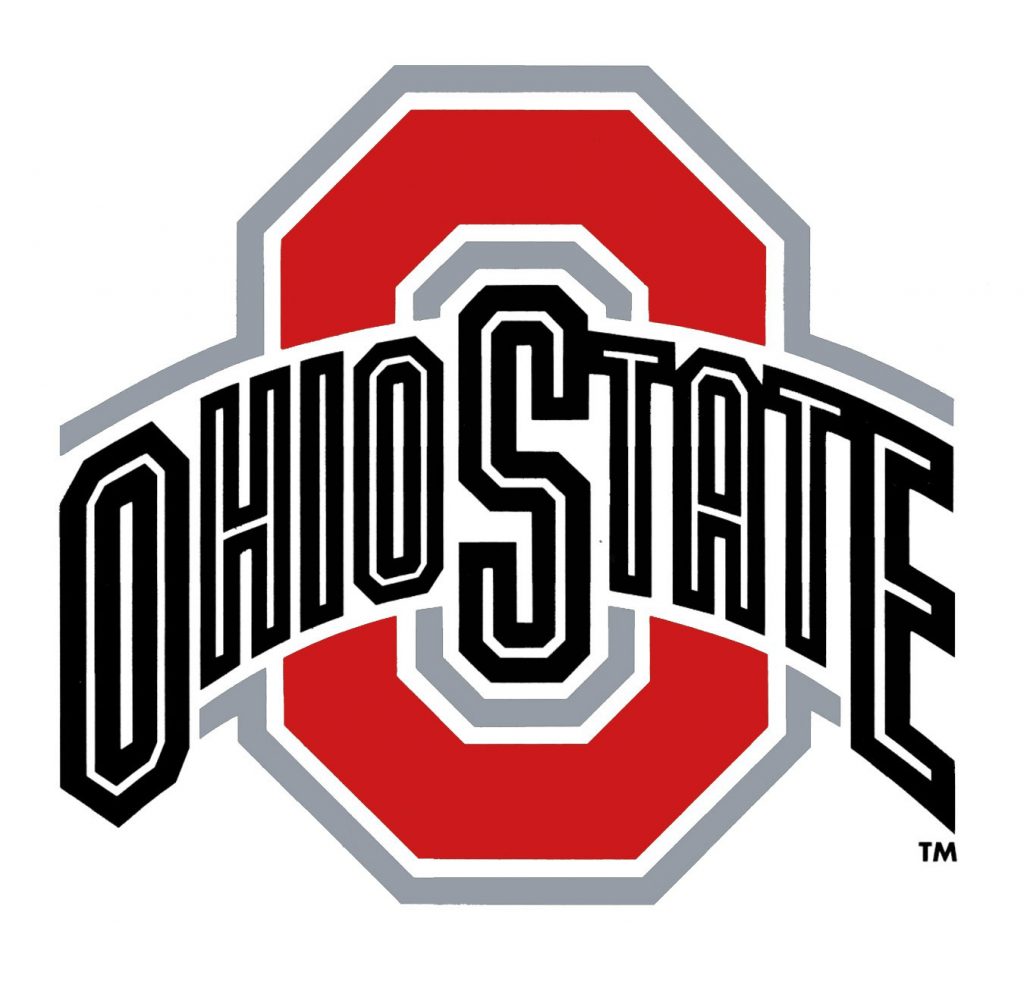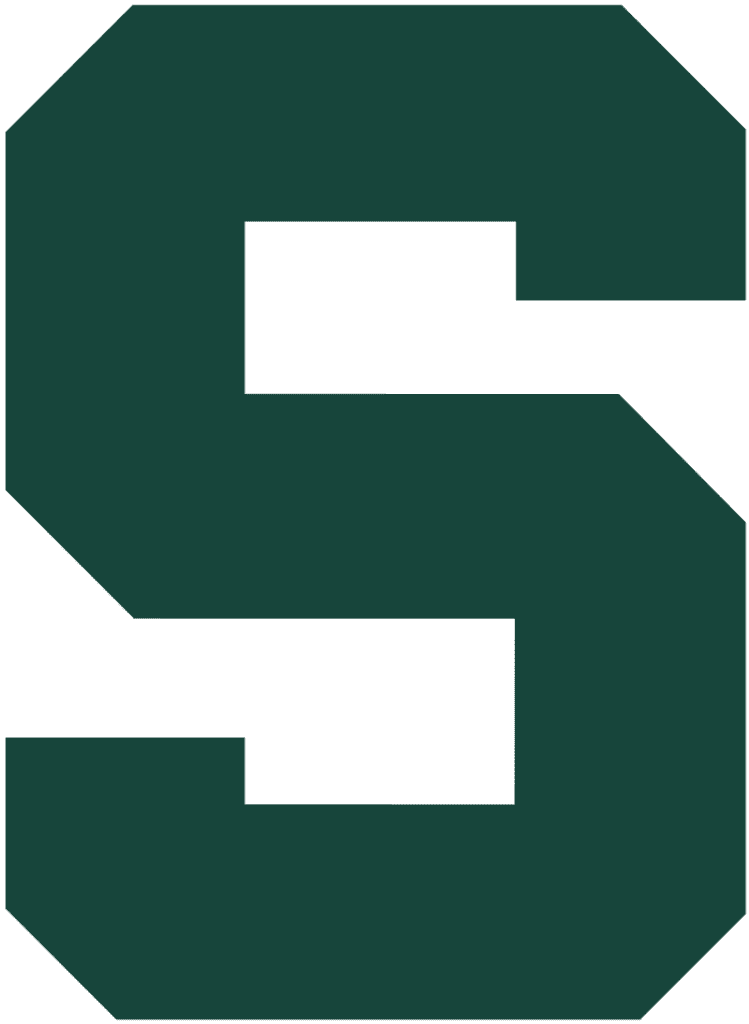 WEEK 7
3 OHIO STATE (4-0) VS. MICHIGAN STATE (2-3)
Saturday, December 5 • Noon • East Lansing, Mich. • Spartan Stadium • ABC • 97.1 FM The Fan
Head Coach: Ryan Day
Record at Ohio State: 20-1
Career Record: Same
Career vs. Michigan St.: 1-0
Interim Coach vs. MSU:
Larry Johnson
Head Coach: Mel Tucker
Record at Michigan St.: 2-3 (1st)
Career Record: 7-10 (2nd)
Career vs. Ohio State: 0-0
THE BASICS
The Ohio State Buckeyes return to action Saturday
with a Big Ten East Division game against
Michigan State. Kickoff in East Lansing is slated for
noon at Spartan Stadium with ABC broadcasting.
Ohio State cancelled its scheduled game at
Illinois last Saturday, and paused all team-related
activities, after an increase in positive COVID-19
tests within the program.
Head coach Ryan Day was one of those with a
confirmed positive test. He is in isolation and can
resume on-field coaching Dec. 7.
Associate head coach/defensive line coach Larry
Johnson will be the interim head coach for Ohio
State against Michigan State.
Johnson is in his 25th year of coaching on the
collegiate level and seventh at Ohio State.
Players resumed workouts in small groups at the
Woody Hayes Athletic Center on Monday and
practiced for the first time in preparation for the
Michigan State game on Tuesday.
The Ohio State sports medicine staff continues to
test, monitor and evaluate daily and will make all
decisions with the health, safety and well-being of
the student-athletes and staff as the main priority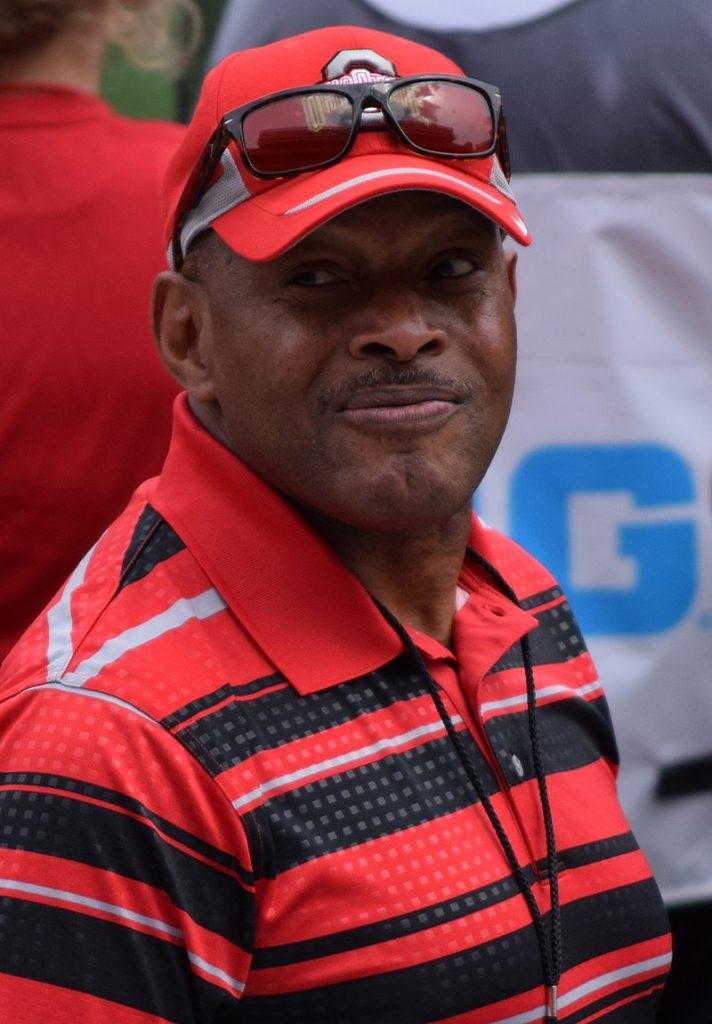 Archie Griffin in 2015 photo by By Paula R. Lively from Zanesville – Ohio State football spring game 4-18-2015, CC BY 2.0, https commons.wikimedia.org.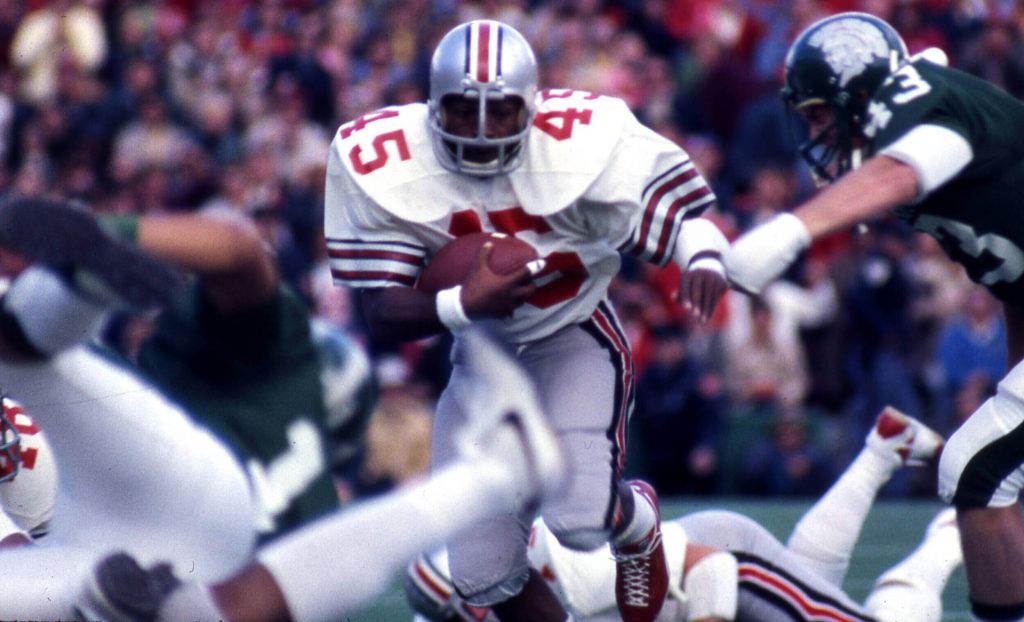 Archie Griffin running against Michigan State back in the 1970's (courtesy Ohio State Athletic Communications
45 YEARS FOR NO. 45
This past Wednesday marked
the 45-year anniversary of Archie
Griffin – the most decorated No. 45
in college football history – winning his second straight Heisman
Trophy. Still the only two-time
Heisman winner, Griffin is Ohio
State's all-time leading rusher with
5,589 yards and 26 touchdowns.
His No. 45 was retired in 1999.
BY THE NUMBERS
5
Cris Carter's school-record
(1986) for consecutive 100-
yard receiving games. Garrett
Wilson has topped 100 yards
four consecutive games.
378
Yards of total offense – a
career high – for Justin Fields
against Indiana on Nov. 21
(300 passing and an OSU
career-high 78 rushing) with
three TDs.
3
Games this season Belitnikoff
Award watch-listers Chris
Olave and Garrett Wilson have
doubled-up with each reaching
100 receiving yards
0
Points allowed by Ohio State's
defense after three Hoosier
interceptions two weeks ago.
Ensuing drives were stopped
on downs, a punt and a
fumble.
BUCKEYES AT A GLANCE
INTERIM HEAD COACH LARRY JOHNSON
Hometown Williamston, N.C.
Alma Mater Elizabeth City State, 1973
Career Record 0-0
Record at Ohio State Same
Big Ten Record 0-0
TEAM INFORMATION
2019 Overall Record 13-1
2019 B1G Record/Finish 9-0/1st-East
Off. Starters Returning/Lost 6/5
Def. Starters Returning/Lost 4/7
Letterwinners Returning/Lost 46/32
FOOTBALL HISTORY
First Year of Football 1890
All-Time Record 928-325-53
All-Time B1G Record 525-173-24
B1G Championships (Last) 38 (2019)
All-Time Bowl Record 24-26
National Championships 8
Consensus All-America Selections 87
First-Team All-Big Ten Selections 413
First-Round NFL Draft Picks 84
THE BUCKEYES … BRIEFLY
Ohio State's passing game is headlined
by Justin Fields, who is fourth nationally in
quarterback efficiency (202.10).
Fields is completing 79 percent of his
passes with 13 touchdowns and just three
interceptions.
His top wide receiver targets are Garrett
Wilson, who is seventh nationally at 128.3
yards per game, and Chris Olave, who
averages 97.3 yards per game. The pair
has combined to catch eight of Fields' 13
touchdowns.
Master Teague set career highs in attempts
(26) and yards (169) last week while also
adding two touchdown runs, including one
of 41 yards.
Teague is averaging 95.0 yards per game
and has 100-yard efforts against both Penn
State and Indiana.
Teague's backfield mate, Trey Sermon, is
second on the team with 232 yards on 45
carries (5.2 yards per carry) and has added
four receptions for 35 yards.
On defense, senior linebacker Pete Werner
leads the team with 24 tackles and has
added 2.5 tackles for loss, one sack, one
forced fumble and a quarterback hurry.
Two of his fellow position mates – Tuf
Borland and Baron Browning – each have
19 tackles.
The backend of the defense is headlined
by All-America candidate Shaun Wade,
who had a 36-yard interception return for
touchdown late in the third quarter of last
Saturday's win over Indiana.
Wade added three tackles and a pass
breakup.
Fellow cornerback Sevyn Banks added a
career-high three pass breakups.
JOHNSON LEADS BUCKEYES
Associate head coach/defensive line coach
Larry Johnson will serve as Ohio State's
interim head coach on Saturday.
Johnson will lead the Buckeyes in place of
Ryan Day, who tested positive for COVID-19
last Friday.
Johnson has been on Ohio State's staff
since 2014 and was promoted to associate
head coach in 2019.
Johnson is in his 25th year of coaching on the collegiate level and seventh season at Ohio State
SCOUTING MICHIGAN STATE
Michigan State is coming off perhaps it
most noteworthy win of the 2020 season,
a 29-20 upset of then-No. 8 Northwestern
last Saturday in East Lansing.
The Spartans defense held Northwestern
to just 285 total yards, including 63 on the
ground, and forced four turnovers.
Linebacker Antjuan Simmons finished with
13 tackles, two tackles for loss and a sack.
He currently leads the team with 53 stops,
6.5 tackles for loss for minus 14 yards and
two pass breakups.
Quarterback Rocky Lomdardi's thrown
eight touchdown passes in five games
while completing 54.1 percent of his passes
for 1,057 yards.
Lombardi's top target is Jayden Reed (22
receptions, 252 yards, three TDs) and Jalen
Nailor, who had 99 yards receiving last
week to bring his season total to 379. He's
caught two touchdown passes.
THREE BUCKEYE FROM MICHIGAN
There are three Buckeyes who hail from
the state of Michigan: freshman DB
Cameron Martinez, freshman OL Grant
Toutant and senior LS Bradley Robinson.
Not only is Robinson from Troy, Mich., he's
also a former Spartan.
Robinson spent the 2016 season on
Michigan State's roster before transferring
to Ohio State and joining the team as a
walk on in the summer of 2017.
MEL TUCKER'S OHIO STATE TIES
Michigan State head coach Mel Tucker,
a Cleveland native, was on Ohio State's
defensive coaching staff from 2001-04
under Jim Tressel and part of the staff that
helped the Buckeyes win the 2002 BCS
national championship.
Tucker was the defensive backs coach from
2001-03 and the co-defensive coordinator
in 2004.
fWhile with the Buckeyes, Tucker coached
a pair of All-Americans: safety Mike
Doss, who was also the 2002 Big Ten
co-Defensive Player of the Year, and cornerback Chris Gamble.
Both Doss and Gamble went on to be early
round NFL Draft choices.
MORE BUCKEYE/SPARTAN TIES
Mike Tressel, the nephew of former
Buckeye head coach Jim Tressel, is
Michigan State's safeties coach. He was a
graduate assistant at Ohio State in 2002
and 2003.
fMchigan State has 28 players from the
state of Ohio, including four starting
offensive linemen.
THE OHIO ST./MICHIGAN ST. SERIES
Ohio State and Michigan State are meeting
for the 49th time in a series that started in 1912. Ohio State leads the series, 33-15.
After the first game in 1912 – a 35-20 win
for Michigan State in Columbus – the two
teams didn't meet again until 1951 when
Spartans were members of the Big Ten.
Ohio State has won 13 of the last 16 games
between the team teams since MSU won
back to back contests in 1998 and 1999.
The Buckeyes have won each of their last
seven trips to East Lansing. Their last loss
was a 23-7 setback in 1999.
GAME PREVIEW COURTESY OHIO STATE ATHLETIC COMMUNICATIONS