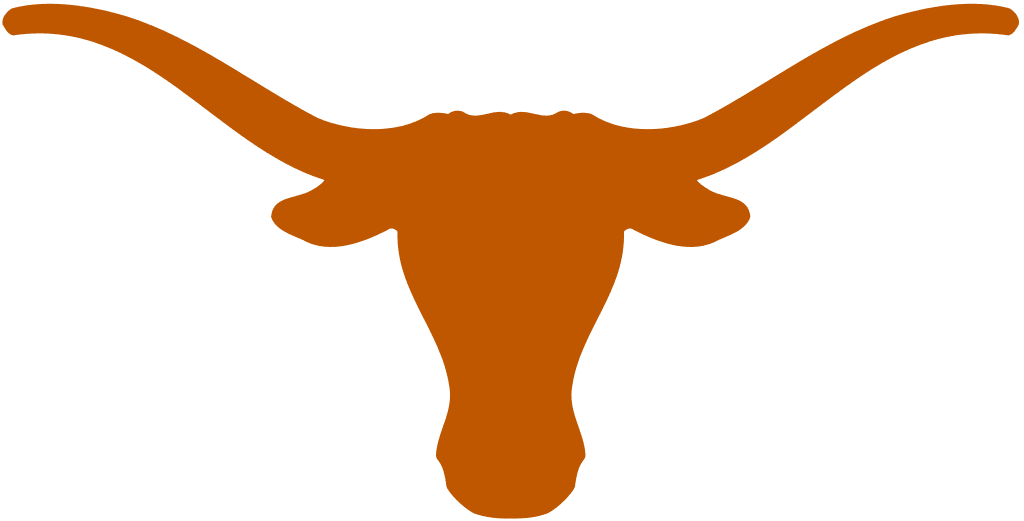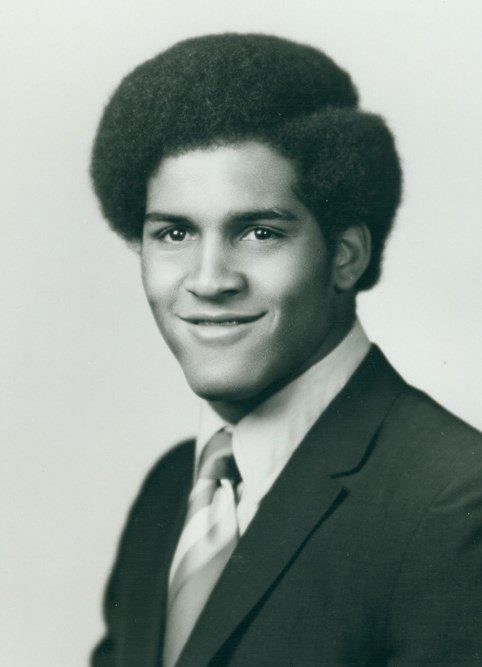 Julius Whittier as a student athlete at Texas from 1970-1972 (courtesy UT Sports)
The statue immortalizing Texas' first Black Football letterman is placed at the north end of Darrell K Royal-Texas Memorial Stadium.
When Julius Whittier stepped onto campus at The University of Texas in the fall of 1969 as one of the first Black student-athletes to receive a scholarship from Texas, he was looking to make a lasting impact on both the Football team and The University. On Friday, as UT commemorates the 50th Anniversary of the 1970 National Championship team that he was a part of, the pioneer, trailblazer and Longhorn Legend will be immortalized with a statue just outside of the north end of Darrell K Royal-Texas Memorial Stadium. The unveiling of the statue will mark the culmination of efforts by Texas Athletics, The University, Longhorn alumni and supporters, as well as current student-athletes to honor Whittier, who in 1970 became the first Black letterman in Texas Football history.
Now almost 48 years to the day in which he donned the UT uniform for the final time at Texas Memorial Stadium, a powerful depiction of Whittier will be forever memorialized and celebrated just outside of the field he played on, now Campbell-Williams Field. The triumphant and joyous 12-and-a-half foot bronze sculpture pays tribute to who he was and what he did, but also as importantly, for the impact he made and continues to have for generations to come.
"It is an honor whose time has come. Not only for Julius, but everyone that has passed through UT's doors since day one," said Mildred Whittier, Julius' sister. "For him being the first African American player at UT, he would have been very proud of the young football players who stepped forward. Those young men had the conviction and tenacity to initiate changes to recognize a significant group of individuals who attended UT and transformed the landscape of The University. My sister and I are grateful to them, as well as the administration, who are taking steps forward to work together and make changes that will have an impact on every individual who walks through The University's doors and beyond."
As momentum built in the social justice movements on campus and around the country earlier this year, and with the rise of athlete activism in the professional and collegiate ranks, Longhorn student-athletes moved to the forefront of change at The University, requesting, among other actions, the renaming of campus buildings and the establishing of permanent fixtures in athletics facilities honoring the Longhorn greats who blazed the trail for the current student-athletes. Whittier, who passed away in September 2018, was a prominent figure in the history of the school and athletics program who the student-athletes wished to see a more substantial acknowledgement of.
"During my time as a player, he was immortalized as a verbal legend, but there was not a physical representation and reminder of history," said former Longhorn standout running back Ricky Brown, who now serves as director of the T-Association. "Having the statue now, and for the future, is meaningful for so many who were part of his story. It also means that more people will have the opportunity to connect with and be inspired by Julius Whittier and his incredible story of heart, determination and courage."
The role student-athletes performed in generating momentum toward honoring Whittier is an example of the progress and changes made since Whittier and his contemporaries first arrived on campus, as well as in the last several months. With the statue set to be unveiled this week, current Longhorns are able to reflect on what it means to have his representation at the stadium and the part they played.
"It's awesome; it's like giving back to him," said junior defensive standout and team captain Joseph Ossai. "I'm sure it wasn't easy at that time, doing what he did as part of the team. He probably was receiving a lot of negativity, but he was courageous enough to join the team and be successful as a part of the team. And then for us, many years later, to be able to help him get the proper recognition he deserves, it feels like we're giving back to him, his family and all of his teammates. It feels like we're saying thank you to him, and that's all we can say is 'thank you.' He cleared the path for each and every one of us."
Senior defensive tackle and team captain Ta'Quon Graham echoed those sentiments, as well as his gratitude.
"Most importantly, I want to say thank you to Julius Whittier," Graham said. "I'm glad he created the opportunity for many African Americans to step on to this campus and to compete. I think that's really important – he was the person that trailblazed. He was the one that created the opportunity for people like me to be here at Texas, so I'm really glad that this decision was made and that we now have a statue honoring him."
For junior defensive back and team captain Caden Sterns, Whittier is an example of the impact an individual can have and the accomplishments that can be achieved.
"Honestly, the statue means a lot because he was the first one to do it and the first one to be a letterman in our Football program," Sterns said. "For him to be honored for that is a real blessing, not only for him, but for us and other African Americans coming to The University. During that time, it wasn't the best time in history, so to see him be honored now for being the first is a huge step in the right direction and a huge accomplishment. I will think about all he did and what he means to all of us every time I see that statue."
The University began integration in 1956 and the UT Board of Regents ended a ban on Black student-athletes on its sports teams in 1963, but by the time Whittier had arrived on the Forty Acres from his hometown of San Antonio, only a few had signed with the Longhorns and none had played beyond their first year in an era in which NCAA rules made freshmen ineligible to play at the varsity level.
Whittier embraced the challenge of attending Texas despite the concerns of his parents, who Mildred recalls, "were fearful of him attending a school in an environment that was not conducive for African Americans at that time and for what that could mean for the safety of Julius."
In the end, they left the decision to Whittier, who would go on to earn three letters as an offensive lineman (1970-71) and tight end (1972) and help the Longhorns post an overall record of 28-5, winning the 1970 National Championship and three Southwest Conference Championships in his three varsity seasons in the Burnt Orange and White. He was a member of the freshman team when the Longhorns won the National Championship in 1969, his first year on scholarship at Texas.
Playing for Coach Darrell Royal had a lasting impact on Whittier, who viewed Royal as not only a coach, but as a father figure.
"Julius often referred to Coach Royal as, 'His dad from another pad,' because of the way he trained all the players," Mildred Whittier recalled. "Coach Royal was a disciplinarian, and that was something that helped Julius to not only become a great player for UT, but also to mature and become the man that he was. It was a respectful relationship."
Royal passed away in 2012, but to this day, Royal's wife, Edith, recalls how special Julius was to them and the significant place he holds in the history of the Football program and The University as a whole.
"I have very fond memories of Julius Whittier and remember how Darrell welcomed him as a player on our Football team at The University of Texas," Edith Royal said. "I am so happy he is being recognized with the honor of a statue, and I am sorry I cannot be there. This paved the way for many other exceptional players to follow. Two of those who played for Darrell were Roosevelt Leaks and Earl Campbell. When Earl Campbell arrived, he and Darrell had an instant friendship, and the Campbells still are dear friends today. I know that Darrell would be so happy that the field was named after Earl Campbell and Ricky Williams; they deserved that honor. And I am looking forward to seeing the statue of Julius Whittier who truly deserves this honor, as well!"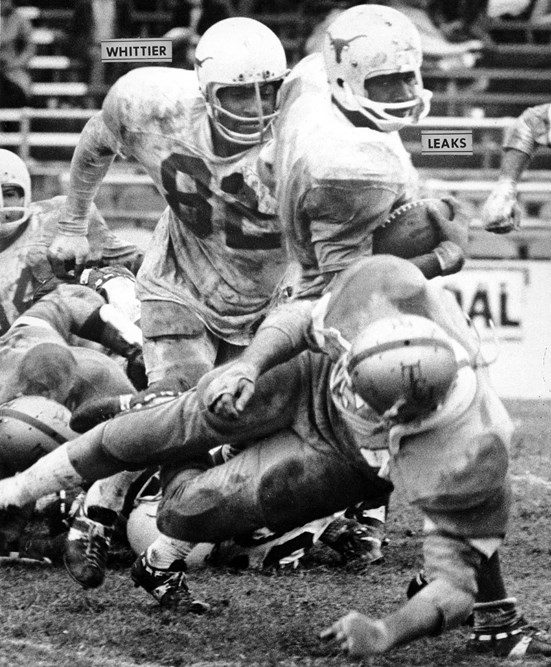 Julius Whittier 82 Roosevelt Leaks with football in action (courtesy UT Sports)
Lauded for his leadership qualities and character and heralded for his unique mindset and perspective on life, Whittier was able to form connections with prospective recruits and provide them with insight on the challenges of being an agent of change and progress, to be a part something that had never been done before at Texas.
Whittier's pioneering efforts played a major role in the recruitment of teammates like Leaks and the Heisman Trophy winning Campbell, and laid the groundwork for the arrival of future generations of Longhorns like Raymond Clayborn, Jerry Gray, James Brown, Ricky Williams, Vince Young and many more. Whittier served as Leaks' host on his recruiting visit to Austin as high schooler, and he's shared his experiences and wisdom with Longhorn teams in the decades that followed.
"Julius paved the road that gave us the opportunity," said Leaks, a native of Brehnam, Texas, who in 1971 became the first Black football player from Texas to earn All-American and All-Conference honors. "I had opportunities to go somewhere else, but my main goal was to stay close to home so my parents could see me play. When I visited UT, he and Lonnie Bennett showed me around and spoke with me about what they were working toward. I'm proud that UT has chosen to commission the statue of Julius, who was the first and showed us the path. The statue will provide future students with an understanding of what we were a part of and the statement that was made."
"I can't put into words the impact Julius had on me personally, Texas Football and all of UT," said Young, who quarterbacked Texas to the 2005 National Championship and is one of the most decorated players in Longhorn history. "He was a giant of a man, and when I think of the teams I played on, the National Championship team and all the greats that he cleared the way for, his impact is really immeasurable. I had many chances to visit him and always came away better for it. I even did a class project on what he did for UT and how important he was to me, personally, and it's a paper I kept and still have to this day. There's no one more deserving to be honored as a Longhorn Legend than Julius Whittier."
The call to action by current student-athletes to commemorate Whittier's impact prompted several letterwinners, including Campbell and former quarterback Jimmy Saxton Jr., who began exploring ways to celebrate Whittier and commemorate what he meant to the program.
"This should have happened long ago," Campbell said. "It's not anyone's fault, and I think many would agree that there have been plenty of opportunities for a statue to be put in place for my man. He was probably more deserving than Ricky and me, and for me it shows that anything is possible. It also shows the strides that The University is making in acknowledging the trailblazers and those who helped make this university what it is.
"Being the first to do anything is not easy, but being the first Black player at The University is something that I have thought about over the years. I cannot imagine what all he had to endure. It shows the kids that if you want something bad enough and you are about change and willing to sacrifice — you can climb to the top of the mountain."
Whittier was inducted into the Texas Athletics Hall of Honor in 2013 and is prominently displayed in the Frank Denius Family University of Texas Athletics Hall of Fame. In 2018, he was inducted into the San Antonio Independent School District Hall of Fame, and following his passing in September 2018, the Texas Longhorns wore a "JW" decal on their helmets and dedicated their victory at Kansas State that week in his honor.
STORY COURTESY TEXAS LONGHORNS ATHLETIC COMMUNICATIONS