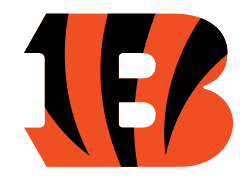 The series: The Bengals lead 5-4-1, including a run of four straight
matchups without a loss. The last meeting was a 27-27 tie at Wembley Stadium
in London in 2016, which was preceded by three consecutive Bengals victories
in '04, '08 and '12. Washington's last series win was a 34-27 decision at
Cincinnati in 1991.
The Bengals have played fewer games against Washington (10) than
against any other long-established NFL team except the N.Y. Giants (also 10),
who the Bengals face next weekend. The only team with fewer than 10 meetings against Cincinnati is Carolina (six games), which did not begin play until 1995.
Though the Bengals-Washington series history isn't comprised of a lengthy
list of matchups historically, it does include a pair of noteworthy and significant results for the Bengals, both occurring in the 1980s:
● In the 1988 season finale, at Riverfront Stadium, the Bengals won 20-17
in overtime, finishing 12-4 and clinching the AFC home field advantage for the playoffs. But it took a stroke of good fortune to reach Jim Breech's 20-yard winning field goal 7:01 into the overtime. On the final play of regulation,
Washington K Chip Lohmiller had a 29-yard FG try glance off an upright for a miss. The Bengals went on to win their two home playoff games and advance to Super Bowl XXIII.
In Game 15 of 1985, the Bengals traveled to RFK Stadium, fresh off a
50-24 shelling of Dallas that had Cincinnati tied at 7-7 for the AFC Central lead.
The playoffs seemed to beckon when the Bengals took a 24-7 lead, but
Washington scored 20 unanswered points to win, 27-24. Washington WR Art
Monk caught 13 passes for 230 yards, both figures setting Bengals opponent
records at the time. The Bengals' playoff hopes were extinguished prior to their season finale the next week. Their only title hope was in a three-way tie with Pittsburgh and Cleveland, and prior to Cincinnati's finale at New England, a Pittsburgh loss to the N.Y. Giants in a Saturday game clinched the title for Cleveland.
Team bests from the series:
Bengals — MOST POINTS: 38, in the most recent meeting, a 38-31
Cincinnati win at Washington in 2012. LARGEST VICTORY MARGIN: 11, in a
28-17 victory at Cincinnati in 1974. FEWEST POINTS ALLOWED: 10, in a 17-10 win at Washington in 2004.
Washington — MOST POINTS: 34, in a 34-27 win at Cincinnati in 1991, LARGEST VICTORY MARGIN: 20, in a 20-0 win in the series inaugural in
1970 at Washington. FEWEST POINTS ALLOWED: 0, in the 20-0 win in '70.
COURTESY BENGALS MEDIA RELATIONS