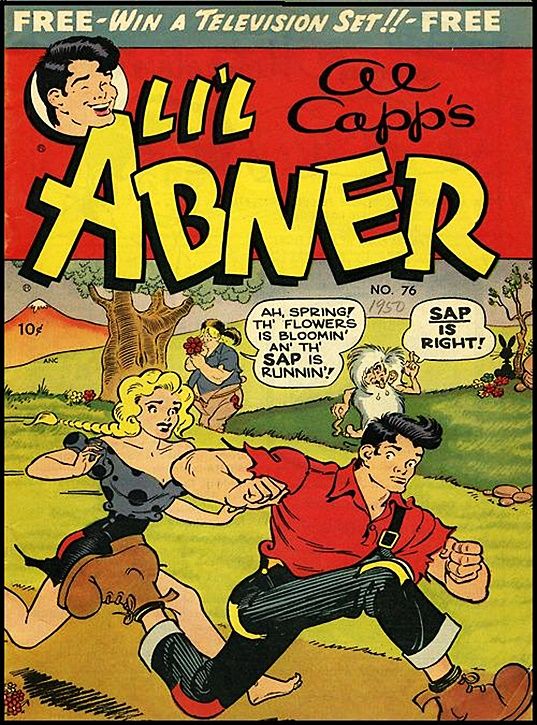 FROM WIKIPEDIA COMMONS
Li'l Abner is a satirical American comic strip that appeared in many newspapers in the United States, Canada and Europe. It featured a fictional clan of hillbillies in the impoverished mountain village of Dogpatch, USA. Written and drawn by Al Capp (1909–1979), the strip ran for 43 years – from August 13, 1934, through November 13, 1977. The Sunday page debuted six months after the daily, on February 24, 1935. It was originally distributed by United Feature Syndicate and, later by the Chicago Tribune New York News Syndicate.
Comic strips typically dealt with northern urban experiences before Capp introduced Li'l Abner, the first strip based in the South. The comic strip had 60 million readers in over 900 American newspapers and 100 foreign papers in 28 countries. Capp "had a profound influence on the way the world viewed the American South."
TODAY'S ALMANAC
Question of the Day
Why do I sometimes sneeze when I look at the sun?
Regular sneezing occurs when the nerve endings of the mucous membranes in your nose are irritated. The bright light of the sun can have this effect on your nose when the light hits your optic nerve.
Advice of the Day
Prune grapevines now.
Home Hint of the Day
To clean bone knife handles or any ivory object (such as piano keys), wipe on a solution of 1 tablespoon of hydrogen peroxide and 1 cup of water. No need to rinse.
Word of the Day
SOS
The letters signified by the signal ( … – … ) prescribed by the International Radiotelegraphic Convention of 1908 for use by ships in distress. SOS was chosen as the universal distress signal because this combination of three dots followed by three dashes followed by three dots (…–…), was easy to send and easily recognized, especially since they were usually sent as a nine-character signal, which stood out against the background of three-character Morse Code letters. The letters themselves are meaningless. SOS does not stand for Save Our Souls, Save Our Ship, Stop Other Signals, or Sure Of Sinking.
Puzzle of the Day
Who was the strongest man mentioned in the Bible?
Jonah, because the whale could not keep him down.
Born
Esaias Tegner (writer) – 1782
Lady Caroline Ponsonby Lamb (author) – 1785
Edwin Booth (actor) – 1833
Robert Louis Stevenson (author) – 1850
Louis Brandeis (U.S. Supreme Court justice) – 1856
Alexander Scourby (actor) – 1913
Richard Mulligan (actor) – 1932
Garry Marshall (producer, director, & actor) – 1934
Dack Rambo (actor) – 1941
Chris Noth (actor) – 1954
Whoopi Goldberg (actress) – 1955
Jimmy Kimmel (television host) – 1967
Monique Coleman (actress) – 1980
Died
Gioacchino Rossini (composer) – 1868
Irv Rubin (Jewish Defense League leader) – 2002
Robert Pershing Bobby" Doerr" (baseball player) – 2017
Katherine MacGregor (actress) – 2018
Events
David Kirke granted co-proprietorship of Newfoundland– 1637
U.S. General Montgomery captured Montreal– 1775
Thousands of meteors fell per hour in the eastern United States– 1833
The Holland Tunnel between New York and New Jersey opened– 1927
Ginger Rogers married Lew Ayres– 1934
Walt Disney's Fantasia premiered at the Broadway Theater in New York; first film to attempt to use stereophonic sound– 1940
Sammy Davis Jr. married May Britt– 1960
Bob Pettit was the first to reach 20,000 career points in the NBA– 1964
Mariner 9 became the first spacecraft to orbit another planet (Mars)– 1971
Li'l Abner, Al Capp's 43-year-old comic strip, appeared in newspapers for the last time– 1977
The Wall of the Vietnam Veterans Memorial dedicated, Washington, D.C.– 1982
Volcano Nevado del Ruiz erupts in Colombia, killing over 23,000 people.– 1985
Groundbreaking ceremony held for the Martin Luther King Jr. Memorial in Washington, D.C.– 2006
Weather
The first great storm of what became the Dust Bowl spread a pall from the Great Plains to New York– 1933
COURTESY www.almanac.com