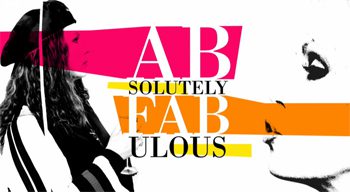 FROM WIKIPEDIA COMMONS
Absolutely Fabulous (also known as Ab Fab) is a British television sitcom based on the French and Saunders sketch, "Modern Mother and Daughter", created by Dawn French and Jennifer Saunders. The show was created and written by Saunders, who also stars as one of the main characters with Joanna Lumley and Julia Sawalha.
The series features Edina Monsoon, a heavy-drinking, drug-abusing PR agent who spends her time failing to lose weight and chasing bizarre fads in a desperate attempt to stay young and "hip". Edina is joined by magazine fashion director Patsy Stone, whose drug abuse, alcohol consumption and desperate promiscuity far eclipse Edina's. Edina is reliant upon the support of her daughter Saffron, a student and aspiring writer whose constant care of her immature mother has left her a bitter cynic. The series also stars June Whitfield in a supporting role as Edina's dotty, sarcastic, and often thieving mother who appears in nearly every episode. Jane Horrocks as Edina's utterly brainless personal assistant Bubble also features frequently.
The first three series of Absolutely Fabulous were broadcast on the BBC from 1992 to 1995, followed by a series finale in the form of a two-part special entitled The Last Shout, in 1996. In 2000, the show was ranked number 17 on the 100 Greatest British Television Programmes by the British Film Institute. It was revived for two more series and two one-hour specials, airing from 2001 to 2004. Three new episodes, collectively titled Absolutely Fabulous: 20th Anniversary, were released in 2011-2012. Two sketches for charity specials were also released, for Comic Relief in 2005, and Sport Relief in 2012. A film version of the show, Absolutely Fabulous: The Movie, was released to theaters in 2016. On 29 November 2016 Saunders confirmed that she is "not doing anything more with Ab Fab", as she wanted to focus on new projects.
TODAY'S ALMANAC
Question of the Day
If a recipe calls for one pound of eggs, how many would that be?
Approximately nine eggs equals one pound.
Advice of the Day
The time to harvest parsnips or turnips is after a hard frost.
Home Hint of the Day
When burning a kerosene lamp, make sure you have at least 18 inches of air space above the chimney. Otherwise, the heat rising from the chimney can be enough to catch something on fire.
Word of the Day
Snub
A post on a dock or shore, around which a rope is thrown to check the motion of a vessel.
Puzzle of the Day
Why are teeth like verbs?
Because they are regular, irregular, and defective.
Born
Sor Juana Ines de la Cruz (poet) – 1651
Elizabeth Cady Stanton (reformer) – 1815
Auguste Rodin (sculptor) – 1840
Harry Andrew Blackmun (lawyer) – 1908
Joseph Coors (brewer) – 1917
Kim Hunter (actress) – 1922
Grace Kelly (actress and later known as Her Serene Highness Princess Grace of Monaco) – 1929
Neil Young (musician) – 1945
Megan Mullally (actress) – 1958
Nadia Comaneci (gymnast) – 1961
Ryan Gosling (actor) – 1980
Anne Hathaway (actress) – 1982
Died
Eve Arden (actress) – 1990
Bill Dickey (baseball player) – 1993
Billy Guy (singer) – 2002
Jonathan Brandis (actor) – 2003
Ira Levin (author) – 2007
Events
San Francisco-Oakland Bay Bridge opened– 1936
Ellis Island federal immigration station closed in N.Y./N.J.– 1954
Largest iceberg on record (208 miles long, 60 miles wide) discovered by U.S.S. Glacier– 1956
First episode of Absolutely Fabulous aired– 1992
Voters OK'd creation of Nunavut territory– 1992
Weather
A heavy snowstorm hit all of New England– 1820
COURTESY www.almanac.com