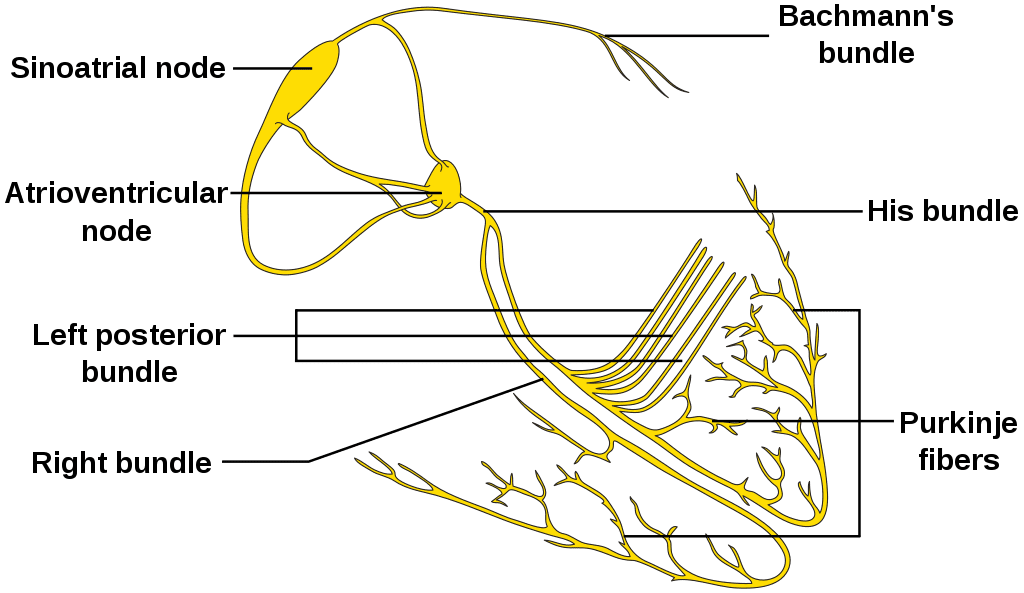 FROM WIKIPEDIA COMMONS
The contraction of cardiac muscle (heart muscle) in all animals is initiated by electrical impulses known as action potentials. The rate at which these impulses fire controls the rate of cardiac contraction, that is, the heart rate. The cells that create these rhythmic impulses, setting the pace for blood pumping, are called pacemaker cells, and they directly control the heart rate. They make up the cardiac pacemaker, that is, the natural pacemaker of the heart. In most humans, the concentration of pacemaker cells in the sinoatrial (SA) node is the natural pacemaker, and the resultant rhythm is a sinus rhythm.
Sometimes an ectopic pacemaker sets the pace, if the SA node is damaged or if the electrical conduction system of the heart has problems. Cardiac arrhythmias can cause heart block, in which the contractions lose any useful rhythm. In humans, and sometimes in other animals, a mechanical device called an artificial pacemaker (or simply "pacemaker") may be used after damage to the body's intrinsic conduction system to produce these impulses synthetically.
TODAY'S ALMANAC
1830s
1860s
1870s
1900s
1910s
1920s
1930s
1940s
1950s
1960s
1970s
1980s
2000s
2010s
COURTESY www.almanac.com