By Mariana Smith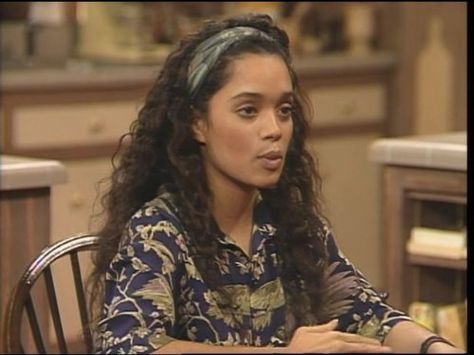 FROM WIKIPEDIA COMMONS
Lilakoi Moon (born Lisa Michelle Bonet; November 16, 1967), known professionally as Lisa Bonet (/boʊˈneɪ/), is an American actress. She portrayed Denise Huxtable on the sitcom The Cosby Show (1984–1992), for which she earned widespread acclaim and a nomination for the Primetime Emmy Award for Outstanding Supporting Actress in a Comedy Series in 1986; she reprised the role of Denise in the spinoff series A Different World (1987–1993).
She also appeared in the psychological horror film Angel Heart (1987), which earned her a nomination for the Saturn Award for Best Supporting Actress. Bonet has starred in the action thriller film Enemy of the State (1998), the comedy-drama film High Fidelity (2000), the action drama film Biker Boyz (2003) and the thriller film Road to Paloma (2013). She has sporadically worked in TV acting, appearing in roles such as Maya Daniels in Life on Mars (2008–2009) and Marisol on Ray Donovan (2016).
From 1987 to 1993, Bonet was married to singer-songwriter Lenny Kravitz, with whom she had one child, Zoë, who is also an actress. In 2017, she married actor Jason Momoa, with whom she has two children. Bonet and Momoa separated in January 2022.
TODAY'S ALMANAC
Question of the Day
How far above sea level is Edmonton, Alberta, Canada?
It is 2,200 feet above sea level.
Advice of the Day
Make sure your perennials and shrubs are mulched now.
Home Hint of the Day
To remove old wallpaper (nonvinyl), mix equal parts of warm water and white vinegar. Sponge a section of wall with the solution until the wallpaper is saturated. Let sit for 20 minutes, sop the wallpaper again, then peel it off with a broad-bladed putty knife.
Word of the Day
Tidy
Being in proper time; timely; seasonable; favorable; as, tidy weather. Arranged in good order; orderly; appropriate; neat; kept in proper.
Puzzle of the Day
From a word of five letters, take two and leave one.
Stone. Alternate answers include: Clone, Drone, Prone, Phone
Died
André Michaux

 

(botanist)

 

– 

Louis Riel

 

(Canadian politician)

 

– 

Clark Gable

 

(actor)

 

– 

William Holden

 

(actor)

 

– 

Northern Dancer

 

(racehorse)

 

– 
Born
Louis-Honoré Fréchette

 

(Canadian poet)

 

– 

W.C. Handy

 

(composer)

 

– 

George Kaufman

 

(director of theater)

 

– 

Paul Hindemith

 

(composer)

 

– 

Mary Margaret McBride

 

(radio commentator)

 

– 

Burgess Meredith

 

(actor)

 

– 

Marg Helgenberger

 

(actress)

 

– 

Dwight Gooden

 

(baseball player)

 

– 

Lisa Bonet

 

(actress)

 

– 

Maggie Gyllenhaal

 

(actress)

 

– 

Kimberly J. Brown

 

(actress)

 

– 
Events
Napoleon E. Guerin granted patent for cork life preserver

– 

Philadelphia Orchestra played its inaugural concert

– 

Oklahoma admitted to the Union as the 46th state

– 

United Nations Educational, Scientific and Cultural Organization (UNESCO) is established

– 

Rodgers and Hammerstein's musical, The Sound of Music, premiered

– 

Skylab 4 launched from Kennedy Space Center

– 

President Nixon signed a bill authorizing construction of a trans-Alaska oil pipeline

– 

Mother Teresa received honorary U.S. citizenship

– 

Meteor fireball turned night into day in Finland

– 
Weather
Tucson, Arizona, received 6 inches of snow

– 

Low temperature in Lincoln, Montana, of -53 degrees Fahrenheit

– 

Anchorage, Alaska, reached 45 degrees F and received 8.4 inches of snow

– 
COURTESY www.almanac.com