Georgia Tech Family,
After seven seasons as our Men's Basketball Head Coach, I have informed Josh Pastner that we are making a change in the leadership of our storied program.
Josh has been an incredible ambassador for Georgia Tech, treating others with the utmost respect, and wearing his passion on his sleeve. His genuine care for student-athletes, our Men's Basketball program, our athletics department and the Institute is unquestionable. On behalf of the Georgia Tech community, I want to offer my sincere gratitude to Josh, his wife, Kerri, and their family for their service to the Institute. We wish them all of the very best wherever their journey takes them next.
We have high expectations at Georgia Tech for all of our sports programs, and it is imperative that Men's Basketball achieves a greater level of success. Our Men's Basketball program is important to our Department, and to our institution. We will not shy away from expecting to consistently compete for ACC championships, NCAA Tournament appearances, and sustained success. I am confident that with the combined strength of the Institute and our incredible fanbase, as well as the support of our city, we can reach our shared goals.
Our search for a new Head Men's Basketball Coach is underway, and while we will be deliberate in our process, we will move as fast as possible. We seek a new coach who shares our vision and our values and who can best lead us to the very highest levels of sustained success in our Men's Basketball program. In the meantime, Anthony Wilkins, who has been a member of our Men's Basketball staff since 2018, will serve as our interim head coach.
Thank you for your continued support and Go Jackets!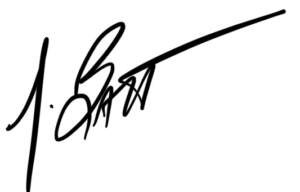 J Batt