NHL Public RelationsFebruary 22, 2022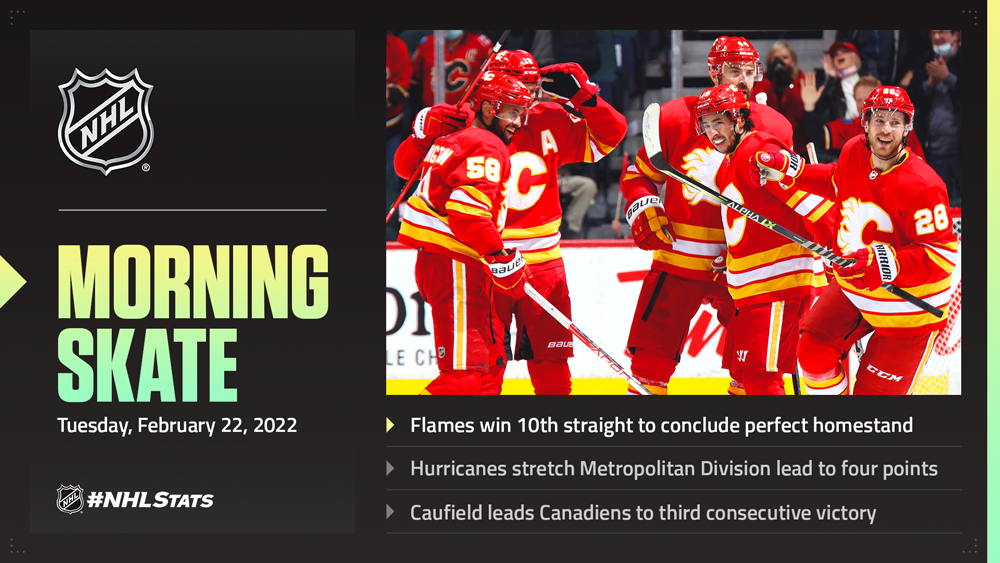 * Elias Lindholm and the Flames each matched franchise records as they concluded a seven-game homestand with a perfect 7-0-0 record to achieve an NHL first.

* Frederik Andersen backed the Hurricanes to a third straight win as they opened the largest lead atop the Metropolitan Division in more than three months.

* Playing in front of more than 10,000 fans at Bell Centre – a first since early December – Cole Caufield helped the Canadiens claim their third straight win.

* Kwame Mason and Nathaniel Brooks joined Rogers Hometown Hockey on Monday to discuss NHL Bound. Directed by Mason, the four-part series chronicles the participation of Brooks and Duante' Abercrombie in the Coyotes' first-ever coaching internship program, dedicated to creating a deeper pool of diverse talent. Episodes 1 and 2 are available at YouTube.com/NHL.





DIVISION LEADERS CREATE SPACE WITH LATE-GAME HEROICS
The top-ranked Flames (30-13-6, 66 points) and Hurricanes (35-11-4, 74 points) each scored in the final minute of play to claim victories and pad their respective division leads.

* Elias Lindholm scored the go-ahead, game-winning goal with 47 seconds left in regulation to match the franchise record for longest goal streak, help the Flames equal the longest winning streak in club history, extend their home winning streak to 10 games and become the first team in NHL history to sweep a homestand of seven or more contests.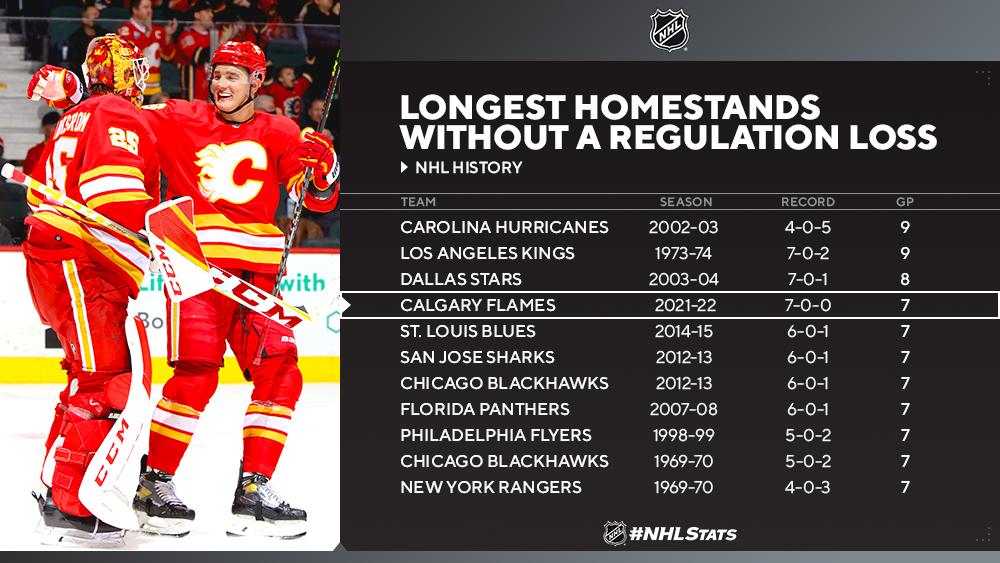 * Brett Pesce scored with 18 seconds left in overtime and Frederik Andersen made 38 saves as the Hurricanes withstood a trio of tying goals by the Flyers to claim their third straight win. Andersen moved into sole possession of the League lead in wins (27) as he aims to become the first goaltender in franchise history to top the NHL in that category at the end of a season.

* This is the first time since early November that a No. 1 seed in the Metropolitan Division has held a lead of four points or more, and just the third day all season that has been the case – Carolina accounts for each of those dates (also four-point edge Nov. 3 and Nov. 4).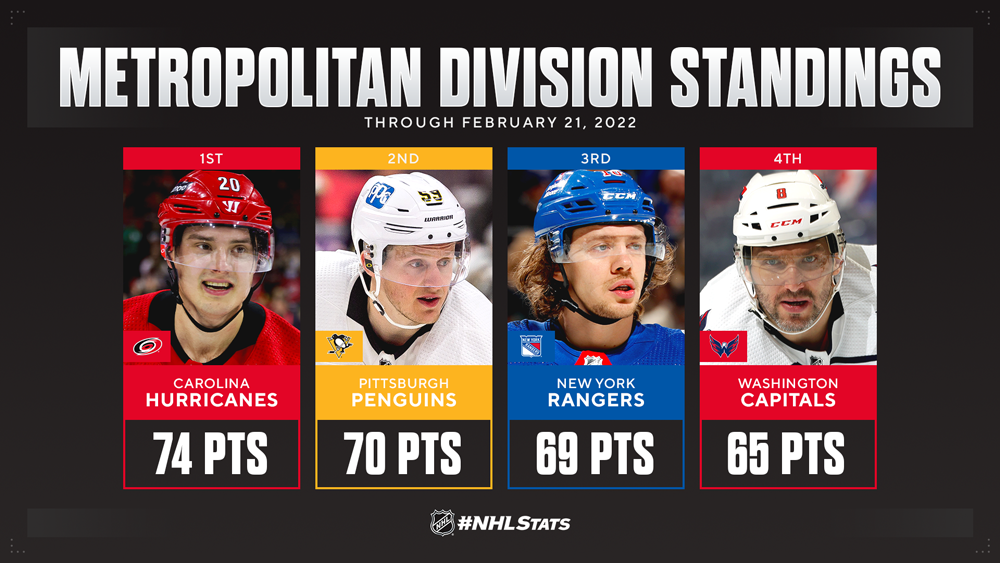 CANADIENS WELCOME BACK MORE FANS WITH FIVE-GOAL SHOWING AGAINST TORONTO 
Playing in front of more than 500 fans at Bell Centre for the first time since Dec. 9, the Canadiens wowed the crowd of 10,552 by opening a 5-0 lead with help from Cole Caufield (1-2—3) and Josh Anderson (2-1—3) en route to their third consecutive victory.

* Caufield continued his strong scoring stretch since Martin St. Louis took over as interim head coach Feb. 10, boosting his totals to 5-3—8 (6 GP) – the most goals and points among Canadiens players during that span. The 21-year-old has doubled his 2021-22 points total in the past six games after registering 1-7—8 through 30 contests before the coaching change.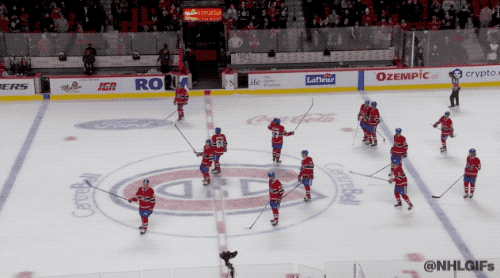 GIORDANO CLIMBS SHORTHANDED GOALS LIST, MOVES CLOSER TO 1,000 GAMES
Monday's #NHLStats: Live Updates included a note on Kraken captain Mark Giordano, who notched his 11th career shorthanded goal as he nears 1,000 career regular-season games. Giordano's tally was one of two notable first-period markers in Monday's finale after Vancouver's Tyler Motte scored the fastest opening goal in a game this season (11 seconds).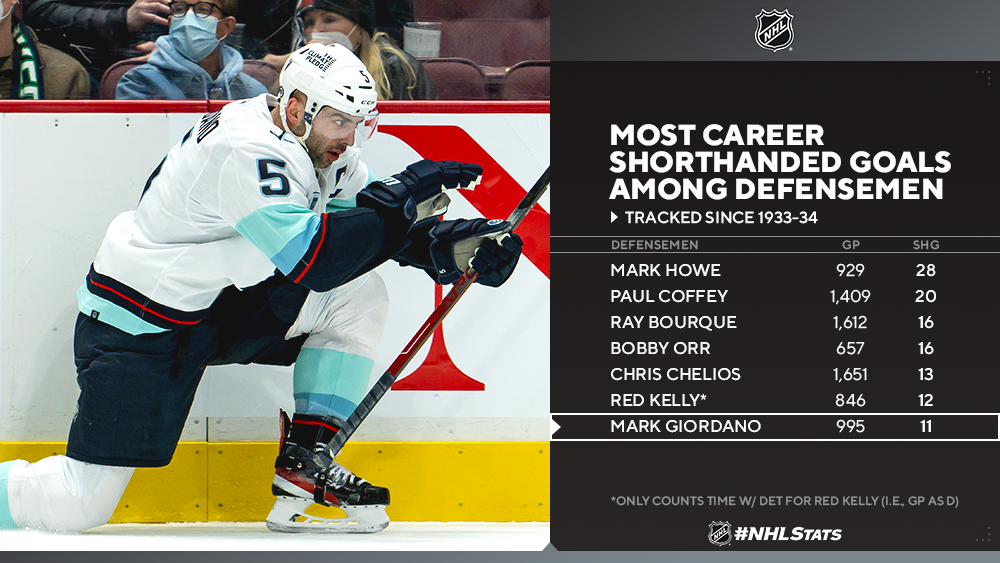 BLACK HOCKEY HISTORY SPOTLIGHT: DEBBIE MONTGOMERY 
Debbie Montgomery is a co-founder of the Mariucci Inner City Hockey Starter Association, a program in St. Paul, Minn., designed to expose urban youth to the sport of hockey. In addition to being the hockey matriarch of her family and co-founder of the program, Montgomery was the first woman officer of the St. Paul police department and the first Black woman elected to St. Paul city council in 2004.

* CLICK HERE for William Douglas' profile on Montgomery in The Color of Hockey blog.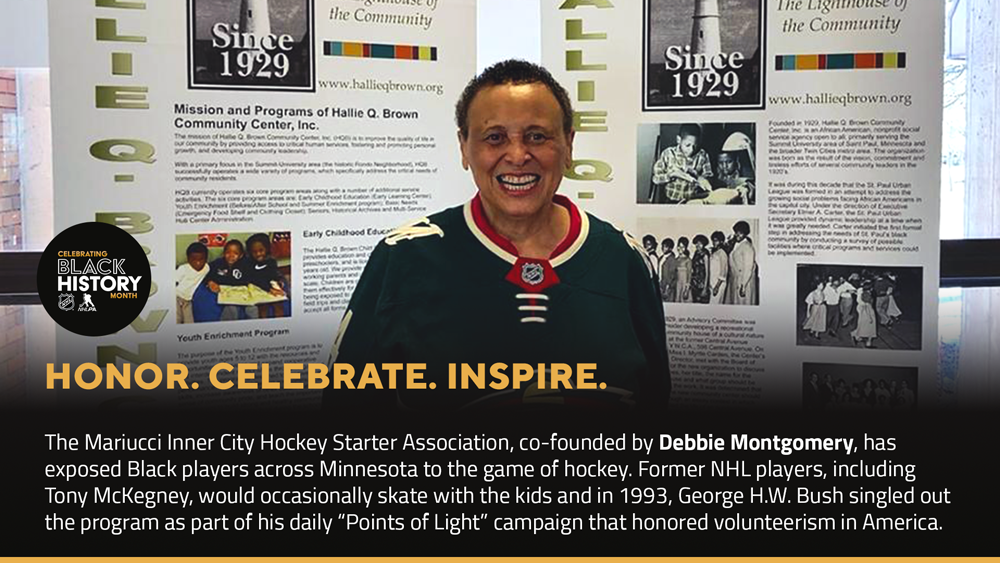 QUICK CLICKS 

* Elias Lindholm, Aaron Ekblad, Jake Oettinger named "Three Stars of the Week 
* NHL.com ranks Top 10 moments in Stadium Series history 
* VIDEO: The 2022 NHL All-Star All Access Show 
* Zdeno Chara to tie Chris Chelios for most NHL games played by defenseman 
* David Pastrnak scores two, Bruins top Avalanche

PANTHERS AIM TO WIN 10 STRAIGHT AT HOME FOR SECOND TIME IN 2021-22 
The Atlantic Division-leading Panthers (35-10-5, 75 points) will look to extend their home winning streak to 10 games when they host the Predators (28-18-4, 60 points) at FLA Live Arena. It would mark Florida's second home winning streak of at least 10 games in 2021-22 – only two teams in NHL history have posted multiple double-digit home win streaks in one season: Detroit in 1995-96 (12 GP & 12 GP) and Montreal in 1955-56 (11 GP & 10 GP).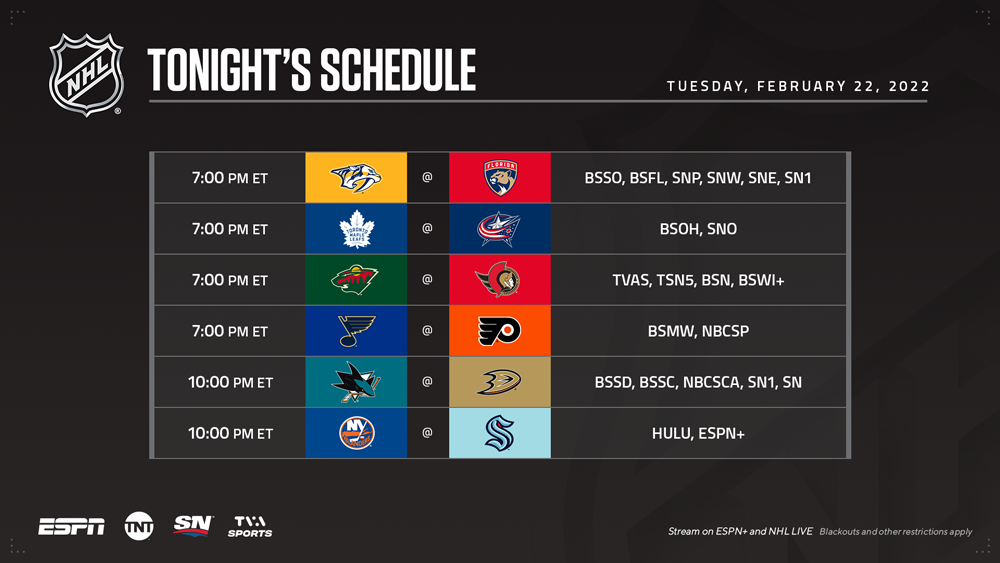 COURTESY NHLmedia.com