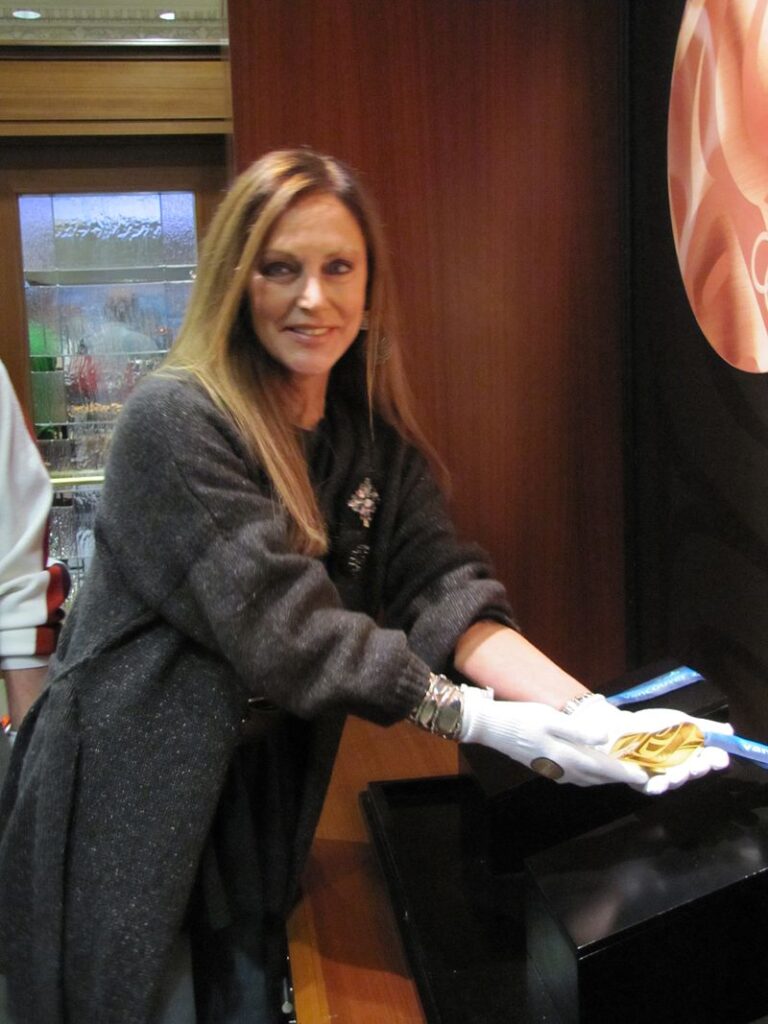 FROM WIKIPEDIA COMMONS
Peggy Gale Fleming (born July 27, 1948) is an American former figure skater and the only American in the 1968 Winter Olympics in Grenoble, France to bring home a Gold Medal. She is the 1968 Olympic Champion in Ladies' singles and a three-time World Champion (1966–1968). Fleming has been a television commentator in figure skating for over 20 years, including several Winter Olympic Games.
Life and career
Fleming was born in San Jose, California, the daughter of Doris Elizabeth (née Deal) and Albert Eugene Fleming, a newspaper journalist and former U.S. Marine. She began skating at age nine when her father took Peggy and her three sisters skating. In 1961, when Peggy was twelve years old, her coach William Kipp was killed in the crash of Sabena Flight 548 along with the rest of the United States figure skating team while en route to the 1961 World Figure Skating Championships. Fleming was subsequently coached by Carlo Fassi. Her unusual style led to five U.S. titles, three World titles and the gold medal in the 1968 Olympics in Grenoble, France.
Peggy's mother played a memorable role in her daughter's Grenoble Olympic medal, as she chose a color for the skating costume, chartreuse, named after the liqueur of that color produced by neighboring Carthusians in their founding monastery, which also gives the name "chartreuse" to the region, thereby perhaps inspiring local French audience support for Peggy's virtually flawless performance. Her award in Grenoble was singularly important for the American athletes and the nation as a whole, for this was the only gold medal that the U.S. Olympic team won in the 1968 Winter Olympics. It signaled a return to American dominance in the sport of women's figure skating following the unprecedented tragedy of the 1961 Sabena plane crash.
After becoming an Olympic champion, Fleming turned professional, performed on TV shows including five NBC specials of her own and toured with many skating shows, like Ice Capades. During the Cold War, Fleming had filmed a TV show in USSR and skated to Butterfly Lovers' Violin Concerto in China. Since 1981, she has been a skating commentator for ABC Sports. In 1993, the Associated Press released results of a national sports study that ranked Fleming as the third most popular athlete in America, behind fellow Olympians Mary Lou Retton and Dorothy Hamill.
Peggy Fleming was diagnosed with breast cancer in 1998. The cancer was detected in its early stages, and surgery was successful. She became a breast cancer activist who recommends not procrastinating and advocates for early detection.
Fleming and her husband, Greg Jenkins, owned and operated Fleming Jenkins Vineyards & Winery in California. The winery produced close to 2,000 cases of wine a year with names as "Choreography" a Bordeaux style blend from Napa Valley and a "Victories Rose" from the San Francisco Bay Syrah. Profits from the "Victories Rosé" went towards charities that supported research towards breast cancer. The winery closed in 2011.
In 1988, a Peggy Fleming all-porcelain doll was made by Franklin Mint Heirloom Porcelain Dolls.
In 2007, Fleming appeared in the movie Blades of Glory as a judge.
In 2010, Art of the Olympians produced a 30-minute documentary. She is also an artist with works on display with the Art of the Olympians.
Along with former Olympian Vonetta Flowers, Fleming was injured and briefly hospitalized after a traffic accident while riding in U.S. Vice President Joe Biden's motorcade at the 2010 Winter Olympics in Vancouver.
TODAY'S ALMANAC
Question of the Day
What are the oldest college and the oldest law school in the United States?Harvard College (now the undergraduate school of Harvard University) was established in 1636 for men, making it the oldest college in the United States. Virginia's College of William and Mary was chartered in 1693 and established the first law school in the United States in 1779.
Advice of the Day
A witty saying proves nothing. —Voltaire
Home Hint of the Day
Take advantage of frozen ground by trucking loads of manure out to your garden now. Avoid repeated traffic over one area, however, which may cause some damage to the grass.
Word of the Day
Cumulus cloudFair-weather cloud with flat base and domeshaped top.
Puzzle of the Day
How would securely hitching a horse affect his speed?It would make him fast.
Born
Boris Pasternak (poet) – 1890
Alan Hale (actor) – 1892
Bill Tilden, Jr. (tennis player) – 1893
Jimmy Durante (comedian) – 1893
John F. Enders (scientist, winner of the Nobel Prize in Physiology or Medicine in 1954) – 1897
Bertolt Brecht (dramatist) – 1898
Lon Chaney, Jr. (actor) – 1906
Leontyne Price (opera singer) – 1927
Robert Wagner, Jr. (actor) – 1930
Roberta Flack (singer) – 1939
Adrienne Clarkson (Canadian Governor General) – 1939
Mark Spitz (Olympic gold medal swimmer) – 1950
Greg Norman (golfer) – 1955
George Stephanopoulos (political consultant & commentator) – 1961
Victor Davis (Olympic swimmer) – 1964
Laura Dern (actress) – 1967
Emma Roberts (actress) – 1991
Makenzie Vega (actress) – 1994
Died
Laura Ingalls Wilder (author) – 1957
Billy Rose (composer & bandleader) – 1966
Alex Haley (author) – 1992
Jim Varney (actor) – 2000
Retired Lt. Gen. Vernon Walters (ambassador to the UN and Germany) – 2002
Arthur Miller (playwright) – 2005
Roy Scheider (actor) – 2008
Shirley Temple Black (actress) – 2014
Events
Edmond Halley became second Astronomer Royal of England– 1720
France ceded Canada to England at the Treaty of Paris, ending the French and Indian War– 1763
Queen Victoria of the United Kingdom married Prince Albert of Saxe Coburg-Gotha– 1840
Act of Union merged Upper and Lower Canada– 1841
Showman P. T. Barnum staged the wedding of General Tom Thumb and Mercy Lavinia Warren (both little people) in New York. They had to stand on a piano to greet their guests.– 1863
Alanson Crane patented a fire extinguisher system– 1863
Ontario's first free public library opened, in Guelph– 1883
German government informed the U.S. that after March 1, 1916, armed merchantmen would be treated as warships and attacked without warning (WW I)– 1916
New Delhi became the capital of India– 1931
The New York City-based Postal Telegraph Company introduced the first singing telegram– 1933
The first gold record was awarded for sales of over one million copies. It was Glenn Miller's Chattanooga Choo Choo" on RCA"– 1942
Arthur Miller's play Death of a Salesman premiered in NY– 1949
Soviets released U.S. U-2 pilot Francis Gary Powers in Berlin in exchange for convicted Soviet agent Rudolf Abel– 1962
The 25th Amendment to the U.S. Constitution was ratified, providing a contingency plan for presidential succession– 1967
Peggy Fleming won an Olympic Gold medal in figure skating– 1968
Arab terrorists killed 1 Israeli and wounded 11 others in an attack at the Munich, West Germany, airport– 1970
28 skiers performed backflips while holding hands, Bromont Québec– 1982
Bonnie Blair became the first U.S. medal winner at the Winter Olympics in Albertville in the women's 500-meter speed skating. Also the first woman in Olympic history to win consecutive Winter Olympic gold medals– 1992
Garry Kasparov began chess match against computer Deep Blue""– 1996
Brett Hull scored his 700th NHL goal– 2003
Ray Allen of the Boston Celtics sank his 2,561st 3-pointer, breaking the NBA record set by Reggie Miller– 2011
Weather
Early morning tornado at Albany, Georgia, caused over $3 million loss– 1940
Thundersnow (heavy snow accompanied by thunder and lightning) in northern New Hampshire– 2005
A rare February tornado in southern Oklahoma killed at least 9 people– 2009
COURTESY www.almanac.com