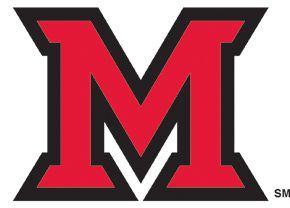 For their performances last week, Nicole Maier and Dalonte Brown are Miami's Athletes of the Week, presented by Skyline Chili for the week of Jan. 24.




Female Winner: Nicole Maier
Nicole Maier dominated her individual events, placing first in the 200 freestyle (1:49.56), the 100 freestyle (50.93) and the 400 individual medley (4:25.94) versus Buffalo this past weekend. The sophomore also helped bring the A relay team to a second place finish in the 400 freestyle relay alongside Honor Brodie-Foy, Madeline Padavic and Angelina Cakuls for a combined time of 3:29.79. Maier is a sophomore professional writing major in the College of Arts and Science from Bottrop, Germany.

Male Winner: Dalonte Brown
Dalonte Brown hit the game-winning three-pointer with 0.8 seconds left in an 85-82 overtime thriller against Northern Illinois. Brown also hit the game-tying triple with 11 seconds remaining in regulation to send the game into overtime as the RedHawks erased a 15-point deficit late in the second half. He led Miami with 24 points against the Huskies, scoring 20 points over the second half and overtime. Brown went 10-of-17 (.588) from the floor, while shooting 3-of-6 (.500) from three-point range for the game. He added a team-high-tying seven rebounds against the Huskies. For the week, Brown averaged 15.0 ppg and 5.0 rpg while shooting 47.8 percent from the field for the RedHawks in a pair of games. Brown is a fifth-year senior Family Science major in the College of Education, Health and Society from Toledo, Ohio. 

COURTESY MIAMI ATHLETIC COMMUNICATIONS