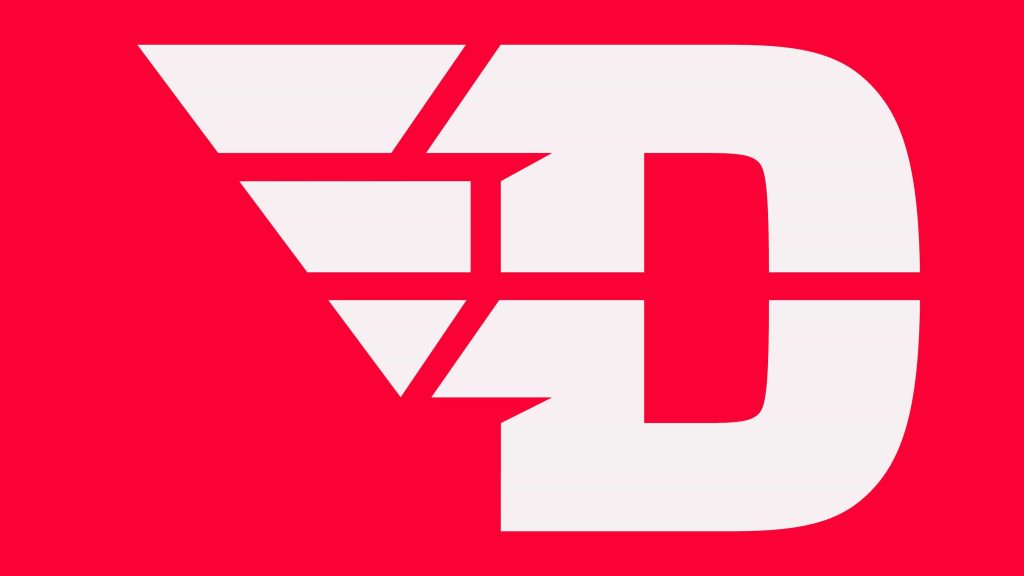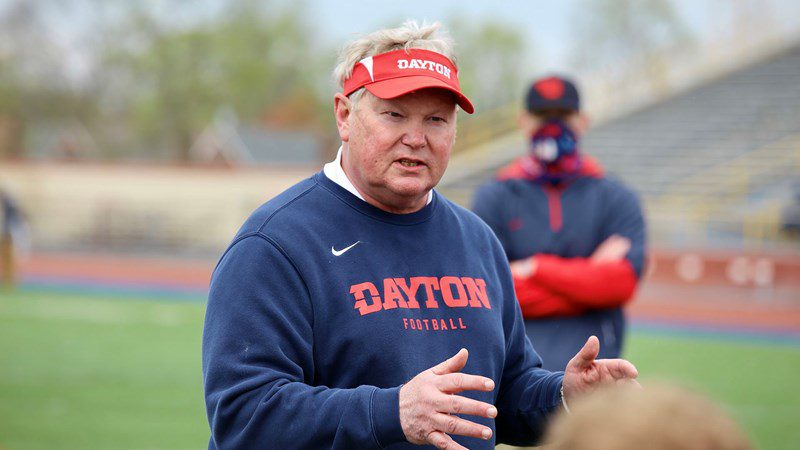 116 Players Have Reported For 2021 Season Preparations
DAYTON – University of Dayton head football coach Rick Chamberlin and his staff welcomed 116 players back to campus Sunday, August 8 as the Flyers prepared for the 2021 football season. 
Chamberlin is beginning his 13th season as UD's head coach and returns 10 starters (three offense, seven defense) from the 2019 season. Dayton opted out of the 2020 season.
After reporting, attending meetings, getting their equipment and undergoing physicals on Sunday, the team will undergo fitness tests Monday morning. First practice for the 2021 Flyers will be Monday afternoon at Welcome Stadium at 2:00 p.m.
A new aspect of the Flyer football program is the addition of artificial turf at the Jerry Von Mohr Practice Field. It is a seven-figure project that will be completed by mid-Sept.
Dayton was picked to finish fourth in the Pioneer Football League for the 2021 season in a preseason vote of the league's coaches. Dayton has 12 league championships to its credit in the PFL's 28 seasons. UD was 8-3 overall and 6-2 in the PFL's last fall season in 2019. The Flyers finished tied for second in the league that year with a 6-2 PFL record. Dayton won its last four games in 2019.
Captains Jake Chisholm, Jack Cook and Brandon Easterling will lead UD in 2021.
Chisholm is a Sports Perform FCS Preseason All-American. A preseason First Team All-PFL selection, he was named First Team All-PFL in 2019 after finishing second in rushing (112.9) by .02 yards a game. The junior from Union, Ky. led qualified PFL rushers in yards per carry (7.4). He led FCS in all-purpose yardage (204.3 yards a game) after also catching 21 passes for 230 yards and three touchdowns, and returned 29 kickoffs for a 23.6 yard average (with one TD). He is also a two-time CoSIDA Academic All-American.
Cook is the fourth-ever Dayton player named to the Stats Perform Walter Payton Watch List. He passed for a Flyer record 33 touchdowns in 2019. He enters his senior season as the active FCS leader in career passing efficiency (162.0), which is sixth-best all-time. He quarterbacked the highest scoring team in FCS football in 2019 (42.6 ppg.) and led FCS in points responsible for per game (24.7). Cook completed 192 of 306 passes (.627) for 2,697 yards as a junior. Those 33 touchdowns came against just five interceptions. He was also UD's third-leading rusher (104 att., 470 yds., 4.5 avg., 12 TD) in 2019.
Easterling is on the Stats Perform Buck Buchanan Award Watch list (he was a finalist for the Buchanan award in 2019), and is also on Stats Performs' Preseason FCS All-America Team. The third Flyer named to the Buchanan Watch List, he was a 2019 FCS All-American by HERO Sports, the Walter Camp Foundation, the Associated Press and STATS FCS. The Fairborn, Ohio native led FCS in solo tackles (7.5) and was second in total tackles (12.7) by 0.058 tackles per game. His nine turnovers acquired (six interceptions, three fumbles) were the most in FCS football in 2019. He was second by 0.058 tackles per game to Montana's Dante Olson. Easterling also tied for second in interceptions per game (0.5) and tied for third in fumbles recovered (3).
Along with Chisholm, Cook and Easterling, Flyer Zach Rumpke and kicker Sam Webster were also named Preseason All-Pioneer Football League.
Rumpke was Honorable Mention All-PFL in 2019. He was thrown into action when then-co-captain Andrew Lutgens was injured in the season opener, and made the game-clinching interception in that win over 14th-ranked Indiana State. For the year, he was third on the team in tackles (66), and led Dayton in TFL (6.0), sacks (3.0), PBU (3) and interceptions (2) from his Flyer position (UD's hybrid safety/linebacker).
Webster was named UD's top freshman in 2019, and earned Second Team All-PFL honors. For the season, Webster was 8-for-9 in field goals and 58 of 60 on PATs. Twenty-four of his 35 kickoffs were touchbacks. His very first field goal was a 53-yarder at Robert Morris that helped earn him his first of two PFL Player of the Week honors. In the PFL, he was second in kick scoring (7.5 points per game) and he was the highest-scoring freshman in the league.
Coach Chamberlin has guided UD to 93 wins in his first 12 seasons, including a record 70 Pioneer Football League wins. Chamberlin and his predecessor, College Football Hall of Famer Mike Kelly, are the only two PFL coaches to win 55 or more PFL games. Kelly had 55. A Flyer All-American linebacker in his playing days, Chamberlin has been a part of 387 of UD's 697 wins – 26 as a player, 268 as an assistant coach, and 93 as a head coach.
The 2021 season will also be the long-awaited Flyer game coaching debut for three assistant coaches. Offensive coordinator Jim Collins, offensive line coach Josh Hendershot and Flyers coach Jake Vellucci joined the program during the spring of 2020, but have yet to coach a game that "counts."
Three staff members are also in the first year at UD – wide receivers coach Jordan Overton, Director of Football Operations Brooks Andersson and graduate assistant Mike Glass.
The Flyers open the 2021 season at home against Robert Morris on Saturday, Sept. 4 at 12 noon ET.
Streaking…UD has not been shut out in a school-record 487 straight games, the best such active string in all of college football. The last team to shut out the Flyers was Marshall, 9-0, on Oct. 16, 1976. That is also the all-time FCS record.
Success In The Classroom…In the last 21 years, the University of Dayton football program has produced 34 Academic All-Americans, the most of any college football team. In the history of the Academic All-America program, UD football has had 64 Academic All-Americans. Among schools playing Division I football, only Nebraska (107) and Penn State (66) have had more Academic All-Americans than Dayton's 64. The Flyers are tied with Notre Dame at 61. Ohio State (56) and Oklahoma (54) are next. The Flyers also had 81 players on the 2020 PFL Academic Honor Roll, the most in the PFL for the 14th consecutive year, and the 26th time in the 28-year history of the Pioneer Football League. UD is also one of two D-I schools (and the only one in the PFL) to have a Campbell Trophy semifinalist for 14 straight seasons. The Campbell Trophy is the National Football Foundation's award sometimes referred to as "the Academic Heisman."
PFL Power...The Pioneer Football League is in its 27th season. The original (and now the only) Division I strictly need-based football league began with charter members Butler, Dayton, Drake, Evansville, San Diego and Valparaiso. UD's 119-40 record is the best in PFL history.
Tickets Now On Sale…Season tickets are only $50. Single game tickets are $10.00 for adults, and $5 for children high school age and younger.  Groups of 20 or more are $5 each.  UD students are admitted free with an ID.  Call 937-229-4433 for more information.
COURTESY DAYTON MEDIA RELATIONS