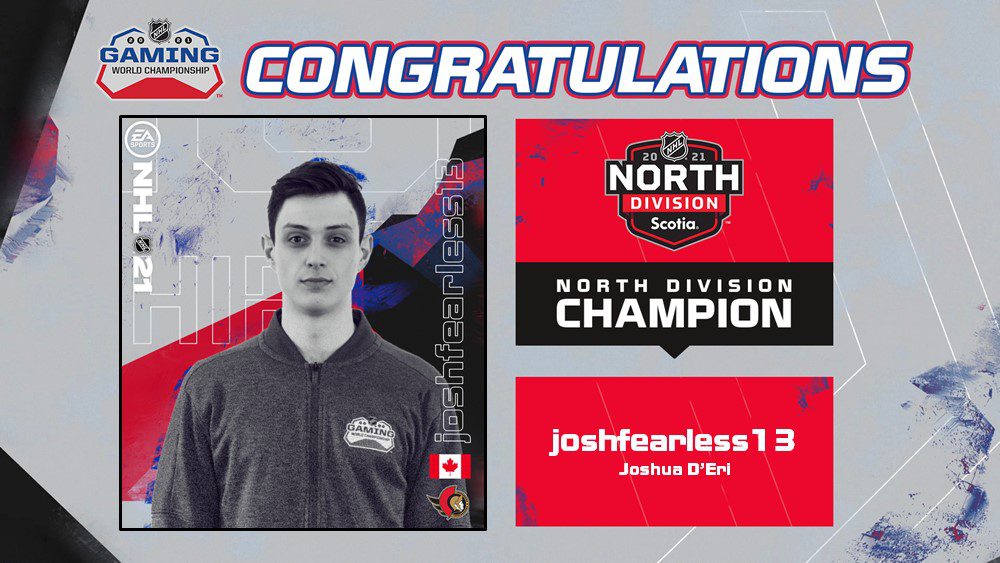 Uninsta1l Finishes as Runner-Up
NEW YORK (July 3, 2021) – Joshua 'joshfearless13' D'Eri won the Scotia NHL® North Division Championship of the 2021 NHL® Gaming World Championship™, the National Hockey League announced today. Fearless was repping the Ottawa Senators in the NHL's annual gaming event that features the best EA SPORTS™ NHL® 21 players across the globe.
In the Final, Fearless took on Ben 'uninsta1l' Thomson, who was representing the Edmonton Oilers. Ranked as the No. 1 seed for the Division Final, Fearless, the 24-year-old from Bolton, Ont., outscored his opponents 35-21 through seven games en route to being crowned the champion. D'Eri also was a finalist for the NHL Gaming World Championship Canadian Regional in 2019 and has participated in many NHL Club gaming tournaments throughout the years.
Joshfearless13 Road to Division Championship
Ottawa Senators Club Championship vs. miviens: 4-3, 3-2
Quarterfinal vs. CaII Me Zman: 7-4, 5-4
Semifinal vs. SafirSnipezGOLD: (4-5), 2-1, 3-0
Final vs. uninsta1l: 7-4, 7-3
As the winner of the Division, Fearless will join MassMutual NHL East Division Champion Justin 'Ez_Regs' Reguly in the Club Championship, which pits Division winners against each other for a chance to win the $25,000 USD grand prize. The Club Championship will take place on Saturday, July 24, at 2 p.m. ET on Twitch.
The North American Club Championship continues next Saturday, July 10, with the Discover NHL Central Division Club Championship beginning at 2 p.m. ET. The 2021 NHL® Gaming World Championship™ is produced remotely by DreamHack Sports Games (DHSG) and streamed on the NHL's Twitch channel. For more GWC news, fans can visit www.nhl.com/gaming and follow the conversation using social hashtag #NHLGWC.
COMING UP NEXT WEEK …
Thursday, July 8 – Show and Chel Episode #4 (3 p.m. ET)
Saturday, July 10 – Discover NHL Central Division Club Championship (2 p.m. ET)
COURTESY NHLmedia.com