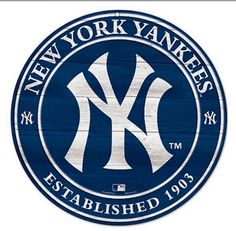 5/27/21
Eleventh edition of the Bowl Season game to be broadcast on ESPN and ESPN Radio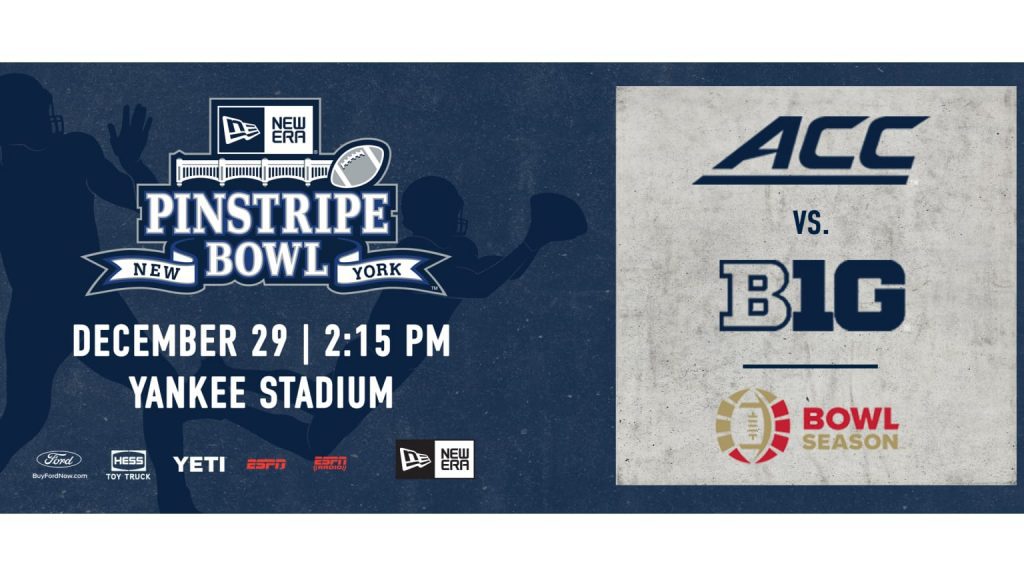 The New Era Pinstripe Bowl announced that the 2021 game will be played at Yankee Stadium on Wednesday, Dec. 29 at 2:15 p.m., featuring teams from the Big Ten and ACC Conferences.
This year will mark the 11th edition of the game and the seventh consecutive New Era Pinstripe Bowl to feature competitors from the Big Ten and ACC Conferences. The 2020 game was canceled due to COVID-19 considerations.
"We are excited to welcome back college football and the pageantry of Bowl Season to Yankee Stadium in 2021," said Mark Holtzman, Executive Director of the New Era Pinstripe Bowl. "In a little more than a decade, the New Era Pinstripe Bowl has become a fixture on the New York sports landscape and a premier destination bowl for Big Ten and ACC Conference schools. We are proud to have had a special atmosphere every year, which is a direct result of the participating schools and their alumni, the competitiveness of the matchups, and the one-of-a-kind backdrop provided by New York City during the holiday season. For both fans in attendance at Yankee Stadium and the national audience tuning in, we look forward to continuing this rousing tradition on Dec. 29."
"We are excited to welcome college football back to Yankee Stadium this December," said Josh Feine, New Era Cap Co. Inc., Vice President of Sports Marketing, Corporate Partnerships & Business Development. "The New Era Pinstripe Bowl is a New York City holiday tradition, and we are thrilled to once again to partner with the New York Yankees on the 11th annual edition of the game."
The New Era Pinstripe Bowl matchup, along with all Bowl Season matchups, will be revealed following the regular season and conference championship games.
The game will be nationally televised by ESPN and broadcast nationally and locally by ESPN Radio.
Tickets will go on sale to the public later this summer at www.pinstripebowl.com and www.ticketmaster.com.
For up-to-the-moment information regarding the game, fans are encouraged to visit www.pinstripebowl.com, the official website of the New Era Pinstripe Bowl, and follow the Bowl game's official Twitter and Instagram accounts — @PinstripeBowl.
About the New Era Pinstripe Bowl: Established in 2010, the New Era Pinstripe Bowl has featured many memorable moments in recent college football history. "New York's Bowl Game" is played at the world-renowned Yankee Stadium, which is home to the New York Yankees, New York City Football Club and many other sporting, cultural and business events. Various events, promotions and community outreach programs will take place during New Era Pinstripe Bowl week to again create an unforgettable experience for fans, families, students and staff.
PREVIOUS NEW ERA PINSTRIPE BOWL GAMES
2020 Canceled due to COVID-19 considerations
2019 Michigan State 27 – Wake Forest 21
2018 Wisconsin 35 – Miami 3
2017 Iowa 27 – Boston College 20
2016 Northwestern 31 – Pittsburgh 24
2015 Duke 44 – Indiana 41 (1OT)
2014 Penn State 31 – Boston College 30 (1OT)
2013 Notre Dame 29 – Rutgers 16
2012 Syracuse 38 – West Virginia 14
2011 Rutgers 27 – Iowa State 13
2010 Syracuse 36 – Kansas State 34
COURTESY NEW YORK YANKEES & MLBpressbox.com