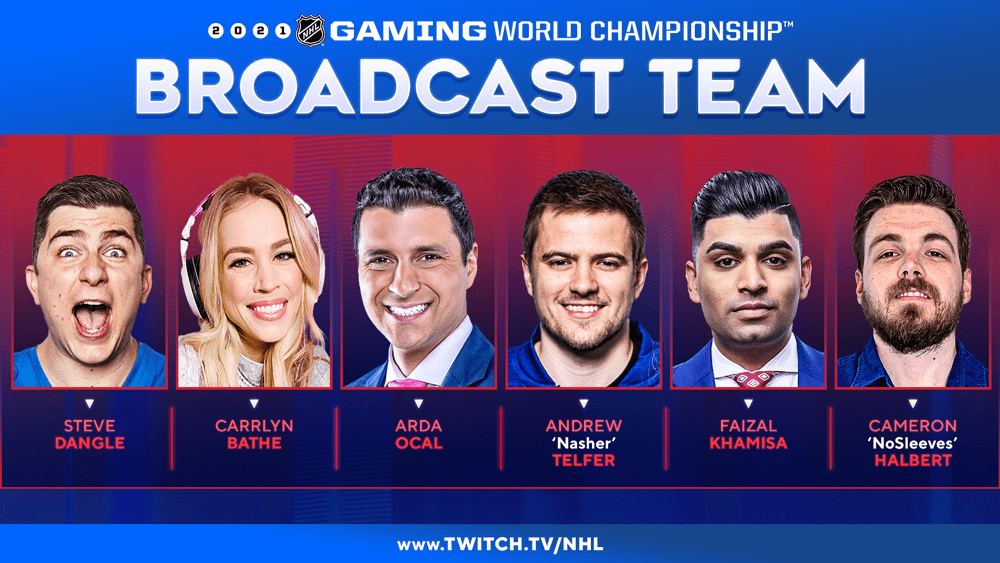 Carrlyn Bathe, Steve Dangle, Faizal Khamisa, NoSleeves and Nasher Join Host Arda Ocal on GWC Broadcasts on NHL Twitch; First Club Finals Match Streams Live, Saturday, May 22, Beginning at 12 p.m. ET
May 21, 2021 – Heading into the first weekend of live GWC broadcasts, the National Hockey League today announced the team of talent who will be calling matches for the 2021 NHL Gaming World Championship™ – the NHL's annual gaming event featuring the best EA SPORTS™ NHL® 21 players across the globe.
Veteran broadcaster and GWC expert Arda Ocal will host all streams with a slate of co-hosts joining him for the European and North American tournaments. Andrew 'Nasher' Telfer is back for a fourth consecutive year as an analyst, while Faizal Khamisa (MassMutual East), Carrlyn Bathe (Honda West), Steve Dangle (Scotia North) and Cameron 'NoSleeves' Halbert (Discover Central) will each host one of the Club Finals.
Khamisa will join Ocal for the first Club Final – MassMutual NHL® East Division Club Final – on Saturday, May 22, and Sunday, May 23, on the NHL's Twitch channel beginning at 12 p.m. ET each day. The anticipated timing for each Club Final match is listed below, with the reminder that all matches are single-elimination, best-of-three. Fans can follow using the social hashtag #NHLGWC and can view the tournament brackets and results here.
DreamHack Sports Games (DHSG), a global leader in producing esports tournaments for traditional sports leagues and properties, is producing the 2021 NHL Gaming World Championship™. As part of this multiyear relationship, DHSG handles all production aspects of hockey's premier esport events.
MassMutual NHL East Division Club Finals (Hosts: Arda & Faizal)

MEET THE TEAM
Carrlyn Bathe – A TV reporter for the Los Angeles Kings on Bally Sports West, Bathe grew up an avid hockey fan. Her father, Frank, played 224 career games with the Detroit Red Wings and Philadelphia Flyers while her four brothers, along with herself, also played various levels of the sport. Bathe is a gaming enthusiast who enjoys competition off and on the ice. She recently became the first female voice in the EA SPORTS™ NHL® franchise, joining the in-game broadcast team in NHL21.
Steve Dangle – A native of Toronto, Steven 'Dangle' Glynn is a sports analyst, content contributor at Sportsnet, author, internet personality and professional hockey fan. He has a popular YouTube channel and hockey podcast and likes being on camera and writing. Covering hockey with an emphasis on what's important for the fans ('having fun') is his passion. He once scored a Game 7 OT winner with Sergei Berezin in NHL 99.
Cameron 'NoSleeves' Halbert – Back for his sophomore season, Halbert assumes an analyst position this time around. He is a full-time content creator and Twitch streamer covering the EA SPORTS™ NHL® video game. His channel is geared toward info and insight into the game, helping players become more skilled. In the past two years, he has hosted, broadcasted and called play-by-play for almost every NHL team event, including the San Jose Sharks Pacific Cup (working alongside the voice of the Sharks, Randy Hahn), the Caps Gaming Showcase Season 2 and The Blue Jackets Winter Stinger. Last summer he worked with Ocal on the IIHF esports event.
Faizal Khamisa – Khamisa is back for a third time with the GWC, after being part of the events in 2018 and 2019. Khamisa is a national television anchor at Sportsnet in Toronto, where he covers a little bit of everything. He recently served as the host of the eMLS Cup, Canada Soccer eNationals and eCPL FIFA esports tournaments. He enjoys different parts of sports coverage, like fashion and sneakers, but likely will be wearing sweatpants and slippers while being part of the GWC action from home.
Arda Ocal – Ocal has been the voice of the NHL Gaming World Championship™ since its inception in 2018, A native of Toronto now living in New York, Ocal currently is an anchor with ESPN. His duties include hosting the daily NHL program "In The Crease" on ESPN+, as well as SportsNation and SportsCenter. Along with Telfer, he hosts NHL Squads, the weekly Twitch stream that invites gaming influencers and players to talk Chel and chat about the latest news and trends. Ocal is an advisory board member for Gamers Outreach, a charity that empowers hospitalized children through video games. He also claims to be the world record holder in NHLPA Hockey '93.
Andrew 'Nasher' Telfer – Nasher is back for a fourth consecutive season as the official color commentator for the NHL Gaming World Championship™. He will anchor the broadcast with Ocal for the European Final and Club Championship series. At a young age Telfer found a passion for hockey and filmmaking through YouTube and has since built an audience of more than 550,000 subscribers. A native of Columbus, Ohio, Telfer has served as an analyst for NHL Club egames tournaments and continues to build up players around the world by supporting community hockey initiatives.
UPCOMING BROADCAST SCHEDULE
Saturday, May 29 & Sunday, May 30 (12 p.m. ET start both days)
Scotia NHL North Division Club Finals (Hosts: Arda & Dangle)
Saturday, June 5 & Sunday, June 6 (12 p.m. ET start both days)
Discover NHL Central Division Club Finals (Hosts: Arda & NoSleeves)
Saturday, June 12 & Sunday, June 13 (12 p.m. ET start both days)
Honda NHL West Division Club Finals (Hosts: Arda & Carrlyn)
Saturday, June 19 (11 a.m. ET start)
European Championship Final (Hosts: Arda & Nasher)
Saturday, June 26
MassMutual NHL East Division Club Championship (Hosts: Arda & Nasher)
Saturday, July 3
Scotia NHL North Division Club Championship (Hosts: Arda & Nasher)
Saturday, July 10
Discover NHL Central Division Club Championship (Hosts: Arda & Nasher)
Saturday, July 17
Honda NHL West Division Club Championship (Hosts: Arda & Nasher)
Saturday, July 24
Club Championship Final (Hosts: Arda & Nasher)
COURTESY NHLmedia.com